Public Safety washes away DePaul students' police brutality art display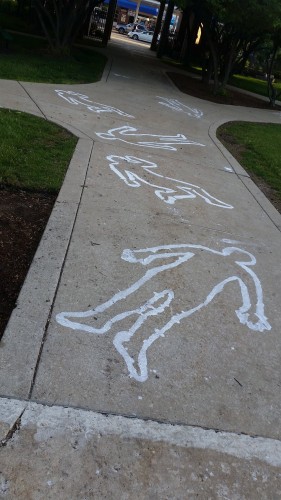 Chalk outlines of splayed bodies, painted by DePaul's Amnesty International group Tuesday night to draw awareness to police brutality, were erased within hours by Public Safety officials.
Students who painted chalk outlines across the quad as an art demonstration against police brutality were interrupted Tuesday night by Public Safety who thought the students needed permission from the university. A statement made by Public Relations on behalf of Public Safety revealed that Public Safety misunderstood the guidelines for chalking, but by dawn June 3 the white figures were removed with power washers and the students' efforts, erased.
"Public Safety, which stopped (the students) from proceeding, was not completely aware of the chalking guidelines and thought they needed permission," according to a statement provided by public relations. "Also, under the guidelines, the chalk should be washable (sidewalk chalk), and in this case, there was another substance used that would not wash off and required the use of graffiti remover and a pressure wash."
Public Relations would not provide further comment when asked to clarify whether the students had violated any other school policies besides the paint issue. Public Safety would only comment through Public Relations.
None of the members of DePaul Amnesty International were contacted by Public Safety or Public Relations to notify students of the misunderstanding. When DePaul's Amnesty International president Anuja Patel heard of the statement made by Public Relations, she was shocked.
"Oh my god that makes me so mad. Oh god," Patel said. "I guess that makes me really mad because that means I read the policy correctly and we could have finished. It was temporary chalk and it was only in the middle circle of the quad. It may not have been sidewalk chalk, but if you look at Demonthon's chalk in the quad, that didn't go away right away either. (Our chalk) was the same stuff as that."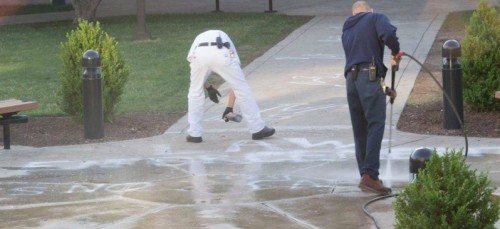 (Photo courtesy of ANUJA PATEL)
Patel said she would confer with the other Amnesty International members to decide whether they would reproduce the art display. But the group spent close to $200 of their personal funds to buy the supplies, all of which they used to make the first display.
"I wish it weren't the end of the school year because I feel like I really don't know what to do now. It's Thursday. People are already leaving this weekend. I don't know if it's worth it anymore to do it," Patel said. "I will talk to my club and see how they feel. If they're on board maybe we can do it again."
Patel thought of the idea after attending an Amnesty International conference in October. Chalk outlines of bodies were supposed to line the sidewalks across the quad to highlight the recent protests against police brutality that recently took over cities like Ferguson, Missouri and Baltimore, Maryland. The group also wanted to emphasize that the U.S. has a long history of police brutality by drawing a timeline of deaths by police torture and brutality that reached back to the  Rodney King case in 1991.
"(The display) was something that our club has been talking about all throughout the year. A criticism could be that (the police brutality issue) is sensational, but I think that was the point of showing the cases and trying to present it in a timeline. To show people that it's not something new. It's not something that's just happening now," Patel said.
Freshman Yvette Mushimiyamana was helping make the chalk outlines in the quad.
"It was moving because you literally saw bodies that were on the ground in weird positions as if they just got shot from a police officer," Mushimiyamana said. "When you see that you're just kind of like, 'oh my god.' It's more real than just seeing it on a TV or something. You're walking on the bodies. So I thought that was a huge statement."
According to the Student Center's Policy and Procedure Manual, students have permission to chalk in the quad as long as they gave the proper information, which Amnesty International provided. Students can chalk in the quad as long as they report the time, date, location and sponsor of the event.
Patel thought the reason Public Safety shut down their demonstration was because they had violated the part about having a proper sponsor.
"I read the policy for chalking in the quad and it didn't specifically state that I needed to get permission to do it," Patel said before reading the statement made by Public Relations.
"I thought we just had to write down that we're "Amnesty," Patel said. "I guess the language they used with the policy wasn't really clear."
Patel said that Public Safety did not provide a specific reason for taking down the display, only that the students did not have permission to put it up.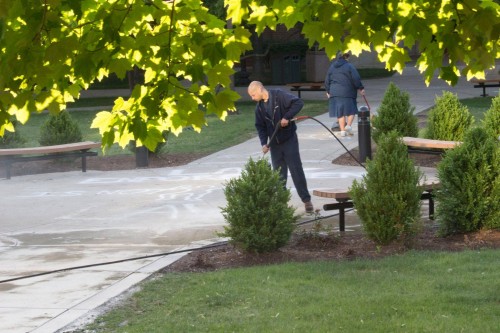 "It did occur to me that maybe we should ask just in case, but I didn't think the school would let us do it or maybe they would try to change it," Patel said, "so I thought, let's just go for it."
There was also no specific policy about the types of chalk students could use. Patel, who studies art and marketing, said the product they used to paint the sidewalk was an eco-friendly semi-permanent chalk designed to last longer. The paint was used to write "Law enforcement is not above the law" in the center of the quad.
School policy said the chalk had to be located in areas where it could be washed away by rain, and in separate sections of the policy manual there was a rule that said generally, "decorations may not be attached to wood, metal, glass, paint, ceilings, floors, or other surfaces, as they scar the finishes of the facility." This did not apply to the quad sidewalk.
Mushimiyimana also helped with the art display and thought the problem with the display was that they did not properly identify their sponsor.
"I thought that was just weird. In a way they're making this issue invisible," Mushimiyaimana said. "I also thought it was funny that you could draw all over the quad for FEST, obviously because it's a huge event, but you can't draw all over the quad for something like this. What's more important?"
View Comments (2)