Leitao lands first recruit from the Class of 2016 in Chicago's Devin Gage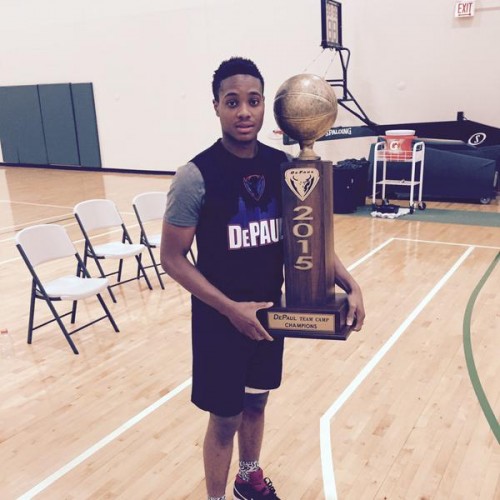 DePaul head coach Dave Leitao picked up his first commitment from the Class of 2016, and he didn't have to look far from the Lincoln Park campus.
Curie point guard Devin Gage gave his verbal commitment to DePaul Friday, giving Leitao the building block for the future and his second recruit from the Chicago Public League. Simeon forward Fred Scott, a power forward from the Class of 2015, also committed to DePaul June 11 to join the Blue Demons next season.
Gage, a 6-foot-2 guard, was a standout at DePaul's Team Camp on Monday and Tuesday, winning the camp's MVP.
"It was best for me and my family," Gage said. "Being one of the best guards in Chicago, I wanted to stay home. And that's DePaul."
Gage is a three-star prospect, according to Rivals.com, and one of the top point guard prospects in Chicago. Gage describes himself as a smooth, athletic player that can hit a jumper, but also plays defense. He said he was an all-around player.
Asked if he fits the mold of the type of player Leitao seeks — one of energy and a commitment to defense — Gage said, "yes sir."
Gage honed those skills at Curie High School, the same high school standout Cliff Alexander went to. Gage played with Alexander as a sophomore and then went on to be a huge part of the team his junior season.
"They expected me to play varsity my freshman year, and that's what I did" Gage said. "I had to work hard on my game. Just every day, I had to get better and better. That's what I did."
Gage said he's looking forward to growing at DePaul, academically and socially as well. DePaul first offered Gage a scholarship a year ago under previous head coach Oliver Purnell. Leitao, however, reemphasized that offer again on Monday.
"(Leitao) is a real family-oriented coach," Gage said. "He's a cool coach, but he's a no-nonsense type coach. He kind of reminds me of my high school coach (Michael Oliver)."
Despite DePaul's losing reputation over the past few seasons, Gage said he thinks he can help turn the program around, noting his intensity and heart as a player.
He also added that he already has a name in the Chicago area, and feels like he can make that bigger at DePaul. Gage said going to another state against other guards would create a situation where there's less familiarity for him.
And now that he's committed to DePaul, the next step will be convincing others in the Chicago area to choose the Blue Demons as well. He said he would help try to convince the area's talent to pick DePaul.
"That's not going to be hard," Gage said.