DePaul community vigil supports victims of Charleston shooting
[slideshow_deploy id='12986′]
DePaul students, faculty and staff wiped away tears at a peace vigil's moment of silence Wednesday in remembrance of the nine victims who were shot in June at a historic and primarily Black church in Charleston, S.C.
The ethereal keystroke of the pianist hung in the air Wednesday as DePaul's St. Louise de Marillac Chapel fell into a weighted moment of silence, part of the vigil held by University Ministry for the victims of the church shooting last month. Before the candle-lit altar, staff, faculty and students bowed their heads, dabbed at stray tears, and grasped tiny flickering candles.
"You aren't surprised that people are killed or harmed in war," DePaul Chaplain Keith Baltimore said. "You aren't surprised that people are killed or harmed when police are involved. But I think people are overwhelmingly shocked by the fact that this was a simple faith community who wanted to come together to learn about God or just be in fellowship with each other. They invited someone into their community, innocently, and that person from the beginning was there to do great harm to them."
Authorities said on June 17, Dylan Roof, 21, joined the bible study at the 199-year-old Emanuel African Methodist Episcopal Church, the oldest of its kind and survivor of the slavery era and Civil Rights Movement. At about 9 a.m. authorities said Roof opened fire at 13 people, killing Cynthia Marie Graham Hurd, 54; Susie Jackson, 87; Ethel Lee Lance, 70; Depayne Middleton-Doctor, 49; Clementa C. Pickney, 41; Tywanza Sanders, 26; Daniel Simmons, 74; Sharonda Coleman-Singleton, 45; and Myra Thompson, 59.
National commentary has unveiled Roof's white supremacist beliefs as well as the victims' goodwill to accept a White man into their primarily Black community.
DePaul faculty, staff and students sign letters of support to send victims' families of the Charleston church shooting on Wednesday. University Ministry and the university announced a resolution to support the victims' families and the community.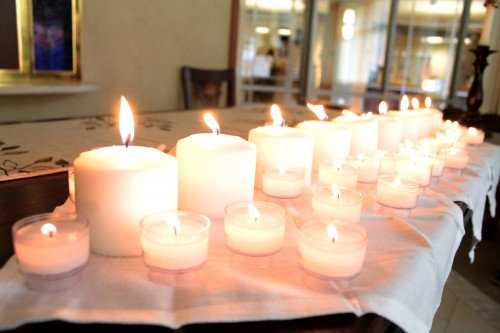 "It's a no brainer when it comes to supporting this community," Baltimore said. "Even though we don't know them, even if they're of a different race or faith tradition, the high level of innocence that they have in this context and the way that evil seemed to perpetrate, I think has touched so many people.
The brutality of the crime was what brought many members of the DePaul community to the vigil, held July 1. Upon entering the chapel, attendees signed letters of encouragement for the victims' families that University Ministry will send to Charleston.
"I think we need to at least come together in some way," Lynnae Hawn, a graduate student of social work, said. "My heart goes out to everybody out there who is dealing with all the pain."
Anthropology professor Shirley Turner came to pay her respects and said "it's terrible that in this day and age there are people who could commit such a crime."
"It is extremely saddening that a sacred place was violated," DePaul Lutheran Pastor Diana Dardon said. "There is no place in the world that isn't broken."
[box]Watch: DePaul students react to the flying of the Confederate flag[/box]
Dardon helped organize the event and said the vigil was both for spiritual and non-spiritual people. Students Elon Sloan and Emily Hermann both work in the Center for Intercultural Programs (CIP) and said the vigil helped them reflect on the meaning of the tragedy.
"I'm not a particularly Christian person, but I still felt comfortable. It was a nice," Sloan said.
Herrmann agreed. "I definitely think it's good to go to an event where DePaul is recognizing what is going on," Herrmann said. "I wanted to be a part of that."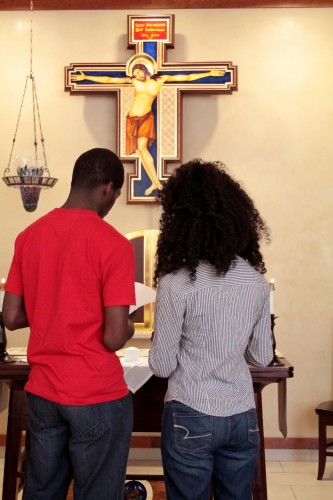 Dardon said DePaul is a community that "(embraces) pluralism and religious diversity."
"I think the staff here at DePaul have an opportunity to really get a hold of that and make that a lifelong commitment. If we do not have young adults taking hold of that kind of mission, this isn't going to end." Dardon said. "There is one common ground that I think all humanity can come to and that is love and respect. If we can just do that, I think we'll be in a better place."
Danielle Russell works in University Ministry and was one of the students who read the names of the victims at the vigil. She said it was harder to do than she thought, and afterwards she was still "processing the whole experience."
"When I was saying one name I was really saying everybody who is affected by White Supremacy in a way. With each of these names, each of us is being attacked," Russell said. "These people are their own individual people, but at the same time they're a part of a much larger community. It's not just an attack on them, it's an attack on all of us."
Russell said the shooting makes her both sad and angry. Edward Ward, the other student who read the victims' names at the vigil, said he doesn't know how much angrier he can become.
"In the wake of all that has happened, from police brutality to the school-to-prison pipeline where they're always targeting people of color, then we get here," Ward said. "It's like the straw that broke the camel's back. I don't know how much angrier I can be before I explode."
Ward said it was difficult to describe how he felt when reading the names of the victims at the vigil.
"A lot of the names we read were names of the older generation, people who came before us," Ward said. "They've been through some of the worst forms of hate, only to get to the 21st century, 2015, to be killed by that same hate. I'm still processing that."
"All I can say is my prayers and my condolences go out to those families and we have to keep fighting," Ward said.