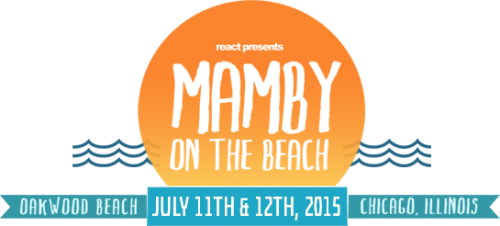 This weekend, music lovers will flock to the sandy shores of Oakwood Beach near the South Side for Mamby On The Beach, a new electronic music event that adds even more flare to Chicago's ever-growing list of summer music festivals.
Though 2015 marks the festival's debut, its lineup looks nothing short of stellar. Bringing in artists from around the world like Norwegian producer Cashmere Cat, Argentinian born singer Tei Shi, and New York bred indie duo Phantogram, festival attendees will receive an eclectic sound experience all the while soaking in rays from the sun.
Cashmere Cat – Adore (feat. Ariana Grande)
Cashmere Cat has carefully been calculating his every move. Google the 27-year-old producer and only a few mysterious, shadowy pictures will display. With a home base in the misty skies of Olso, Cashmere Cat found success here in the states after releasing a few remixes of popular songs online, even catching the attention of pop mastermind Benny Blanco. Now, with Ariana Grande and Kanye West as past collaborators, it looks like the only way for the Norway native is up.
Passion Pit – "Constant Conversations"
If there were a season to describe the dazzling synths and bright bassline from Passion Pit, summer would definitely be it. In 2008, the Massachusetts formed band made their mark with the debut EP, "Chunk of Change", which introduced a fresh sound that would later be described as psychedelic, especially with vibrant, energetic track "Sleepyhead." With the 2012 follow-up "Gossamer", which boasts the sing-a-long hit "Take A Walk," and this year's "Kindred," it seems the band will forever make music that acts as the soundtrack to everyone's summer.
[box]Read: Summer outdoor music guide[/box]
Phantogram – "Don't Move"
Having toured for familiar artists like The xx, Beach House, and Caribou, the electro-pop duo hailing from the Big Apple is no stranger to playing festivals. In fact, they have quite a history with Lollapalooza, playing the mega-festival once in 2011 and appearing again on 2014's lineup. Whether it's the spooky-sounding dance anthem "Don't Move" or the airy vocals on "Black Out Days", one listen to this duo will turn almost any music lover into a fan.
Tei Shi – "Bassically"
Comparisons run rampant in the ever-growing world of alternative R&B. While FKA twigs is constantly being compared to Tinashe, and Banks finding herself clashing with The Weeknd's similar music style, Tei Shi seems to stand alone with a sound of her own. Not only do her original songs, like "Bassically," come complete with sweet falsettos, her cover of Beyoncé's "No Angel" remains superb as well, leaving everyone wanting to hear just a little more from the eclectic singer.
Woo Park – "Tiny Straws"
Emerging from the underground Chicago music scene is Woo Park, a six person musical entity whose music thoroughly explores the genres of jazz, soul, and R&B. After playing intimate shows at the Double Door and other small venues, the group's hard work proved successful as they won Columbia College Chicago's Biggest Mouth festival. Receiving the grand prize of studio time, they combined their intriguing sounds to create an impressive first body of work titled "Smoke."