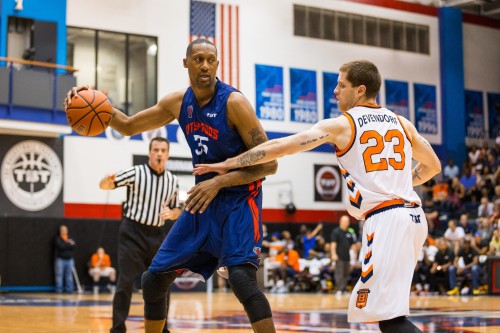 For the majority of college basketball players, the four years spent in the NCAA are the only true shot at being in the limelight and achieving the ultimate goal — winning it all.
The Basketball Tournament gives these players another shot at that goal, and even more. This event is a standard 5-on-5, single-elimination tournament open to anyone — 18 or older — willing to forego amateur status for the chance of winning $1 million. Teams are allowed to have up to 12 players and any combination of three general managers, coaches or boosters.
A field of 97 teams started with regionals in Los Angeles, Atlanta, Chicago and Philadelphia was quickly narrowed down to 17 in a mere two weeks. The top four from each regional, plus the 2014 defending champion Notre Dame Alumni, earned the right to compete for a spot in the final weekend and a shot at the million dollars.
DePaul hosted the Super 17 Regional over the weekend at the McGrath-Phillips Arena. These remaining teams were comprised of former college basketball players, former NBA players and even a National High School Player of the Year – Dermarr Johnson.
While Johnson hasn't been on a national stage in quite some time, returning to the limelight doesn't seem to faze him much.
"I don't pay attention to the cameras, the crowd, the attention," Johnson said. "I just go out there and play."
Johnson is a part of City of Gods, one of the four teams moving on to the final four in New York next weekend. His teammate Pops Mensah-Bonsu felt differently.
"This is what you want as a player. Everyone always says you want to go to the NBA Finals, you want to go to the NCAA Tournament, the big stage," Mensah-Bonsu said. "Once you get there, you're there. Put up or shut up."
Other guys like Team 23 teammates Davin White and Augustine Okosun were just happy to be a part of The Basketball Tournament.
"What makes it so special…is TBT (as a whole). You guys make us feel special, we feel safe here, it's just that sense of energy," White said. "There's a positive energy when we come here and play."
White has been on national television before during his days at Cal State Northbridge during ESPN's Bracket Buster coverage over a decade ago.
Okosun hasn't.
"I've never been a part of a tournament like this, most of these other guys have," Okosun said. "I feel like I'm back at Seton Hall the way everything is set up."
The crowd favorite Boeheim's Army might not have won their game against Johnson's City of Gods, but they sure made an impression on the tournament.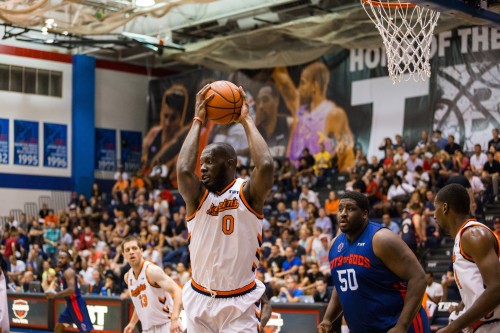 Coached by the Orange's all-time leading scorer Lawrence Moten, Boeheim's Army pulled together a collective of former 'Cuse players, plus pair of former guards from Purdue and Arkansas. Not only that, but they managed to attract quite a crowd for what would end up being their final game.
Moten saw his time at the tournament as something positive, despite ending negatively.
"It was a fun, amazing run we had. Just getting to know the guys was good," Moten said. "Guys like Willie Dean (Purdue) and Olu [Famutimi] (Arkansas) who I'd never met … they feel like they're a part of the Syracuse family, which they will be forever."
For some The Basketball Tournament is about proving yourself on a big stage and trying to win $1 million. For others, the experience of competing in a tournament with national exposure is surreal enough.
Though, I'm sure even they wouldn't mind winning a share of $1 million.
City of Gods, Team 23, Ants Alumni and Overseas Elite will vie for the million-dollar prize next weekend in New York with the games broadcasted on ESPN and streaming on ESPN3.