DePaul's arena set to break ground in late September
Hang on for a minute...we're trying to find some more stories you might like.
Barring any further setback, DePaul's arena is finally scheduled to break ground in late September.
At a community event held Monday for hiring workers for construction, officials from the Metropolitan Pier and Exposition Authority (McPier), Prairie District Partners and Ald. Pat Dowell gave up-to-date information surrounding the project, which involves building the arena and a Marriott hotel.
In February, it was reported that the arena was scheduled to break ground in July, which wasn't made. The hotel, however, is scheduled to break ground Tuesday, Javid Aboutorabi, a business development manager at Clark Construction Group, said.
Aboutorabi told the crowd that the project would take 26 months to complete, meaning the arena would be ready for the 2017-18 basketball season.
There have been multiple delays so far for the arena that was initially targeted to open at the start of the 2016-17 season. The most significant setback came in late November, having to adjust the design of the building. The re-design brought the arena floor to street level and added 12 feet of height to building.
The adjustment added additional $25 million in costs, which DePaul will split with McPier, and bringing DePaul's total estimated cost to $82.5 million. The event center will total an estimated $164 million: $150 million for the construction and $14 million for "soft costs."
In December, DePaul Interim President Patricia O'Donoghue maintained that "estimates continue to show that naming rights, corporate sponsorships, ticket sales and fundraising will offset the anticipated project construction cost increases" in a letter circulated to faculty.  DePaul has always stated that the cost won't affect student tuition or operating budgets in place.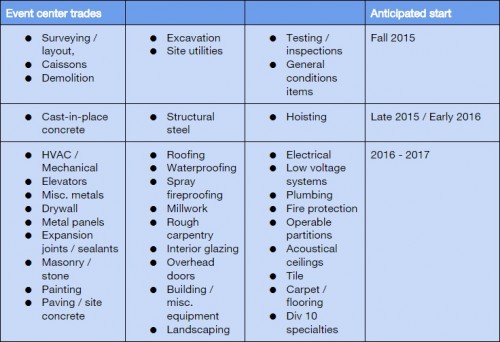 Speaking at the informational session, representatives stressed giving back to the 3rd Ward community and bringing diversity to the project. Djenne Clayton, deputy general counsel to McPier, said that 45 percent of aggregate work hours had to be done by minority laborers and 30 percent of skilled trades. In addition, 7.5 percent of the aggregate work hours had to come from members of the 3rd, 4th, 11th, 20th and 25th Wards.
McPier CEO Lori Healey said the project will bring 2,500 permanent jobs and "thousands" of subcontracted jobs. It was also revealed that subcontractors for the project had already been hired.
As for the timeline of the events center project, casting in place concrete is projected to start in late 2015 or early 2016. The majority of the work, such as roofing, landscaping, electrical, tile and plumbing will be done in 2016 and 2017.
DePaul's arena will be located at Cermak Road and Prairie Avenue in the South Loop.  "The Prairie District Partners" will be handling construction, a construction group composed of Clark Construction Group: Chicago LLC, Bulley & Andrews LLC, McKissack & McKissack Midwest, Old Veteran Construction, Goettsch Partners and Moody Nolan.
Pelli Clarke Pelli Architects, who also handled the design of The Theatre School, developed the glass-walled design for the arena.
A DePaul spokesman referred inquires to McPier, who did not respond for comment at this time.