Lollapalooza 2015: Friday
[slideshow_deploy id='13578′]
Chicago is home to dozens of music festivals throughout the summer, but the largest and most famous is by far Lollapalooza, and for good reason as well. This year was no different, as people of all ages – but mostly teenagers and young adults in basketball jerseys (show me one young man not wearing a basketball jersey at the festival and I'll show you a liar) – came out to enjoy the incredible acts the first day had to offer including electronic bands like Hot Chip, rappers including Young Thug and all-out musical legend Paul McCartney performing a life-changing set.
Badbadnotgood
Being slated on the secluded Pepsi stage on Friday afternoon of Lollapalooza isn't easy. And being a band that can be described as dark, jazzy hip-hop does not make matters easier. Despite having a few big-name collaborations under their belt – like their most recent record with Ghostface Killah – and support from Tyler, the Creator (whose notable absence at their set was a gaping missed opportunity), the trio proved that their musicality trumps rubbing shoulders with rappers. It's a little out of place hearing band members adhering to traditional jazz customs, such as fully introducing tracks and guest instrumentalists, the trio's darker tracks translated well into a brighter, energetic midday set. – Kirsten Onsgard
Father John Misty
Father John Misty was feeling a little sad today – or is that just his persona? "I've got to admit, I'm really depressed," he said. "How's that for on-stage banter?" His live humor is so dry, it's hard to tell if he's serious; his dancing and flailing so emotive, it's hard to tell if he's just being goofy. But it's no surprise. "I Love You, Honeybear," is a painfully honest record, so much so that Josh Tillman can initially come across as an annoying jerk, until you understand it is exactly what you have been too afraid to say all along. – Kirsten Onsgard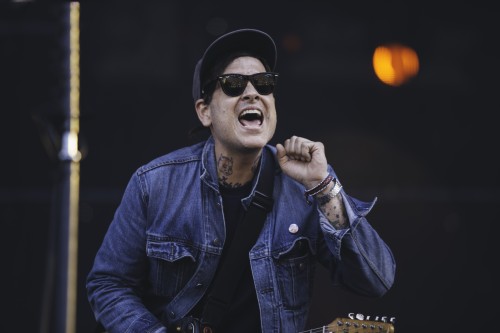 Cold War Kids
Following up a stellar show at Park West the night before, Cold War Kids took to the stage Friday afternoon and wowed the incredibly large and varied crowd with their wide-ranging set of songs that spans the band's 11 years. From "Miracle Mile," to "We Used to Vacation," to newer songs such as "First," Cold War Kids played songs from every moment of their career, appealing to the entirety of the crowd. Maybe it's because this was the band's fifth performance at Lollapalooza, but Cold War Kids performed flawlessly throughout their hour-long set, as the band sounded incredibly tight and well-rehearsed, and vocalist Nathan Willett's voice was incredibly powerful, only sounding better as the set went on. – Erin Yarnall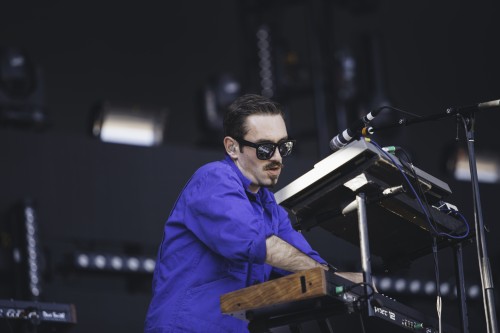 Hot Chip
This year's conservative "Why Make Sense?" isn't the best release from Hot Chip, a band whose strength in the crowded synthpop space stems from subtle oddities and quirkiness. But live, its tightness and builds, especially on tracks like "Need You Now," shine. Despite their percussive aptitude and gooney moments – like synchronized dancing and a cover of "Dancing In the Dark" that morphed into LCD Soundsystem's "All My Friends" – there's one thing they couldn't control: a bass-heavy mix. A steel drum led melody on "I Feel Better" was either drowned out or too quiet, resulting in occasional dull moments in an otherwise strong set. – Kirsten Onsgard
The War on Drugs
Three years ago – and with mostly only one noteable album – The War on Drugs were handed the same less-than-ideal set as Badbadnotgood this year. But after the release of one of the most critically acclaimed albums of 2014, "Lost in the Dream," they graduated slightly to the Palladia shell (though given the thinned out crowd and audience with their backs turned waiting for alt-j, it might have been hard to tell). The festival did not do them any favors either; a slight bump in volume would have turned their sound from rumbling to the booming wall-of-sound Americana they are famous for. Despite an overall strong performance, to most disengaged alt-j fans, it probably sounded sedative. – Kirsten Onsgard
[box]Follow along with our live blog[/box]
Young Thug
Although all of Lollapalooza was filled with young men in basketball jerseys, the most concentrated amount was in the small area of the BMI stage waiting to see Young Thug. The rapper, who has his own breakout singles like "Stoner," but is mostly known for his collaborations with other rappers, including Rich Homie Quan for "Get TF Out My Face," which the rapper performed early into his set. The crowd comprised of the youngest denizens of Lollapalooza was easy to entertain, as anything the rapper said or did had the crowd grooving along. It's hard not to feel old surrounded by all of the teenagers at Young Thug's set, and it's also hard not to feel old when I couldn't find much to differentiate him from a lot of other rappers. He wasn't terrible, but there wasn't anything that made his live performance stand out. – Erin Yarnall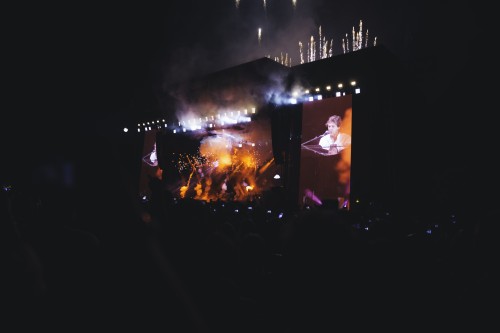 Paul McCartney
As a legendary musician whose career spans almost 60 years, Paul McCartney's life has been like an open book, but watching his live performance was like reading a private page from his diary, as he dedicated "My Valentine" to his wife, Nancy, talked about how he wish he got the chance to say things to John Lennon before he died, saying "I wrote this one for Linda," his wife who passed away in 1998, before belting into "Maybe I'm Amazed," and even bringing up funny stories about hanging out with Jimi Hendrix and Eric Clapton. The set also covered the entire span of his lengthy career, playing Beatles classics like "Can't Buy Me Love," to a snippet of "FourFiveSeconds," McCartney's song with Kanye West and Rihanna.
Every moment of Paul McCartney's performance – from the knowing looks at the camera to the stories and banter – is perfectly choreographed. But here's where he differs: it never feels rehashed or insincere. He can recount stories of noodling on the ukelele with George Harrison and writing "Something" like he's having a casual chat in his living room. He can pull out deeper tracks like "Back in the U.S.S.R" and "For the Benefit of Mr. Kite" and they still feel like surprises. And there was one big surprise: Alabama Shakes' Brittney Howard made a guest appearance on "Get Back."
There's one thing McCartney couldn't account for: the bass sound bleed from Kaskade at nearby Perry's. But he took that in stride, too. McCartney mentioned how loud the stage was, and how his music and "Whatever s– they're playing (at Perry's)" was a mashup.
Despite the fact that McCartney was at points drowned out by the thumping bass, everyone who watched his performance can attest to a phenomenal show. He proved critics saying his age would be a disappointing factor in his performance dead wrong, as one crowd member said, "That alone was worth the price of a three-day wristband." – Erin Yarnall & Kirsten Onsgard
View Comments (3)