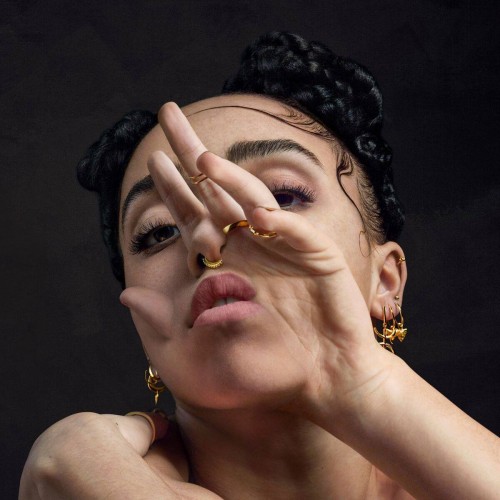 Pop music isn't unfamiliar with alter egos. David Bowie dominated the early '70s with his glam-punk personality Ziggy Stardust. Nicki Minaj channels Roman Zolanski, a gay British man that only appears on some of her most iconic rap verses. Most notably is probably Beyoncé's diva counterpart Sasha Fierce, whom she credits for supplying her with the incredible confidence needed to get through a rigorous performance.
For FKA twigs, however, "Melissa" is much more than just an alter ego or a spilt personality. It's the English singer-songwriter's personal female energy that summates her third EP, "M3LL155X." The five-track EP displays twigs at her strongest and noisiest, a stark contrast to the more delicate sounds on her previous extended play releases, "EP1" and "EP3." The songs on "M3LL155X" also serve as a soundtrack for the 16-minute short film twigs released with the EP, which includes visuals for four of the five songs.
"M3LL155X" opens strongly with "Figure 8," a highly anticipated track the singer been teasing at festival performances over the past few months. A reference to hand formations found in vogue, an intricate dance style popularized by queer black males in the '90s, "Figure 8" proves to be a familiar but fresh listen. Beginning with a haunting, eerie synth, twigs coats the pummeling drum pattern with her signature whispered, high-pitched vocals. As hushed ticking sounds slowly build into a crescendo, an unexpected explosion of lighter synths add color to the dark track, successfully demonstrating twigs' unpredictable creativity.
The following track "I'm Your Doll" moves "M3LL155X" into an even darker sounding space. In a recent interview with Complex, twigs explains feeling disconnected from the song, which she wrote when she was 18 years old.  Themes of vulnerability and submissiveness run rampant on the slowed down song. The repetitive chorus of the song insinuates twigs' emotional inexperience, as she whimpers "Wind me up / I'm your doll / Dress me up / I'm your doll / Love me rough." The accompanying visual is also jarring, which features the singer's head attached to an inflatable doll lying nude on a bed. A sleazy-looking older man notices her, and succumbs to his sexual desires by licking and biting the plastic doll, eventually leaving it deflated and torn apart.
"M3LL155X" then lightens with "In Time," which could perhaps be the most repayable track on the EP. Most songs on "M3LL155X", and in twigs' discography in general, boast scattered verses, choruses, and bridges that make for adventurous and capricious listens. In fact, the irregularity in twigs' songs has become sort of a trademark for the singer, and any move away from this seems risky. Despite this, "In Time" has the catchy chorus and thumping beat and needed for a good pop song. The song ultimately proves that twigs can master conventional song-making methods if she wants to.
"Glass & Patron" showcases twigs at her most energetic, as it's the most upbeat and club-ready track on the EP. The song functions as an empowering anthem that perpetuates feelings of uniqueness and confidence. Lyrics like "We've got a front row seat to the stars" and "I just want for you to love you" are fervently sung over a sharp pulsating beat, encouraging listeners to create their own self-perception rather than have someone else project one onto you.  The visual, which was released earlier this year, features twigs along with a crew of vogue dancers draped in their best costumes. As each dancer takes a turn twirling down the silver runway, they receive a roar of applause from supporting onlookers, which proves to be the most wanted form of validation for being one's self.
"M3LL155X" closes with the glitchy "Mothercreep." Filled with distorted sound effects and twigs' squeaky wails over an eerie mid-tempo beat, it serves as a dramatic yet appropriate ending to an intense journey of the female personal energy.