DePaul women's volleyball relies on Coffey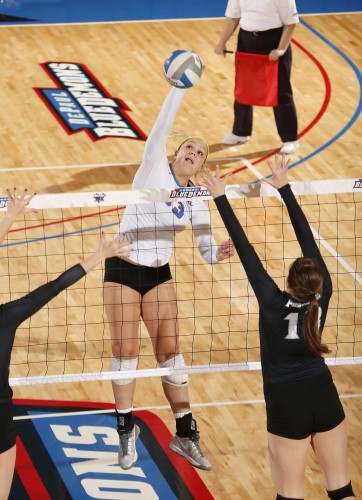 From earning an MVP title at the DePaul Invitational, to landing a spot on the Big East  Weekly Honor Roll, sophomore middle blocker Caitlyn Coffey is enjoying a hot start to her 2015 volleyball season.
"I was very excited for her because she's been working extremely hard, and we talk about her goals and what she wants to be able to accomplish to be able to be a factor for us offensively and defensively," volleyball head coach Nadia Edwards said. "Being in a tough conference, I think she certainly has the talent to be able to do that, and she's demonstrating that right now."
Coffey's role has been instrumental in DePaul's quick start to the season. After dropping their first game, the Blue Demons won five in a row to jump out to a 5-1 start. Coffey put up career numbers at the DePaul Invitational as DePaul swept their way to the trophy.
"It's exciting. I think a lot of people on our team probably deserved (DePaul Invitational MVP) this weekend, but it's exciting" Coffey said.
Coffey gained a career high of 21 kills against Evansville during the tournament hosted by DePaul. Having held a previous record of 14 kills against Villanova last year, Edwards believes that Coffey is just getting started.
"I just think that she's a lot more confident in her ability," she said. "We knew that she was a talented athlete coming in and could make a huge jump, even in her freshman year, but I think with the experience that she's had on the court just this year, in combination with last year, and just her being a lot more resilient, she's helped the team move forward."
Going into every match, Coffey said her mindset is to always beat her previous record, "and give it all you can to try and get it that way." She's gone into the season attempting to be more of a leader, and hopes that it'll help the team gain more victories. Their 3-25 campaign in 2014 has already been erased with their winning streak to start the season.
"I'm really looking forward to it," said Coffey. "I think we're playing really well right now, so it should be a pretty good one."
As a sophomore, Coffey is one of the leaders of the youth movement that Edwards pointed to during their 2014 campaign. Her season so far in 2015 is proving Edwards to be right.
"The future of this team is bright," said Edwards. "Our biggest thing is to stay healthy and taking it one week at a time. We're working really hard in the gym and [being able] to establish an identity and to play at the same level every time we step on the court, regardless of who's on the other side of the net."
The 2014 team had no seniors so the entire team returned for 2015. Among them, Coffey has emerged as a solid player who the Blue Demons can build off of.
"She's a key player now, so she's now more prepared for that," Edwards said. "She's able to change up her shot, and stay focused, so I think that really helps her to dominate at the net."
With the rest of this season and two left afterwards, Coffey could be the key player the Blue Demons build a foundation on as they rebuild.