'Elite' Wyatt dominates, closes in on record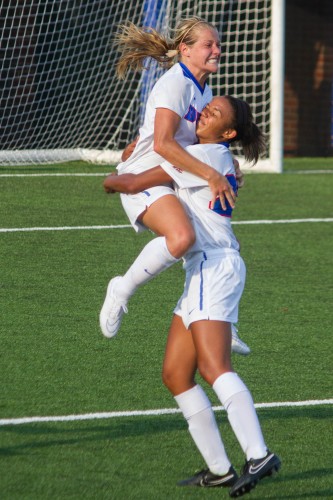 DePaul women's soccer head coach Erin Chastain's phone buzzed and received a text message. She looked down and smiled. It was from her old friend and Harvard assistant soccer coach Mike Calise.
"When she was national player of the week, I got a text from him saying 'What do I get for giving you a heads up on that player," Chastain said. "He does remind me that he was the one who pointed me out to her. And I always say 'you're right. Thank you.'"
Having already been out of scholarships for the year, Calise alerted Chastain about a high school player from British Columbia in Canada four years ago. Needing a forward, Chastain then went and scouted Elise Wyatt at a tournament. When watching, Chastain knew right away she needed to sell Wyatt on a program that earned just three wins the year before.
DePaul has benefited ever since.
In her final season, Wyatt is just three goals away from tying DePaul's all-time scoring record of 32 goals, set by Julianne Sitch in 2005.  Wyatt's six goals and two assists in five games this season marks one of the fastest starts in DePaul history for a player.
But for those on the Blue Demons, Wyatt's strong start is just another sign of the fierce competitor that's helped transform the Blue Demons into one of the nation's best.
"I think I've always grown up being a super competitive person," Wyatt said. "It doesn't matter what I'm doing — board games, school work or even walking to the store. I always have to get their first and do it properly. That competitive drive just propels me forward."
It's also the journey that Wyatt has set out to enjoy. Wyatt now laughs at one of the first conversations she had with Chastain, where Chastain stressed that she was rebuilding the program's culture and wanted Wyatt to help turn it around.
Wyatt laughed because it was the same path she always had taken previously.
"I don't' want to be part of a program that's already been established," Wyatt said. "I want to create something where I can leave my mark … I've always been in a position, even if it was on a team I was on growing up, I always started not playing. I was never a starter. And then I always worked my way up.
"I think that's more rewarding. I think it's more rewarding in knowing that I helped started this, and that I've worked on it from the beginning."
And the success has certainly come. In her sophomore season, Wyatt and her teammates got a glimpse of winning when they advanced to the Big East final and later the NCAA tournament with a 13-6-2 record. The next year, however, transformed DePaul soccer to new heights — finishing the regular season undefeated before a first round loss in the NCAA tournament to Wisconsin.
Brianna Ryce, a senior who has also had a huge impact in lifting the Blue Demons, said Wyatt's impact is seen every day in practice and even through the games. The two have formed a close bond, living together their first three years.
"She's someone we can rely on to score for us, which is really big," Ryce said. "We have someone on the field who takes it upon themselves as a senior and a captain, to score when we need them to score."
Even this season, Wyatt is off to a fast start, which Chastain said it usually takes her until the second half of the season to "become sharp." While noting her improvement gradually since freshman year, Chastain said Wyatt has been much more aggressive in the attacking third.
"Elise is one of the best kids I've ever coached," Chastain said. "From a drive perspective, with just how driven she is in life and school … You always want special kids in your program. She's one of them."