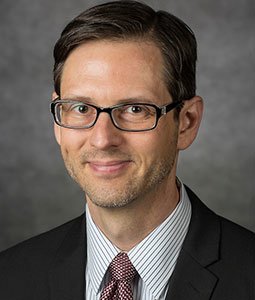 Candidate for DePaul Executive Vice President Jeffrey Bethke led an open campus meeting with the university community Thursday, making the case as to why he is the best candidate to replace retiring Bob Kozoman.
Bethke, who is also the current Treasurer at DePaul, met with faculty and staff to answer questions regarding his potential role. About 40 people, mainly faculty and staff, attended the event.
Bethke has served as the university's treasurer since 2008, and he has held positions at the university for more than ten years.
For Internal Audit Senior Tracy Philips, attending the meeting was about learning Bethke's views on risk to the university in addition to learning who the department may potentially work with.
"Internal audits reports to the EVP, so we work directly with whoever takes the position," Philips said.
As the internal candidate for the EVP position, some faculty and staff feel that Bethke has an advantage in the selection process.
"He's well-versed about DePaul and our history," Assistant of Academic Fiscal Administration Cheryl Einsele said. "Any internal candidate will hit the ground running quicker because he's used to this institution."
Philips has also taken into consideration Bethke's experience with DePaul.
"We know he's an internal candidate and we want to make sure he will be looking at things from an unbiased perspective," Philips said.
Bethke answered staff and faculty questions regarding his ideas for the position, including university investments, budgets and innovations. Bethke also answered student questions regarding college affordability.
"88 cents from every dollar that comes to this institution comes from a student, either in the form of tuition or loans," he said. "It is imperative that we operate as stewardesses of that money to get the most of every dollar and strive to offer a high value of education."
Student Government Association Vice President Ric Popp asked Bethke about DePaul's diverse student population and accessibility to education despite rising tuition costs.
"We have to be sensitive to affordability and accessibility just as a general concept. When I went to college, I worked two to three jobs at a time and I was able to pay my tuition bills," Bethke said. "You can't do that now. There's a risk that we as a society are losing the dream of higher education because of affordability and accessibility issues."
Bethke said his impact on affordable education at DePaul can be seen by spending every dollar wisely. "As the EVP I would be expected to be well engaged in the revenue side of the conversation, assuring that we're doing what we can on the expense side is key," Bethke said. "You turn on the lights and that's money coming out of the student's pocket."
Community members asked the EVP candidate to elaborate on concrete ideas for growth and development for the University within the role as EVP.
"If I get the job, I really see the first meeting being with the provost to talk about what we are trying to accomplish and how can I build upon that," Bethke said.
Bethke also spoke of an approach to increase transparency amongst administration and encourage engagement with the community.
"My approach is to have a mindset of aggressive engagement and that would be with faculty council, with staff council, with the Student Government Association, with the Deans," Bethke said. Bethke also spoke of creating opportunities for informal connections that bring out problems faculty, staff and students might be having.
In terms of investments to the university, Bethke stressed the need to make careful choices. "There's always going to be money for investments, but that comes out to what are the choices we're making and why are we making those choices," Bethke said, "We are not a revenue center, we're a cost center that leads to a key parameter. It's imperative that we get the most out of every dollar in direct costs but while also making sure we're providing the right level of service."