Criticism mounts as DePaul responds to Dean Koocher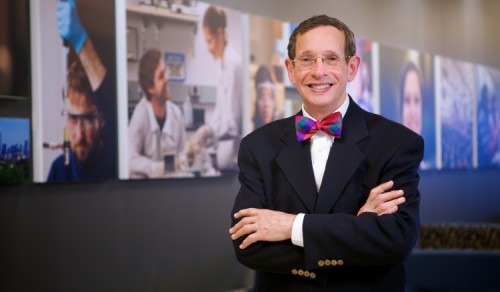 Several members of the DePaul community have joined a chorus of outsiders in criticizing the university's response to the conclusions made in the Hoffman Report, a 543-page document that unveiled now-College of Science and Health Dean Gerald Koocher's role in the collusion between the American Psychological Association (APA) and Department of Defense (DoD) in crafting interrogation policies that ultimately led to torture.
The report, which was released in July, details the period between 2005 and 2007 when the APA consulted with the DoD in crafting guidelines for interrogation practices at Guantanamo Bay. A task force on Psychological Ethics and National Security (PENS), was created to make these guidelines. Koocher, who was vice president of APA at the time, served as a board liaison for the group.
Despite a liaison typically not playing an overly active role such processes, Koocher self-admittedly acted as an enforcer on for the committee and its email listserv to keep the committee on task.
"Dr. Koocher kind of appointed himself as the assessor of whatever came through on the listserv," said PENS member Jean Maria Arrigo. "So he would say well this is good, this is bad and this is ridiculous."
DePaul hired Koocher in 2013, several years after the events detailed in the report. Despite a university search committee having knowledge of several claims later verified by the findings in the Hoffman Report, he was hired as dean of the CSH.
"I know a number of faculty who provided information to the committee about Dr. Koocher's role in this whole issue and they definitely didn't give it enough consideration," said a professor in the College of Science and Health, who spoke on the condition of anonymity (Professor 1). "I'm unclear why they weren't concerned when they received the information. I have been tracking this issue for the past decade and was surprised that DePaul was willing to hire him despite the controversies about him."
In his position, Koocher has attracted mixed reviews ranging from professors who have found him "approachable and pleasant" to "disrespectful of other people's time and ideas."
While faculty opinions on their time working with Koocher varied, most were not satisfied with the university's reaction.
"I'm really unhappy with the university's lack of response," Professor 1 said.  "APA was complicit in allowing torture to take place and now the silence of DePaul's administration shows that they are complicit as well. This goes against our Vincentian heritage."
The university's official comment to press inquiries has been that "while DePaul has no firsthand knowledge of the matter, Dr. Koocher's published statements are thoughtful and worth reading in their entirety."
"I strongly object to DePaul's taking the 'ostrich approach' of trying to ignore the controversy in the hopes that it will just 'go away,' said an emeritus professor in the college (Professor 2). "Such an approach will at best serve to challenge DePaul's credibility as an institution that values social justice.  At worst, we will look like hypocrites."
In an interview with the DePaulia last week, Provost Marten denBoer defended Koocher, reiterating the defense Koocher presented that said he was misled by APA staff regarding what was actually going on at Guantanamo Bay.
"I do think that people should be very careful to look at what was known and what was not known at the time," denBoer said. "It's very easy to in hindsight to look back and say, 'well, this should have happened and that should have happened.' The dean himself says that had he known then what he knows now, he would have done things differently."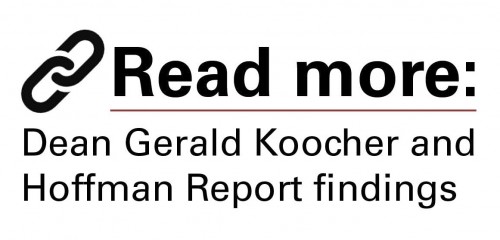 When pressed on the claim made by some that Koocher abused his institutional role through the gatekeeping of ideas the PENS task force, denBoer again supported the dean's version of events.
"I think he's given a fairly cogent answer as to why he did that. It had to do with the fact that the committee had a limited time to develop a report," denBoer said. "And he was only there I think for the first few hours of the meeting. So you would think he saw it as his responsibility to ensure that the committee had a pretty fixed timeline to develop a report."
Many, however are now saying that the university must do more.
"Now his presence is an embarrassment," said another professor in CSH (Professor 3). "As put by a friend of mine who is a department chair at another university in the Chicago area, the lack of action by the university after the Hoffman report came out shows that DePaul only 'talks a good game' when it comes to matters of justice.  As much as want to defend DePaul, this is a hard one to justify."
Senior Jack O'Brien, who is the president of the DePaul chapter of Psi Chi Honors Society, a psychology club, released a statement asking for transparency in the university's handing of the matter.
"Students have the right to expect a meaningful response from the college, or at least the university, regarding the resolution of this matter. The allegations and apparent lack of action on the part of the University not only reflect poorly on our Dean and college, but also on our young psychologists whose diplomas have his signature on it," O'Brien said.
"I understand why faculty would be reticent to comment on the issue given the Dean's position, but students also have the right to demand integrity on the part of the College of Science and Health and transparency on how this glaring issue will be addressed," he continued.
Student Government Association President Vanessa Cadavillo said she would like to finish reading the Hoffman Report before making any conclusions or setting in motion any resolutions.
"I think it's too soon to tell because I don't have all the information," Cadavillo said. "So I think moving forward, we will just have to see and once we finish up the summary, we will have to move forward from there."
The university's Faculty Council will discuss the issue at length at their monthly meeting this Wednesday. According to the agenda, the council's officers will report on a meeting they had with Koocher, CSH members will discuss a meeting the dean held with the whole college, and then there will be an open discussion for faculty to engage in.
In addition, Koocher will host a meeting on Sept.21 in McGowan South, room 108 from 3:30 to 5:30 p.m. where faculty members can ask questions to him directly.
As was the case for several academics outside the university, some faculty believe that Koocher should step down as dean.
"I don't see how he can be an effective leader," said Professor 1. "Many faculty feel really uncomfortable with him as a result of his role within APA and the PENS task force when all this was going on. I don't see how faculty can trust him."
Professor 1 added, "Faculty feel uncomfortable working with him, saying no to him and disagreeing with him. It's a really bad environment."
"It is quite simple; he cannot lead effectively as he has lost the respect of the faculty: note that fear of retribution is not the same as respect," said Professor 3.
However, Professor 3 said there was no need "to have a witch hunt; I would be perfectly happy if Dr. Koocher becomes a regular faculty member."
Not all faculty believe that the dean should have to step down, however. According to Professor 2, that "type of  'crime and punishment' approach is detrimental to resolving the issue." 
"That issue is the question of why and how people can end up doing what they should have known was wrong (or really, not doing what they should have known was right)," Professor 2 said. "We all (including Dr. Koocher) should be trying to grapple with this issue."
Despite the belief that the university mishandled the issue, Professor 3 believes they will change their tune soon.
"I am not satisfied, but I think the university will eventually do what is right," Professor 3 said. "It is a mitzvah to act for justice, as the sculpture in the front of the student center reminds us."
View Comments (11)