Pope Francis to visit US this week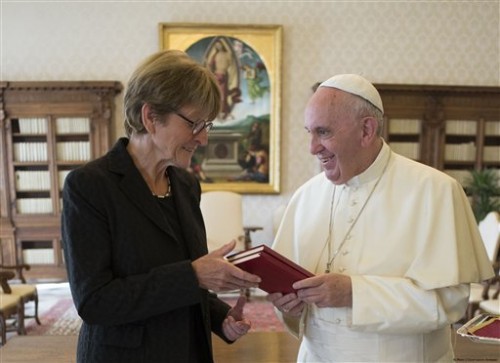 The church figure beloved by young Catholics and non-Catholics visits America this week. Pope Francis, the modest man of the people, has been heralded for shaking up the high status-quo at the Vatican since his inauguration in 2013.
Now, fans and media from around the world, including The DePaulia, will flock to Washington D.C., New York and Philadelphia next week for his statements on the environment, politics and goodwill.  Landing in Washington D.C. Tuesday, Francis will greet President Barack Obama and deliver the first-ever address to Congress by a Pope. His six-day schedule is packed with masses and meetings, including one with the United Nations General Assembly in New York and the World Meeting of Families in Philadelphia. 
There will be a celebrity vibe in the air, but not quite like a Taylor Swift show, DePaul Catholic Campus Ministry (CCM) Assistant Director Jackie Posek said. 
"I think he's going to say some things that are very inspiring and uplifting," Posek said. "(But) I also think he's going to say some things that are very challenging."  
From the get-go, Francis has made himself a very political figure, Posek said. His latest headlines stream from an encyclical on environmentalism released earlier this summer, as well as recent emphasis on the annulment and abortion process. But what he's saying is nothing profound to Catholicism, Posek said.  "I think it's very important to recognize that all of Pope Francis' teachings and all of the things that he's said in his encyclicals are 100 percent in alignment with Catholic teaching," Posek said.   
As the leader of more than 1 billion Catholics around the globe, Francis faces the task of promoting common Catholic standards and teachings. This can be very difficult when confronted by so many conflicting and complex cultural traditions, St. Vincent DePaul Parish Pastor Rev. Jeremy Dixon, C.M. said.  Recent headlines have circulated around Francis' statements on annulments and abortion, many of which are misinformed, both Posek and Dixon confirmed. Many have claimed Francis supports making annulments, or the divorce process for Catholics, easier. 
"He didn't change the rules of what the church says about marriage. He just made it easier for people that want to seek an annulment, to try to make it as user-friendly as possible," Dixon said. The annulment process is fairly efficient in the U.S., but in other parts of the world, "it's a process that can last years and years and there seems to be no end in sight."  
Many also reacted to Francis giving priests the ability to forgive a woman confessing to having an abortion, Dixon said, but this practice is already standardized in the U.S. 
"I think in some ways the general media doesn't get those nuances," Dixon said. 
But more than specific issues, Posek said Francis is provocative simply for asking Catholics to change. 
"A lot of 'conservative Catholics' are also politically conservative, and political conservative views often don't pay a lot of attention to issues like climate change. Some of them outright deny it," Posek said. "To encounter a church teaching that is telling you, 'you need to change your ways,' I think that is something — especially for someone who takes their religion very seriously aka 'conservative Catholics' — that's tough." 
Dixon also said that big business types may not appreciate Francis' focus on discouraging greed. 
"In some ways those who might be seen as more … traditionally minded people are fearful of what he's doing," Dixon said. "I'd definitely say sort of big business is not appreciated. People who believe in unfettered capitalism are having challenges listening when he critiques the economic system." 
A Gallup poll from July this year showed Francis' high 76 percent approval rating from 2014 dropped to 56 percent, most notably from conservative Catholics, whose approval dropped to 45 percent.  Overall, Americans' approval of Francis hovers between 60 and 70 percent, according to the latest Gallup poll and a Pew research center poll taken in March this year. Ratings favor Francis over predecessor Pope Benedict and compete with the high ratings of Pope John Paul II. But the literal message of either Catholic leader hasn't changed.
"This pope in particular is focusing on the poor and environmental issues, a lot of things that for a long time the Catholic church wasn't highlighting as much as they could have been," DePaul senior Griffin Hardy said. Hardy will go to Philadelphia for the World Meeting of Families with financial help from the Catholic Studies department for his senior thesis about American Catholics' relationship to the papacy. 
"This pope in particular is effective and influential because people respect what he has to say," Hardy said. "He's somebody who people look to as a moral authority, but also someone who can be trusted."
Posek said the pope has also had an effect on millennials like Hardy. 
"He's speaking about mercy, about inclusion, about reaching out to those who are not included sort of in the powerful parts of society," she said.  Not only does this resonate with young Catholics and non-Catholics, but Posek said it has an impact on people searching for a moral authority. 
"We're struggling to find people with integrity, people who care for the poor, people who care about people more than money," Posek said. "It's a breath of fresh air, someone who can be in a position of such great authority, who uses that authority for the good of the whole, for the common good of humanity."   
View Comments (1)