Review: Rita Ora at Lincoln Hall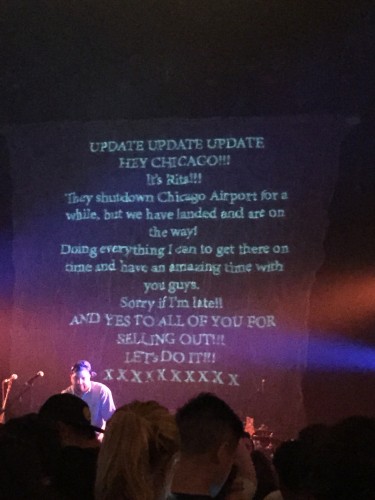 Rita Ora made two firsts in her career on Sept. 17 — she played to a sold out crowd in Chicago, her first night ever performing in the city, and for the first time ever she delayed a show.
The singer showed up over one hour late to her performance at Lincoln Hall, as her flight from New York was diverted to Indianapolis because of bad weather. Fans didn't mind, though, as they danced to a DJ playing numerous top 40 hits, and were receiving constant updates from Ora herself via Twitter and a message she sent to Lincoln Hall, which was displayed on the screen behind the DJ.
Ora's sold-out Chicago stop was a rare chance to see the British pop singer before she inevitably blows up. Ora has a phenomenal voice and seriously catchy songs. Her fans at the concert did not stop jumping and dancing throughout the entire performance. This can only result in massive success in the United States for Ora, who is already a fairly large star in the United Kingdom.
"These are smaller venues than when I perform in the U.K.," Ora said in an e-mail interview before the concert. "It will be a lot more intimate and will be closer to my fans."
Her closeness to her fans is something not to take for granted. Ora continuously interacted with her fans while performing, and as an apology for her late arrival, she threw t-shirts out to the crowd. The singer even brought one of her biggest fans, Randy, who had been waiting outside of Lincoln Hall for hours, on stage while she performed "Body on Me," and danced with him throughout the song.
"Body on Me," her collaboration with Chris Brown, is her latest single that she was promoting throughout her tour. Ora also collaborated with British singer and musician Kate Nash for another single, "Poison," which was released earlier this year.
"I'm a huge fan of (Nash) and so happy she was a part of that song," Ora said. "Also, I respect Chris Brown as a musician so much. Vocally, he's incomparable in my opinion."
Ora's upcoming album, featuring both of those singles, will be her second studio album, but first to be released in the United States. Her first studio album, "Ora," was released through Roc Nation, Jay-Z's record label, in the United Kingdom in 2012.
Her upcoming album will be more personal than "Ora," which was filled with party songs, including "How We Do (Party)." The unnamed album will feature "Kosovo," a song about Ora's home country.
"(Kosovo) talks about my life and things I haven't addressed in the media," Ora said. "I can address these through the emotion of music."
The singer has also been spending her time participating in another creative endeavor lately — acting.
Ora was featured in the films "50 Shades of Grey" and "Southpaw," both of which were released this past year. In "Southpaw," Ora plays Maria Escobar, the abandoned drug addict wife of Billy Hope's (Jake Gyllenhaal) enemy, Hector.
"I wanted to play this part in 'Southpaw' because it was opposite to what people see me as," Ora said. "I think that people pigeon hole you and it's really liberating for me to show people that I can deliver something they could have never imagined."
In addition to the entertainment world, Ora has taken on responsibilities as the honorary ambassador for the Republic of Kosovo, where she was born, and said she cried when she found out she was being named an honorary ambassador.
"I see my duties as being aware of where I am from and what we have access to," Ora said. "In more privileged countries they don't have access to such things as the opportunity to become an artist on such an international platform."
Ora also recognizes that although many Kosovar artists do not have an international platform, there are still works of art worthy of recognition throughout the territory.
"What I love is they bring people to them, and that's what I want to attract attention to," Ora said. "Things like DOCUFEST in Prizren, which celebrates cinema and film that has been created in the country. I see bringing attention to these things as my obligation as an ambassador."
Her dedication to her home country is something that sets her apart from other pop singers looking for their big breakthrough, in addition to her compassion and genuine talent. The three put together can only result in her eventually becoming a massive star, and someone that fans can look back on and fondly remember her Lincoln Hall show.