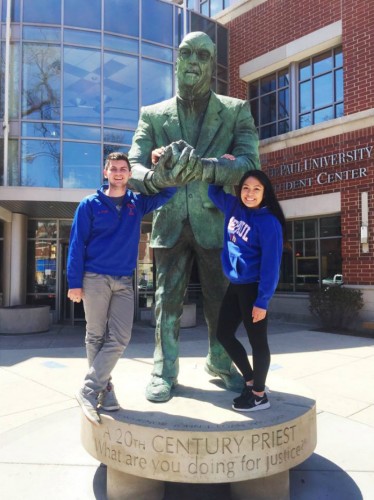 DePaul's Student Government Association (SGA) will launch its semi-quarterly student leader round tables starting Sept. 30. The event, which is a facet of SGA's inclusivity and collaboration initiatives, aims to develop a sense of community between different organizations on campus through discussion and event-sharing.
"The goal is to create more of a platform for different student organizations and for the student leaders of these organizations to interact and collaborate with each other," EVP of Student Affairs Patrick Pfohl said. He will be representing SGA in the event alongside either President Vanessa Cadvillo or Vice President Ric Popp.
Due to limited space, the round tables will only include around 20 to 22 student leaders each meeting, with larger organizations given first preference. Each meeting will follow an itinerary drawn up by SGA, but Pfohl stresses that SGA will by no means be taking center stage during discussion.
"Even though SGA is hosting this meeting, it's not like an SGA-controlled event," Pfohl said. "It's supposed to be an equal platform for all people to work on together."
In implementing round table meetings, SGA hopes to both revitalize its presence on campus and prove its worth as a tool for student organizations to achieve their goals.
"A lot of people don't feel like that they can go to SGA about things and they don't really see the point about having a student government, especially because we haven't been super vocal in the past towards our student body," Pfohl said. "There have been specific student populations that have been left out of the conversation."
"Now I'm trying to foster a more welcoming environment for students to utilize the government process for their student organizations," he said.
[box]Read: DePaul SGA President Vanessa Cadavillo and Vice President Ric Popp discuss their initiatives for the year[/box]
Some say that SGA has struggled to maintain a positive image with student leaders.
"They do not respect or represent the students and student organizations at DePaul," one student wrote in a Facebook review on their page around a month ago. "They are also impossible to work with."
Pfohl admits that the student leader response has not yet been overwhelming, having only received about nine responses out of more than 20 invitations extended. He attributes this to the fact that he reached out to the organizations over the summer, when students are not as likely to check their school emails, and a reticence from student leaders to add another duty to their busy schedules.
Regardless, he maintains that student leaders will quickly see the value in showing up at the round tables if they simply attend the first meeting.
"You get stuck in your own little bubble based on the students you interact with." Pfohl said. "That's one of the biggest things that this new round table can help out with: to create a more unified front with all student organizations so that they can talk with each other and meet with each other and find new ways that we can create some awesome things."