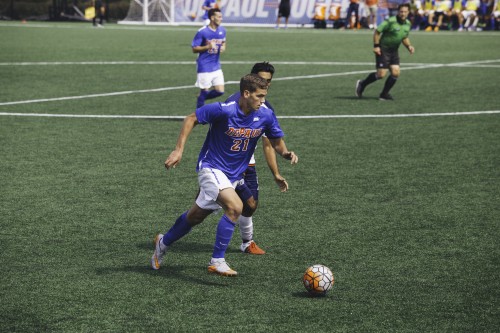 It was perhaps the best performance the DePaul men's soccer team has put on to date this season, despite the unfavorable outcome. The Blue Demons opened up Big East conference play with a 1-0 loss to the Xavier Musketeers in the second period of extra time after 105 minutes of play.
Xavier, a team that finished second in the conference and made it to the Round of 16 in the NCAA Tournament last season, was one of the most difficult teams in the conference for DePaul to open up against. Knowing how good they were is likely why the Blue Demons came out strong from the opening whistle.
"We came into this game knowing we were going to give it our all and the season really starts now," Mack Robinson said. "We were aiming to make a statement…we're happy with our effort and we'll just push on from here."
Robinson only made four saves, but that was largely in part due to the Blue Demons' stifling defense, something that had eluded them throughout the season so far. Giving up 13 goals through seven matches, it's not a stretch to say DePaul's defense hasn't been the greatest. Though, it's something Robinson say will take time.
"Defense has been improving at a fast pace all season, we've yet to plateau and you could see that in our play today," Robinson said. "Xavier's arguably one of the best attacking teams in the country and we shut them out for 100-plus minutes."
Defender Caleb Pothast returned to the starting lineup after missing last match and was switched from his usual position of left back into central defense, pushing Bermudan National Team starter Jalen Harvey out wide.
"I thought it did well with our team, we had some good chemistry in the back," Pothast said. "Today everyone fought for each other…we all had each other's backs and Mack made some fantastic saves."
Harvey and Pothast had their hands full with Xavier's Eric McWoods out on the wing. McWoods' lightning fast speed is likely why the two Blue Demons swapped places because Harvey countered his foe's speed perfectly.
Though the defense was what kept DePaul in the match for 104 minutes, it was the Blue Demons' offense that really impressed and showed progress. Creating chances has been difficult for the team this season so far, but today against one of the best teams in the conference, the creativity was flowing.
"On the offensive end we had a lot of combination play. We had shots on goal and just got unlucky," Robinson said. "There was a questionable call at the end of the first regulation. Could've been a PK, should've been a PK, but we're getting it done up there and it just didn't go our way today."
The questionable call Robinson is referring to happened in the 99th minute when Erik Rodriguez was delivered a perfect through ball in the Xavier box and appeared to have been taken down from behind. The head official not only didn't view it as a penalty, he called a foul against Rodriguez that sent head coach Craig Blazer into a fury on the sideline.
"If you don't call it a penalty, it's a judgment call and we can deal with that, just allow them to play on," Blazer said. "But to not allow play to go on, then call it against us – that's not right."
Simon Megally, who put in a dominating performance in the midfield, agreed with his coach.
"From my view, it was a penalty," Megally said. "Erik got inside the defender and then the ref told me Erik grabbed him down, but I just don't see how it's possible for a human being in front of someone to grab down someone behind them."
It wasn't the result the Blue Demons were hoping for but it is definitely something to build off of.
"It's hard to be happy now, but I think it was a good performance against a good side, one of the better teams in the Big East," Megally said. "I think if we can play like that, we have a good shot at the (Big East) tournament."
"The big thing going into today was playing together, being as one team and uniting as one team," Pothast said.
"We wanted to make a new statement in the Big East. Last year we were second to last, this year we want to make a statement saying 'we're not here to mess around, we're here to get things done'," he added.
The men are back in action on Sept. 29 when they travel across the city of Chicago to take on Loyola Chicago.