Navy Pier ferris wheel takes its final turns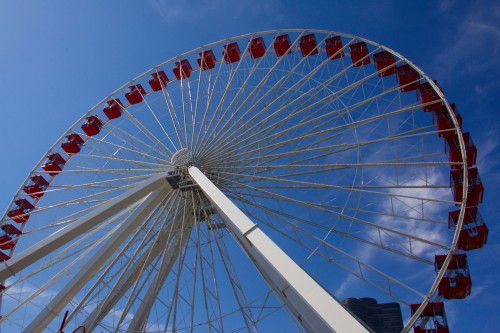 A Chicago staple made its last round through the sky this weekend and will go out with a bang – of fireworks. Visitors rode the 20-year-old ferris wheel at Navy Pier one last time before workers take it apart Monday to start construction on a new and improved model opening next summer.
The old ferris wheel, 150 feet tall and equipped with 40 gondolas able to seat six passengers each, opened in July 1995 and will close 
Sunday
to make way for its 196-foot replacement. The project will cost $26.5 million, to be financed by a private loan, not tax payer dollars, a Chicago Tribune report said.
The wheel is entwined with Chicago history, which made its world debut at the World Columbian Exposition, known as the Chicago World's Fair in 1893. A press release from Navy Pier media relations said nearly 16 million people have seen the skyline from the wheel's gondolas since 1995. The new wheel will seat passengers individually in air conditioned gondolas and hold 414 passengers at once. The wheel will be able to start and stop, letting passengers take in the new view, but it won't be the tallest in the United States. That title will still go to the wheel in Las Vegas that opened in March 2014.
[aesop_gallery id="15521″]