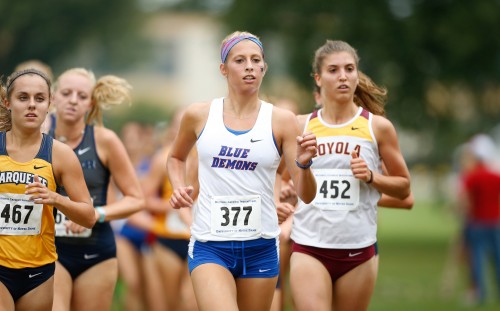 There's an uncertainty cross country runners feel every time they step on to the course, getting ready for a race.
For junior Paige Skorseth, that uncertainty hit before the 36th Annual National Catholic Champions in South Bend, Ind. on Sept. 19. Despite being familiar with the course, having run it for the last two years, Skorseth's doubts crept in and she felt the exhaustion in her legs.
"In track, you pretty much know it's flat and you can predict your splits," Skorseth, who also competes in track and field, said. "In cross country, it's just based off of feel. You never really know what's going to happen on a course until it does."
Skorseth, along with the rest of the men and women's cross country teams, didn't need to worry. The Blue Demons had their best meet in the first half of the season —  with Skorseth earning the top finish for the women's team, placing 30th, while sophomore Chris Korabik led the men when he finished 49th  with a time of 26:13.
"This is definitely the best season I've ever had for cross country," Korabik said. "This weekend I wouldn't consider a great race. Two weeks ago, I ran a minute faster. It's catching up to me and I'm getting more tired than I should be."
But cross country is also unique in the sense that there is no win-loss record. Korabik said every meet is designed to help prepare the Blue Demons for the Big East Championships on Oct. 31 in Ohio.
[box]Podcast: Editor-in-Chief Matthew Paras discusses DePaul cross country on Two and a Half Bens [/box]
Head coach Dave Dopek is pleased with where his team is at conditioning wise. He's noticed a confidence boost across all of his runners, but particularly in Skorseth.
"They're just tough," Dopek said. "Paige is starting to realize the work that she put in starting in June pays off. It builds confidence and she's starting to figure it out."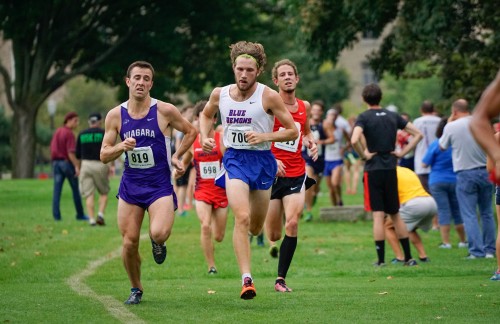 Skorseth ran an 18:35 five-mile run to finish 30th. Courtney Tedschi and Katerina Cirone finished right behind her with a 18.40 (38th place) and a 19.02 (64th place). Of the nine athletes on the women's team, four were freshmen. Skorseth said it was impressive how the younger runners who were unfamiliar with the course carried their weight.
For the men's team, Alex Campanella and Daniel Peterson came in at the same time to finish 56th and 57th with a 26:17 for Campanella and a 26:18 for Peterson.
"I always use the term 'sacrifice' for the willing of the team," assistant coach Leah Bohr said. "That's the sort of stuff we're seeing right now. Some people are running faster than they've ever run and some people are not. But we're all doing what they need to do in being fast and the right time."
Bohr also touted up the Big East as being one of the toughest conferences in the country when it comes to long distance running. Another positive from the event, Skorseth said, was the Blue Demons also gained distance on rival Marquette.
For the next half of the season, Dopek said he and his staff will be focused on "conditioning their minds mentally and physically." Dopek said there is a good mix of freshmen and upperclassmen to lead the Blue Demons. Dopek has stressed to his team this season that they are trying to build "a community."
"I'm looking forward to what they can do," Dopek said. "They've done the work. There's significant recall. There's a saying that high school coaches always tell and I still hear it. They always say there's money in the bank and you work to build more money."
"It will be there when you need to withdraw it."