Men's basketball begins practice for 2015-16 season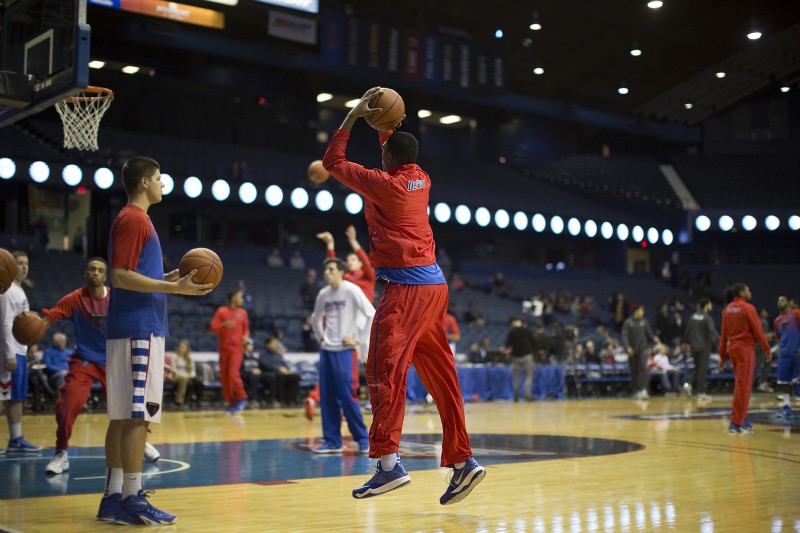 The first game of the 2015-16 season is still a month away, but the run-up to the beginning of the Dave Leitao era is officially underway as DePaul men's basketball started practices.
"It's been pretty good," Leitao said. "The opportunity to coach them this summer meant there weren't surprises, good or bad, but I think this is a whole lot different, practicing for the summer and practicing for the season."
Leitao and DePaul spent part of the summer practicing and playing against teams in France, which gave Leitao the opportunity to see the team before the fall practices started. Now, however, the focus is on the season.
"In terms of installing a culture and how we take care of our business has become critical," he said. "I think they've adjusted fairly well to that but now we have to work on maintaining that."
Outside of Billy Garrett Sr., the entire coaching staff at DePaul is new, which has been an adjustment for the Blue Demons.
"I think it's going pretty well," junior point guard Billy Garrett jr. said. "Our coaches have done a good job of having patience with us, implementing a whole new defense so we're working hard and working together."
The new defense will move away from former head coach Oliver Purnells' system of trying for steals in the lane and breakaway points and instead will move to a more fundamental style of defense which, according to Garrett, has gained popularity in college basketball lately.
"Last year we were more of a deny the rim team, more of a pressing team," he said. "This year we'll be more of a solid defensive team in the gaps, not allowing people to drive the lane and forcing bad shots. We'll be more solid and more fundamental."
Last year the Blue Demons were ranked 323rd out of 345 teams in scoring defense, giving up an average of 73.6 points a game.
The offensive end should remain similar to the Blue Demons' bread and butter from previous seasons, which will focus on hitting lots of shots and skill-based offense.
"I think in years past they've made a lot of shots and so I'm hoping that will continue," Leitao said. "We're trying to put guys into a position to make positive plays, but we've got to be unselfish and search out good shots. If we can do that they'll be in good position to make them."
Another adjustment has been to the new freshmen on the team. After having one freshman in 2014-15, walk-on forward Joe Hanel, the team had five new players join the squad. Three of them were Purnell's recruits and two committed once Leitao took over as head coach.
"I think they're adjusting," Garrett said. "But I think they're working hard, which is most important. They're coming every day, eager to learn. (Eli Cain) has been doing well, (Erten Gazi) has been doing well, and he adds another dynamic coming from overseas."
The adjustment has been slowed for some of the freshman, however, due to the injuries they  picked up in the first week of practice.
"We've got some bumps and bruises. (Cain) has a shoulder issue and Develle Phillips has a concussion, so we've been slow from that standpoint, but it's normal," Leitao said. "I think the transition from high school to college is enough that it makes them take a step back. But what we're hoping is that when they take a step back, they also take two or three steps forward."
DePaul will work specifically on practice until their first exhibition game against Caldwell on Nov. 7. The first non-conference matchup of the season will be against Eastern Michigan on Nov. 14.