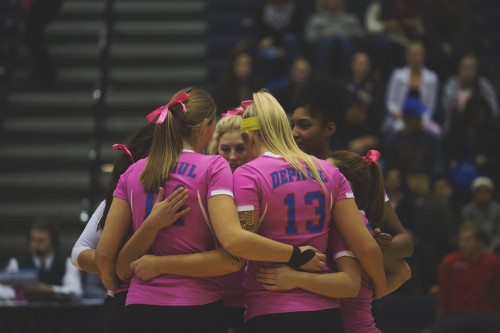 Continuing their annual partnership with the Side-Out Foundation, the DePaul women's volleyball team is hosting their Dig Pink game against St. John's, on Friday, Oct. 16. The campaign allows the team to raise funds for breast cancer awareness; more specifically, towards clinical trials for patients with stage four breast cancer.
In volleyball, the phrase 'side out' is defined as regaining control of the ball; likewise, the foundation helps their patients regain control of their own life.
Determined to continue that promise of hope, the Blue Demons are on a mission to reach their $2,000 goal, while currently sitting at $165. But for a few of these players, this game is more than just reaching a goal for money.
"For me it really hits home because my grandma was diagnosed with breast cancer this past December," Colleen Smith, whose grandmother is now in remission, said.
An inspiration to her and her sisters, Smith describes her grandmother as a fighter. Her aunt also beat the deadly disease some years back, and is doing very well at the moment.
Also familiar with the fatal disease is fellow junior Lexi Chanos. The defensive specialist honors her aunt, who is a 25-year survivor, during a cancer walk every summer.
"(The campaign) has always been really near to me," Chanos said. "It's awesome that we can celebrate her now and do these types of matches to encourage other people going through the same struggle."
But perhaps the most affected by this disease is sophomore, Rachael Breault, whose mother was diagnosed with breast cancer at the beginning of last year's season.
"It was really hard for me to be here," Breault said. Breault is a native of Michigan. "Over winter break I got to be there for her and she's in remission now."
In efforts to gain funds, the team is taking advantage of the power of social media by sharing donation pages through social media. They're also asking their parents and friends for donations, whether it be online or through mail, as well as spreading the word with their posters for the game around the loop campus.
The Blue Demons are confident they'll be able to win this weekend. After all, they have additional motivation this weekend.
"It's just an extra thing to fight for," Chanos said.