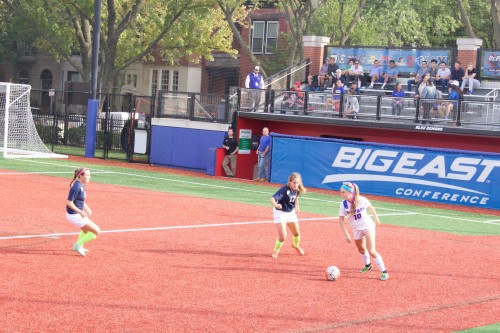 When the DePaul women's soccer team welcomed St. John's to Wish Field, they knew they would be in for their toughest conference match so far.
The No. 18 Blue Demons (11-2-3, 5-0-1) and No. 25 Red Storm (12-2-1, 4-1-1) played out an entertaining 1-1 draw after two periods of extra time. The win kept DePaul atop the Big East conference standings and St. John's remained tied for second place with Georgetown.
"They're a great soccer team," coach Erin Chastain said. "Overall defensively we were really good…we'll take the result and the point and move forward."
Freshman Franny Cerny started the scoring in the 26th minute when she latched onto a poorly handled Abby Reed cross when a St. John's defender and goalkeeper miscommunicated, leading to Cerny with a wide open net to shoot on.
"Good thing I finished," Cerny jokingly said.
Her goal was cancelled out in the 60th minute when the Red Storm scored after sloppy play as well. Rachel Daly, second in the nation in goals scored (15), capitalized after DePaul failed to clear the ball properly and netted her 16th of the season.
A real threat every time she touched the ball, Sarah Gorden said the defense's goal was just to stay tight on her and don't let her get too many open opportunities. Gorden and Ryce had all they could handle with Daly and communication between the two center backs was vital this match. They stayed busy all game long.
"It was more work than usual defensively. There were times during the game we were under pressure for five or ten minutes in a row [just] chasing the ball down," Gorden said. "We knew it was going to be a tough game."
It doesn't take much to get the Blue Demons ready for a match, but with this match having huge Big East implications, there was just something extra today throughout the squad.
"There as a fire in all of us," Cerny said. "They're a really good team and we wanted to be the ones to come away with the victory, so we stepped up."
"Personally, there was a certain mentality going into every ball that I wanted to win every ball and make a play every chance I got," she added.
Cerny scored her sixth goal of the season to go along with five assists. She's now second on the team, behind Elise Wyatt, in points scored with 17. To get regular playing time as a freshman is one thing, but to be a vital member of the squad is nothing short of impressive.
"I'm really excited to be able to have an impact on the team because coming in, it's already a great team and a great group of girls," Cerny said. "I'm excited to impact the way I am."
Playing in front of the home crowd helped the Blue Demons stay strong for the full 110 minutes. With a pair of tough home games against Georgetown and Marquette, Cerny feels the home crowd will be the difference maker.
"It's good to have the home support," Cerny said. "When we're home, we have our fans behind us to support us, that's always helpful."