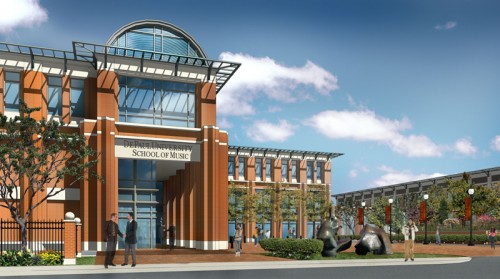 Pending the approval of DePaul's Board of Trustees at the upcoming Oct. 30 meeting, DePaul is set to begin construction on the new School of Music building starting early November. Renovations would include supporting the Music and Concert Hall during construction as well as the demolition of the current McGaw Hall building to make room for a new building.
At a community meeting Thursday, Vice President of Facility Operations Bob Janis outlined the potential construction efforts the new School of Music building will undergo and highlighted the main features of the new building.
According to the School of Music project description, the School of Music will be comprised of three buildings, Music North, Music Center and Music South.  Music North, the current Music School building, will house the schools administrative offices as well as undergo interior renovations to its current classrooms and offices.
Music South, currently the chapel, will be repurposed into an opera facility. Both Music South and Music North will be connected to Music Center and be fully renovated.
The new three-story School of Music building, Music Center, will be located on the west side of Halsted Street between Belden and Fullerton Avenues. Janis said the building would function as a space for classrooms, rehearsal spaces and practice rooms.
The building will also include performances spaces. According to the Master Plan, the Concert Hall will have 505 seats. The main performance space will also have a small balcony, wood finishes and marble panels, Janis said.
Renovations and additions to the School of Music have been a vital part of DePaul's 2009-2019 Master Plan, a 10-year innovation plan.
The Master Plan also describes a, "140-seat large recital hall, and an 81-seat small recital hall." In addition to these recital halls, a jazz specific space will be located on the second floor.
"A smaller performance and teaching space is meant to be used specifically for jazz teaching, jazz and jazz bands," Janis said.
The building will also include underground level parking and have the capacity to park about 125 cars.
"When we have events in the building we would have valet do all the parking to expedite movement and get even more cars parked in there, we'd like to get as many vehicles in there as possible" Janis said.
If the DePaul Board of Trustees approves the project, the first phase of construction will be assuring accessibility for students with the existing buildings.
"We have some temporary utilities work that needs to be put in place. Currently, the heat plant, water facilities, toll communications, and other things run through and are distributed through the existing McGaw building," Janis said. "We've got to relocate those things out before we can take McGaw down because we need to keep service coming for existing music building and concert halls."
Janis estimates demolition will begin by mid to late January and take about six to eight weeks.
To accommodate students during construction, Janis said temporary practice facilities in McGaw would be relocated to a surrounding location on campus.
"There are also several music classes in McGaw that will be moved to another location on campus," Janis said. The location of the temporary practice facilities has yet to be determined.
The School of Music building is expected to be completed by the end of March 2018.