Steppenwolf eerily updates dystopia with '1984'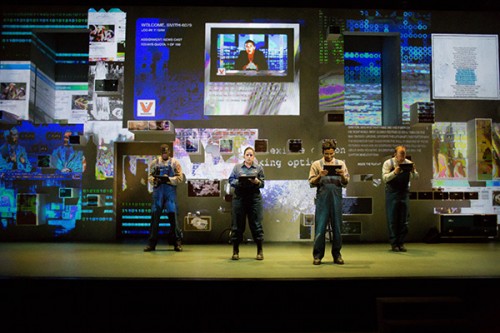 A literary classic, maybe the one you spark-noted in high school, has come to life at Steppenwolf Theatre. This modern adaptation of George Orwell's "1984″ is eerily reminiscent of life as we know it and may just convince you that Big Brother is watching.
DePaul alumnus Adam Poss stars as the protagonist Winston Smith, who fights to keep his thoughts safe from the Party's secret police. Employed at the Ministry of Truth, Winston is ironically responsible for rewriting newscasts to ensure the Party's latest version of the truth is to its liking. His world somersaults however after finding antiques disproving the Party's version of history and he rebels with a forbidden love interest — all bringing him face to face with the Party's secret service, bent on forcing him back into the status quo.
Eric Arthur Blair, under his pen name George Orwell, wrote the dystopian novel in 1949 when paranoia of state supervision and the post WWII communist threat was at its peak. But what many considered a fantasy at the time looks a lot like our reality today.  
"We've become more of a Big Brother society than what's possible in actual 1984," Poss said. Between mobile technology and social media, "we've kind of become the Big Brothers of each other. We're constantly watching each other."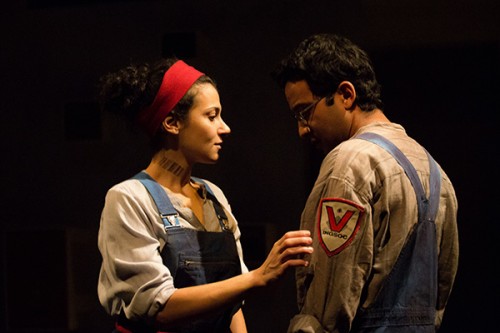 Director Hallie Gordon modified the 2004 adaptation by Andrew White for this year's performance, incorporating iPads, smartphones and motion responsive cameras.
"I've never done a show with this level of multimedia in it," Poss said. "It's almost going to be like watching the news with constant feeds and windows popping up."
Live cameras watch characters that are hidden behind set pieces, and without warning, the Party's news broadcast interrupts characters' dialogue with the latest updates from the front lines of an incessant war. Most chillingly however, are the two minutes of hate.
Followed by a 10-second countdown, characters wildly scream and swear at public enemy No. 1, the rebellion leader Goldstein, who is projected on the screen. Winston looks on helplessly as his co-workers lose themselves in the mania and finally quiet into peaceful submission when Big Brother's penetrating gaze emerges.
Eva Vaquera, 14, from Round Lake Middle School said this was her favorite part.  
"I liked the acting," Vaquera said. "It really displayed how the government was viewing them and how they were brainwashed to hate a person that they thought was betraying the country."
Vaquera was one of many Round Lake students in attendance Saturday. The show is part of the Steppenwolf for Young Adults program, dedicated to bringing classic literature to life for younger audiences. Don't be fooled though, the show did not shy away from mature, adult themes.
In the memorable torture scene, Party officer O'Brien, played by Lance Baker, electrocutes Winston until he admits that, contrary to his own logic, 2 + 2 = 5. Poss' powerful performance made the audience fidget uncomfortably as his body writhed and contorted under O'Brien's cold stare. The show also doled out a shadowy sex scene and frequent beatings by police.
For Diana Arrieta, 17, of Round Lake High School, the show made her see the world a little differently.  
"The show was supposed to represent that this could happen in the real world today," Arrieta said. The way that technology played into everyday life and how it controlled the characters was particularly familiar.
"You could lose yourself after they're trying to establish this kind of society. I was like, 'whoa this could happen.' I didn't even think about it before," Arrieta said.
To Arrieta's point, some of these things have happened. Flames bursting through mangled, bombed buses; policemen cracking batons against the backs of whimpering citizens; even the show's grim subway announcement, "Watch out for Eurasian spies. Do you really know your neighbors?" sounded too much like CTA's own reminder, "When you see something, say something."
Steppenwolf's "1984″ is a metaphor in motion for the fearsome times we live in. Allegations of torture by federal and local authorities, suspicion of personal data leaks by the government and bystander behavior at the hand of technology and social media have left America trapped in a state that journalists by no coincidence call "Orwellian." This production is a reminder that theatre is not just entertainment; it's a wake up call.  
George Orwell's "1984″ runs through Nov. 20 at Steppenwolf's Upstairs Theatre.