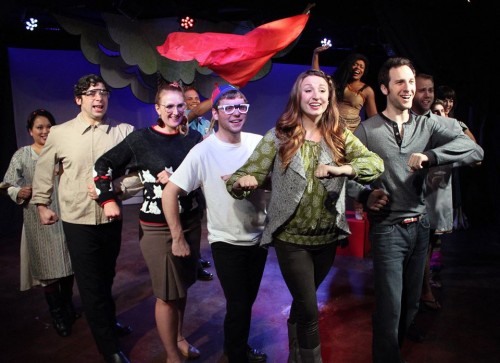 "The Story of a Story (The Untold Story)," presented by Underscore Theatre Company, is an inspiring and thought-provoking experience that recently hit the stage right here in Chicago. 
Written by Peter Gwinn and Jody Shelton, "The Story of a Story (The Untold Story)" addresses the fear of unoriginality that many artists struggle with; in other words, modern day storytelling makes it almost impossible to avoid regurgitating familiar tales.
Geared toward the artistic community of individuals who struggle with life in the creative world, this musical tells the classic hero's journey with a twist: battling the all-too-familiar landscape of clichés that plague almost every medium of storytelling. It is up to an artist, a writer, and a rebel band of cliché characters to defeat a flimsy evil villain, who's attempting to unleash more predictability into our world.
The actors in this production give genuine and witty performances by portraying characters we've all seen before, like the manic pixie dream girl who unexpectedly walks into the so-called loser's life, the cop three days away from retirement, the soldier at war who shows everyone a picture of his fiancée, and many more figures that make up modern storytelling.
In addition to the enthusiasm and dedication of the actors, it's clear that the writers who brought this production together took into account the artist's perspective on struggling creatively.
Jody Shelton, musical writer for "The Story," explained the premise for this production.
"It's written for artists; if you're creating, you're an artist. Even though it's my own show, the message still always gets me by the end of it: do your best work…get up and create. All creative ideas have been done before, but the important thing is that they've never been done by you," Shelton said during a phone interview.
Shelton, who moved to Chicago at 18, attended The Theatre School at DePaul and Columbia College in Chicago before going on to be the musical director for the Second City National Touring Company. He wrote "The Story" alongside Peter Gwinn, one of the original writers for "The Colbert Report." Shelton now resides in New York, though he credits much of his talent to his time in Chicago:
"I identify as a Chicago theater person," Shelton said. "There's something that happens when you come up in theatre in Chicago. Everything comes from that experience—it feels like home. Before I began writing, DePaul helped me solidify myself as a singer. I think understanding what it's like to be a performer is an important part of being a writer too. You're writing for them and you have to understand that side of it."
His musical genius is emulated through many moving performances, including that of Lauren Paris. Paris gives a powerful performance as Maggie, the artist who accompanies our main character Ben into the magical world of clichés. Unleashing an unforgettable vocal talent, Paris overwhelms the audience—in the best way possible—with a solo performance that leaves a wondrous silence in its wake before provoking raucous applause.
Luke Meierdiercks leaves the audience with sore stomachs through a variety of characters, most notably as William Shakespeare, in a stunningly original and surprisingly sexual performance that makes for an entertaining re-imagining of the famed playwright's thoughts on originality.
Other notable performances include the immensely charming Sarah Danielle Hoch playing Dee, the manic pixie dream girl who helps lead the band of rebel clichés into the fight for a three-dimensional existence. Her enthusiastic and quirky performance instills a much-needed change in the déjà vu of this particular cliché—which generally feels as though all of Zooey Deschanel's characters have been wrapped into one.
For any aspiring artist, "The Story of a Story (The Untold Story)" is a must-see that will leave audiences astounded that such fresh and original ideas could stem from the clichés plaguing modern fiction.
This production runs until Nov. 8 at the Chopin Theatre in Chicago. Tickets can be purchased through Underscore's website. Underscore will host a student/alum Q&A session Sunday, Nov. 1 at 3:15 p.m.