Haley Bueser chooses DePaul volleyball at last minute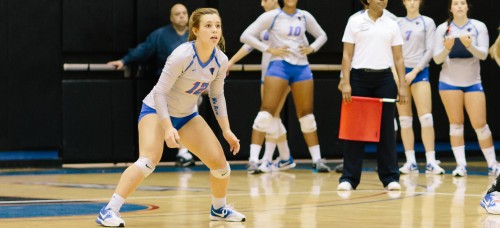 For Division I college sports, student-athletes are most often recruited early into high school for some years. But for sophomore Haley Bueser, playing volleyball at the next level only sparked her interest during her senior year. In fact, the Westmont, Illinois native hadn't made her decision to play for DePaul until the very last day recruits could decide.
"I'm a homebody and I didn't know how far I would want to be, but then DePaul (in comparison to other schools) gave me the option of being so close to home because I'm from the (Chicago) suburbs," Bueser said. "The girls just really welcomed me on my visit, so the whole atmosphere they gave me (was a great fit)."
While looking at schools during her short recruiting process, Bueser felt DePaul not only had the best volleyball program, but could also give her the schooling she was looking for. The sophomore intends to major in physical therapy.
Having lettered four years while attending Westmont High School, the Libero was named to her all-conference team three times and made a bold performance her freshman year as she led the team to a conference championship.
"Just in terms of her competitiveness, we knew that she would be a great addition to DePaul because she competes hard (and) played a lot of positions for her club team," coach Nadia Edwards said.
Bueser's 18U Hurricane team finished 15th overall at the 2014 National Junior Classic, where she played various positions, including outside hitter.
"Her (best) attributes are obviously her athleticism and her passing game and defense, (where) she's really quick and light on her feet (and) pretty explosive," Edwards said.
Since her club volleyball days, Bueser has made quite the name for herself on DePaul's court as well. She's been a consistent starter for the team throughout this season, currently standing at 196 digs for the season.
"It feels awesome. I didn't know what I was getting myself into, but my teammates always have my back so that gives me a lot of confidence. It feels awesome being able to contribute," Bueser said.
Looking ahead with only two home games left for the season, Edwards believes the sophomore starter will only continue growing as a key player for the team.
"I think ball control has always been our cornerstone of our offense … Everything comes down to (that) and Haley's got solid ball control," Edwards said. "She's a pretty head-strong kid, so we're looking forward to having her step into more of a leadership role as we continue to move forward with the program."
"I'm definitely accustomed (to the team now). Last year I caught on quick to what it takes, but this year coming in, I knew I was well prepared as to what to expect," the Bueser said.
Bueser is more than happy with her decision to play for DePaul.
"I would make the same decision if I could go back every time," Bueser said.