In 30th DePaul season, Bruno still has goals to reach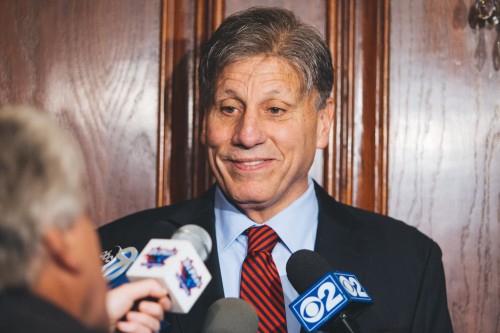 Doug Bruno sits in the media room on a Saturday evening after a game. His voice is raspy, but it commands the room. The game, in which DePaul soundly beat Lewis 87-67 on a court that bears Bruno's name and signature, ended about 90 minutes prior. Bruno is still there, discussing how he came back to DePaul and the goals they've set and achieved over 30 seasons, pausing occasionally to chat with some of the athletic staff, or to talk to his grandkids. 
It's his 65th birthday, marking nearly 37 years since he first came to DePaul as a student. It's been a long time since he was told by then athletic director Gene Sullivan that he was going to be the women's basketball coach at DePaul. Not asked, told. He played for legendary DePaul coach Ray Meyer, who gave Bruno a scholarship. He was a good, not great, player, according to himself. He had to work hard to get to a point where he was leading the team in assists.
"I owe my whole being (at DePaul) to Ray Meyer," Bruno said. "He gave me the opportunity the play and I returned it with five hours a day of hard work."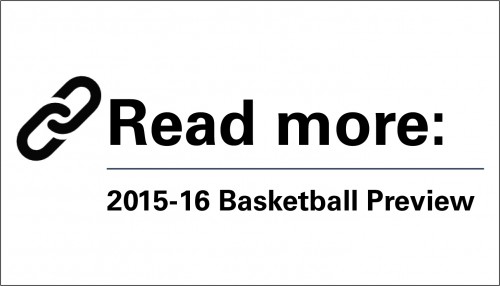 The start at DePaul led him to multiple coaching accomplishments, including conference championships, an assistant spot on the United States women's national team, and a reputation for being a player developer.
"He's obviously done an extraordinary job," DePaul athletic director Jean Lenti Ponsetto said. "He's really distinguished himself as one of the best women's basketball coaches in the country. Not only does DePaul recognize that but his peers as well."
The hard work ethic has defined Bruno throughout his career, and has become a trademark of his teams. While in school he became a student janitor, where he cleaned Alumni Hall, the cafeteria, even the bathrooms. He became so knowledgeable about the facilities that DePaul hired him as assistant athletic director a few years after he graduated. He was told by Sullivan that, in addition to running the ticket sales and the facilities, he would coach the women's basketball team.
He didn't expect to become head coach when he was in school, but embraced it all the same.
"I just love this place and I've always loved this place," he said. "But I never sat down and said 'I want to be the head coach of DePaul University.'
His focus during his initial run in 1976-1978 was working with the administration to get scholarships for the woman's team, which was achieved.
"A female athlete is totally equal to a male athlete," Bruno said. "It's not about the gender, it's about the human being that is the athlete. Psychologically, mentally, physically and emotionally. It's the same thing as coaching the guys, it's just not celebrated the same."
The focus shifted when he returned in 1988 after three seasons as head coach of the Chicago Hustle, a short-lived professional women's team, and as an associate head coach at Loyola. The team had scholarships and he left them with a good class of recruits. He returned to a team that had recently won the NIT tournament and they looked towards the NCAA tournament. He had learned while he was away and was a more complete coach.
"Most coaches, when they're young, think they're smart when they're really dumb," he said. "While you're going through your young and dumb stage and winning only by defending and rebounding, you start developing."
His teams had an offensive plan and went to the NCAA tournament six of seven years in the nineties. Then the goal of the 2000s was to maintain success but also build a more complete program. It meant a couple of down years record-wise but after 1998 they've had a winning season every single year.
"The goal was to do it with players who viewed the whole picture: academics, service, and basketball," he said.
In 2015 there are still accomplishments that elude DePaul and Bruno. They've never been to the Final Four; they haven't even been past the Sweet Sixteen. The upper echelon of teams such as Connecticut, Notre Dame, Baylor, and less recently Tennessee still remain a level DePaul strives for. Bruno said they're not there yet, but he also feels they're getting closer. He points to when they almost knocked off then No. 2 Notre Dame in December 2014, but poor free throw shooting down the stretch kept them from upsetting the Fighting Irish. But they are close, and the drive for setting and reaching goals rubs off on his players.
"I think it makes it easy to come to practice every day and work hard," Junior guard Jessica January said. "The pressure we do offensively and defensively can be taxing, physically and mentally, but when you have someone who has so much knowledge and experience with the game, all you can do is be grateful you're a part of it."
The 30-year milestone doesn't mean much to him since he's more focused on what he calls the "day-to-day grind," and trying to make the program better. After all, focusing too much on the milestones hasn't gotten DePaul women's basketball to where it's at. It's all about the future and now Bruno is looking at the biggest competitive prize.
"If you look at this, we're right there," he said. "70s was scholarships for women, achieved. 80s, was NIT. Achieved. 90s was the NCAA tournament. Achieved. 2000s was making the program whole. Achieved. Now we're looking at the Final Four and that's where we're at."