DePaul loses to No. 18 Butler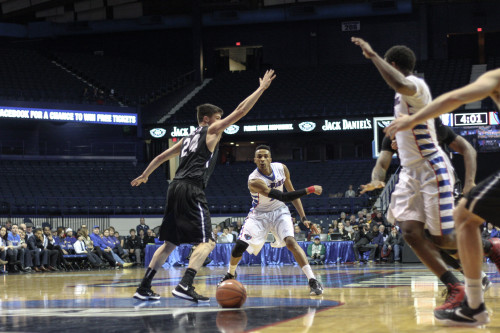 Facing off against No.18 ranked Butler Bulldogs, DePaul kept the game close through the last few possessions. Ultimately, the supremely disciplined Butler team defeated DePaul 77-72.
The first half showed everything that DePaul could hope to be. Stifling defense and rebounding kept DePaul within striking distance. The Blue Demons overcame being outmatched talent-wise by just playing harder than the Bulldogs.
Butler Coach Chris Holtmann knew they were going to have their hands full.
"They make it very difficult to play with their athleticism, their size, how hard they play," Holtmann said. "We certainly learned that tonight."
Senior Kellen Dunham is the leader of the visiting Bulldogs, displaying incredible off-ball skills early and often. He netted 12 points in the first half. Dunham was selected to the preseason Wooden watch list, for the nation-wide player of the year award.
Dunham's hot start appeared to be leading this game towards the realm of a blowout. Butler was playing their brand of basketball, disciplined and efficient. They had 13 points off of DePaul's eight turnovers.
DePaul reversed the momentum of the half by going on an 11-4 run at the eight-minute mark. The Blue Demons outscored the Bulldogs 14-2 in paint to finish the half. DePaul also finished efficiently, hitting their last four shots from the field. The gritty effort culminated in one of the rarer sightings at Allstate Arena: a standing ovation to end the half, down 35-34.
Before most fans flocked back to their seats after halftime, Butler was quickly up 42-36. DePaul seemed to finally be heading down the frequently traveled road of disappointment, but they adjusted their course once again.
The Blue Demons took control of the game 46-44 on the back of an 8-0 run with 13 minutes remaining. DePaul's effort was fueled by pure energy, rebounding and fighting the Bulldogs perhaps a little bit longer and harder than they anticipated.
DePaul continued to force long possessions out of the prolific Butler offense, but the Blue Demons continued to beat themselves. Butler switched to a 3-2 zone that made DePaul look helpless
The nine turnovers in the second-half were simply too much to overcome. Forward Myke Henry was extremely disappointed with the careless offensive play
"It's hard to win a game with 17 turnovers," Henry said. "Once we lower those, we'll be aight."
Butler and Dunham continued their efficient offensive play, and Billy Garrett was unable to answer trailing 74-70 with 23 seconds to go. Garrett finished nine points and one assist in DePaul's 77-72 loss.
Henry had 22 points and 10 rebounds, and Tommy Hamilton had 19 and nine of his own.