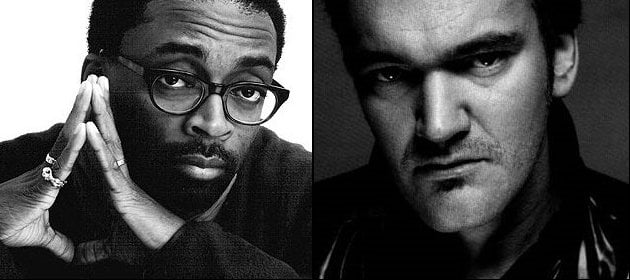 What could Quentin Tarantino and Spike Lee possibly have in common? Students can now find out in "Topics in Film Studies: Quentin Tarantino & Spike Lee," a class taught by Kelli Marshall in which students will watch and discuss eight films by the directors throughout the quarter.
A study of the two directors is ever more relevant following the release in theaters of Tarantino's film "The Hateful Eight," set in post-Civil War Wyoming and riddled with racial tension, and Lee's "Chi-Raq," which spotlights African-American women amid a gun-violent Chicago.   
And at the same time, Tarantino and Lee continue a feud that originated from Lee's critique of Tarantino's use of the N-word in "Jackie Brown."
Marshall, who teaches media and cinema studies, said she intends to compare and contrast the two directors by showing students one film by Tarantino one week, and another by Lee the next. Students can then watch the directors' other films out of class and ultimately create a project.   
The films shown include Tarantino's "Kill Bill," "Reservoir Dogs," "Death Proof" and an episode from the investigative crime series "CSI." Of Lee's films students will watch "Do the Right Thing," "Inside Man," "Bamboozled" and "Clockers." 
"They both have similar interests, which is one reason to pair them together, even though they apparently hate each other," Marshall said. 
For instance, one week "Reservoir Dogs" and "Inside Man" will be shown together, both of which are about heists.    
"We're looking at how Tarantino depicts the heist and how Spike Lee depicts the heist," Marshall said. "The same thing with gender in 'Death Proof' and 'Clockers.'"
Although both directors are known for creative and popular films, together their image is often dominated by their long-running feud. It began after the release of Tarantino's 1997 film "Jackie Brown," to which Lee responded with criticism.   
"I have a definite problem with Quentin Tarantino's excessive use of the N-word," Lee said, according to Cynthia Fuchs in her book, "Spike Lee: Interviews." "He says he grew up on Blaxploitation films and that they were his favorite films, but he has to realize that those films do not speak to the breadth of the entire African-American experience."
After similar comments from Lee following the release of "Django Unchained," Tarantino defended his approach on the news site The Root. "If you're going to make a movie about slavery and are taking a 21st century viewer and putting them in that time period, you're going to hear some things that are going to be ugly, and you're going to see some things that are going to be ugly," Tarantino said.
The "Quentin Tarantino & Spike Lee" class was maxed out at 30 students in the winter of 2014, Marshall said. However, this winter only 24 students are enrolled, a mixture of undergraduate and graduate students.
Daniel Schirmer, a freshman in Marshall's class, said he has been a big fan of Tarantino's work since he was 15 years old, and wants to learn more about the director. He said he's only seen a few of Lee's films, but wants to gain a better understanding of the director's approach to filmmaking. 
"I simply love studying film and I think that these guys are two of the most crucial directors in Hollywood since the 1990s," Schirmer said. "I think I might want to pursue some kind of career in film, so I need to learn about the best."
"Watching films has been my favorite thing to do ever since I could remember," Kyle Pauletti, who is also enrolled in the class, said. "It wasn't until a couple of years ago that I decided that I wanted to study films and write about them for a living."
Marshall said one of her students said she had seen only one of Tarantino's films, "Pulp Fiction."
"What she will get from this class might be very different from one who has seen, I don't know, 80 percent of the films on this list," Marshall said. "She's going to be introduced to a completely new filmmaker, in Spike Lee's case. If (she likes Tarantino)," Marshall said, "perhaps you'd like (Lee) too."