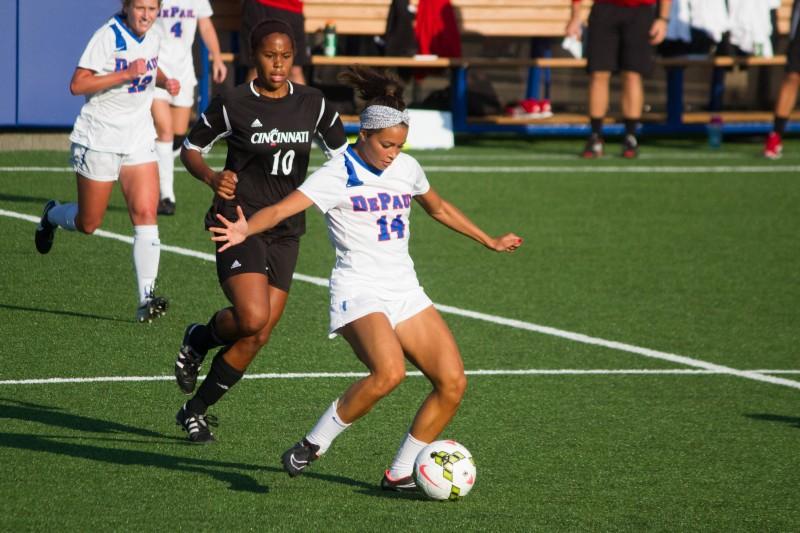 When the final whistle blew against Providence on Nov. 3, a match that would finish 1-0 in favor of the Friars, ending DePaul's season and the collegiate career of defensive stalwart Sarah Gorden, her future was up in the air. She didn't know if professional soccer or a career in the communications field, her major, would be the next step.
Then, on a whim, Gorden and a couple of her close friends decided to drive through the night all the way to Baltimore for the National Women's Soccer League draft held on Jan. 15.
"It was a last minute road trip … I didn't know what to expect. I wasn't sure if I was even going to get drafted," Gorden said. "I know my coaches had been in contact with the (Chicago) Red Stars coach and had been in contact with a few other coaches, but nothing was set in stone."
She sat in the Baltimore Convention Center anxiously waiting to hopefully hear her name called. After 21 girls had been selected, Gorden received a text that instantly changed her life.
"Right before their time ran out, I got a text from the coach saying 'welcome to the Chicago Red Stars,'" Gorden said. "It gave me chills, it was something I've wanted my entire life. It was an amazing, humbling feeling."
All of the hard work she had put in during her five-year spell at DePaul finally paid off. One of her goals throughout her collegiate career was to help the program as a whole, something she can surely check off of her list.
"Over the past few years we've just completely turned ourselves around from winning three games my freshman year to winning the Big East last year and being contenders for the NCAA Tournament," Gorden said. " I think it just shows what the program is about."
Her head coach, Erin Chastain, credited Gorden for playing a major role in the program's revival. The last two years especially, Chastain has relied on Gorden to lead the defense and it's paid off with a pair of highly successful seasons.
"She had a good last two years and has been a big part of the growth of our program," Chastain said. "Anytime you can see any of our graduates have success, especially in soccer, it's great because they're reaching their potential."
What really speaks volumes of Gorden's ability to bounce back is the fact she took the 2013 season off due to personal reasons, then rebounded in 2014 to anchor the back line and helped DePaul finish with the fewest goals against in the Big East, along with a conference title and an NCAA Tournament appearance.
"She worked really hard to come back and to come back as well as she did after a year off just really shows that she worked hard, was committed to it and had it as one of her goals," Chastain said.
Gorden will join Julie Johnston, a World Cup winner with the United States in 2015, in defense for the Red Stars and hopes what she gains from training and playing with a player of her caliber will be invaluable to her career moving forward.
"People like that are so inspiring and my goal as a player is to keep pushing myself and see how good I can be and compete with myself," Gorden said. "To learn from someone like Julie Johnston who has accomplished so much at such a young age, I just feel like I'll be able to learn so much and become a better player and in turn, help the team."
That's been her main focus throughout her career, helping the team. As the first Blue Demon to be drafted in the NWSL, Gorden still credits the team for her success.
"I didn't realize that (being the first player drafted) until after the draft when someone told me and I think it makes it even more special," Gorden said. "It's even more of a statement to what DePaul soccer is turning in to."
Even now, despite her individual abilities and prowess that led to her being drafted, she still gives most, if not all, of the credit to her team and the program at DePaul.
"I have gone through my rough patches in my five years and (DrPaul) had my back the entire time," Gorden said. "Coach Chastain completely turned me around as a person and a player."
Without her, coach Michelle O'Brien and Sarah Stanczyk, none of this ever would've happened so I'm incredibly grateful for them and my teammates."
Since the preseason doesn't start up until March, which is when Gorden will work towards her contract, she is just focusing on staying in elite shape and polishing her technical abilities right now to ease the adjustment from college soccer into professional soccer.
She hopes her transition from college to the professional level will be mimicked at DePaul for years to come.
"There's going to be more players to come who will be in the same position," Gorden said. "It's just a testament to coach Chastain and the hard work that she puts in."
Chastain echoed Gorden's thoughts.
"She's had a lot of challenges and has been able to deal with the adversity and I think she's really grateful for her experience here," Chastain said. "(I think she) is really proud that she's able to say, 'yeah, I played at DePaul and now I'm drafted and more kids are going to get drafted from DePaul and I started a legacy of that.'"