Education students, professors give thoughts on CPS issues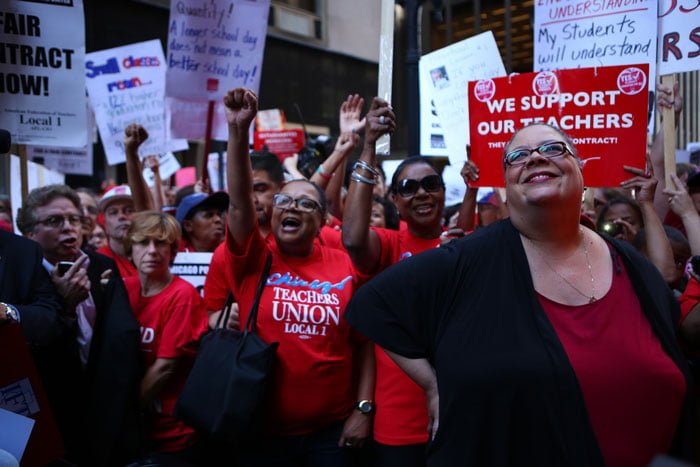 Chicago Public Schools (CPS) will be making some heavy layoffs in the next month and it has DePaul's education community worried.
Last week, CPS announced it would lay off 433 positions, over 40 of which were in the special education and early childhood development field. Along with eliminating 180 positions altogether, this is estimated to save CPS $32 million this year.
Marie Donovan, associate professor of education, said she has witnessed the CPS system as both a former employee and parent for 27 years, and she has noticed some trends.
"There's been a lot of deferred attention, particularly deferred financial attention, assuring that both the classrooms and the infrastructure of the system as a whole is fully supported," she said.
William Sander, professor of economics at DePaul, said the layoffs are a casualty in the battle between Gov. Bruce Rauner and Illinois legislators.
"They don't have enough revenue, so they just delayed trying to sell some bonds to meet their needs for the rest of the year," he said. "They're delaying that partly because I think their credit rating has been downgraded to a fairly low level. They have to cut costs or increase revenues, or find revenues to meet their needs."
In order to find a solution to these financial woes, Donovan said the government needs to acknowledge the "giant elephant in the corner of the room."
"CPS, like any other large urban district serving any diverse or low-income student population, faces enormous challenges in this day and age in terms of being able to finance this kind of education," she said. "But unlike some of the savvier city districts, Chicago has ignored its pension debt and that's really just part of Illinois as a state ignoring it."
Sander said underfunded pensions for educators is one of the major problems and it's causing many to retire early.
"You have more and more teachers retiring and they obviously expect pensions to be there," he said. "So either the pensions have to be reduced, which the courts are saying is not legal, or the city and the state have to come up with more money, which means higher taxes and people don't like that."
Donovan said the problem is the CPS bills have come due and no one is around to pick up the tab.
"Anybody touched by CPS – parents, businesses that rely upon graduates of CPS to be their employees – this is a real wake-up call for us saying, 'look these layoffs are a concrete way of showing you all we don't have the money to do the work we're supposed to be doing,'" she said. "Push has come to shove and, in this case, they have shoved a few people out the door."
Donovan said the layoffs are Chicago Mayor Rahm Emanuel's way of seeing what is necessary to keep the administrative infrastructure afloat.
"The administrative ranks of CPS are bloated," she said. "They're using dated, very old models of how a school district should be organized."
Sander said the current state of Chicago's economy has not helped matters.
"The Chicago economy has been a bit stagnant," he said. "That obviously can indirectly negatively affect the revenues for the government. The opportunities will be more limited because you don't have the growth you do in other parts of the country like the south or southwest."
Miriam Elkeeb, a graduate student studying education, said recent layoffs have her worried.
"It makes me fearful for the future of education," she said. "It's always the things that get cut are the things that are needed the most."
Although Elkeeb does not student teach with CPS, she said that she has always considered it an option for her future. She now has hesitations about the condition of the current system.
"From what I hear it's stuff like lack of resources and oversized classes," she said. "I'm worried it would be a similar environment to Detroit with older and out-of-date regulations."
Despite the bleak outlook, Donovan said this generation's education students will be more suited than ever to take on the economy.
"The requirements for becoming a teacher have been ratcheted up – more rigor is required," she said. "New teachers are ready to do the proverbial hitting the round and running with it. If you compare them to when I got out of my undergraduate program 40 years ago, we weren't anywhere near as prepared for the diversity challenges as they are."
Even with the lack of resources, Elkeeb said CPS can still do a lot with right-minded educators.
"You have to be aware of your students' home lives," she said. "The suburbs tend to be wealthier areas, but you have kids on the South Side living in poor socioeconomic conditions. You have to prepare them for the world. I would like to start off in a rougher school so I could make more of a difference and impact the students more."
Elkeeb said she has her own personal concerns when entering the field that the recent layoffs have only heightened.
"I'm always worried about burnout rates and stuff like that," she said. "When you don't have the system on your side, it's hard to battle that. You could burnout and the system would not have enough resources to make it worth it."
Sander said the negative economic consequences could potentially be more far-reaching than just the education sector.
"The city of Chicago becomes a less attractive place to live for families with school-aged children, the city of Chicago becomes a less attractive place to live and a less attractive place for firms to locate because of higher taxes and the quality of public education in the city of Chicago declines," he said.
Donovan said she thinks these layoffs will play out similarly to those in Los Angeles and Atlanta in recent past.
"This is just part of the natural progression of things, and while it hurts right now, let's hope that good things come of it such as the right people doing the right things for Chicago Public Schools," she said. "It's going to remain bone ugly for a while and I don't have a crystal ball to tell you what the forecast is,but the next two or three years there will be a lot of shake-ups like this."
Donovan said it's important for students not to discount the experience and opportunities provided by CPS.
"Student teaching in CPS is a wonderful experience," she said. "They consistently provided our education majors with solid experiences and solid professional preparation. They remain our allies in preparing future teachers."
Elkeeb said CPS needs to be more conscientious when cutting jobs within education because of the negative socioeconomic effects it could have on students.
"Investing in education is a way to help bigger problems," she said. "If you're investing in people who are making positive changes in society, that's one less person that maybe won't rely on the government system for support."