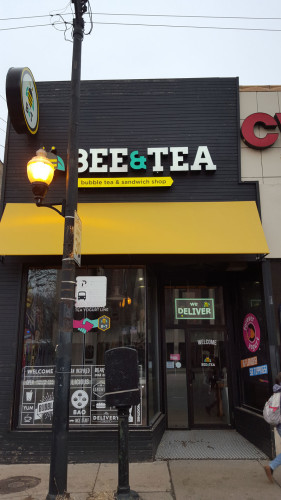 Bee & Tea at 818 W. Fullerton Ave. had been doing well throughout the warmer months since its establishment last March, selling its specialty boba bubble tea and bao buns to craving DePaul students and others who passed by.
But after the first frost, profits began to decline. In December, employees' paychecks started to arrive late, and often couldn't be cashed because the company's bank account was empty. By Jan. 7, the owners declared by email the store closed, two weeks after the closure of Bee & Tea's Wicker Park location.
Fifteen employees at both locations no longer had jobs, and all of them had not been paid for their last month's work.
"They were nothing but good to me up until that moment. I was trying to be patient with them, giving them the benefit of the doubt when it was happening. But it was really hard," said Kristy Courtney, a former employee and DePaul student.
Those employees still have yet to be paid. A manager of Bee & Tea, Nancy Calara, said that the company was trying to acquire a $5,000 loan to pay them with, according to DNAinfo Chicago. In the meantime, former workers have struggled to swiftly secure their paychecks and have had to tighten belts in preparation for a more austere lifestyle and an uncertain future.
These changes are especially true for two DePaul students who used to be employees at the Bea & Tea on Fullerton Avenue.
Kristy Courtney had been working at Bee & Tea since April, and before being transferred there, at Forever Yogurt in the suburbs, which is part of a franchise created by the owners of Bee & Tea.
The trouble for her began in December, when she was told by the manager that her check couldn't be deposited because there was no money in the company account. She then told management that she was going to put in her two weeks' notice to quit because she wasn't getting paid.
At about the time when Courtney was due to leave, she received the email about the store closing.
"It was kind of baffling to be honest, because something like that could happen to a company that you thought was big and financially stable. Which obviously they are not," she said.
Courtney then contacted the company to bargain for her paycheck, yet could only secure her tax forms.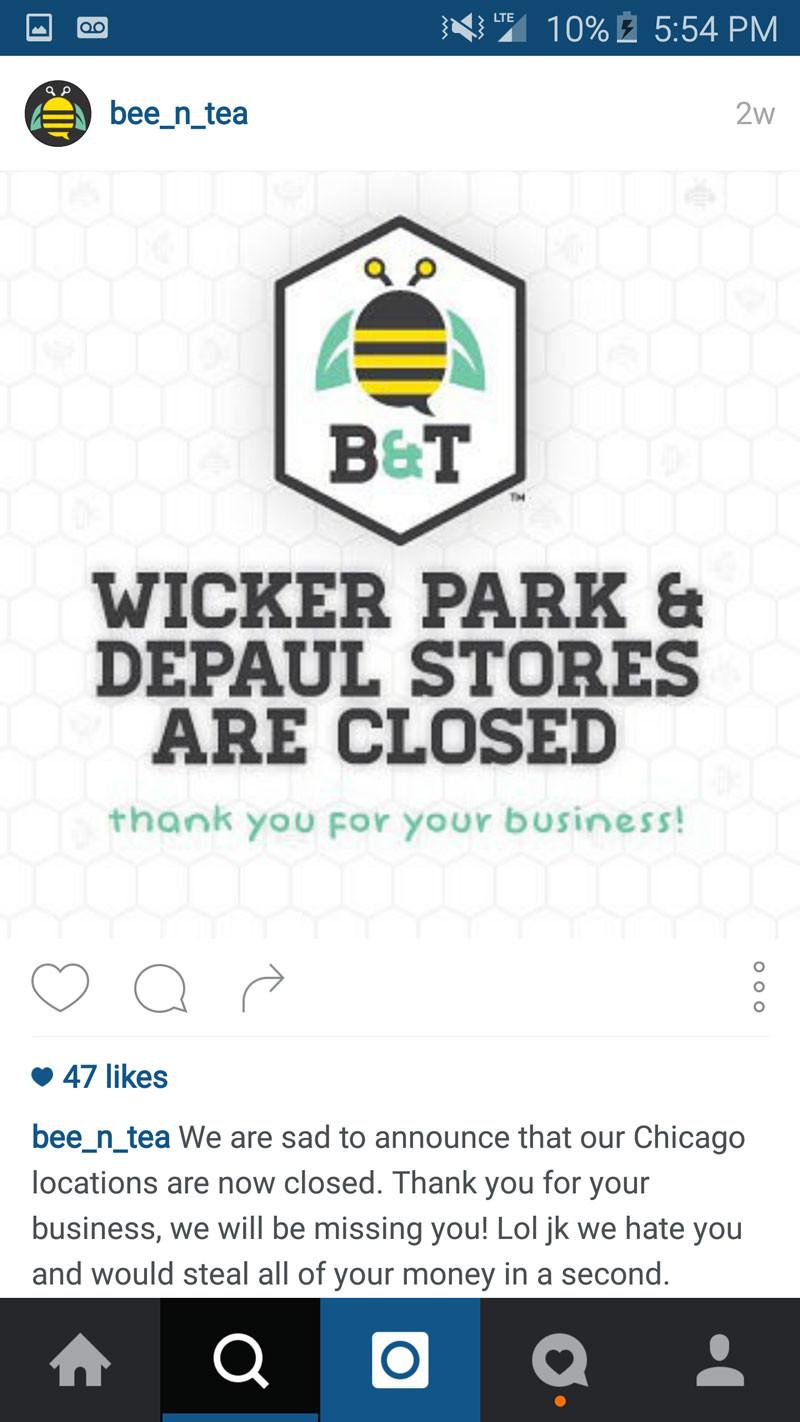 A few days after the store's closure, the Bee & Tea account posted on Instagram that it was closing its Chicago locations, and that "we will be missing you! Lol jk we hate you and would steal all of your money in a second." It would appear a disgruntled employee used the official account to project anger over the failure to pay its employees.
Without an income from her job at Bee & Tea, Courtney was unsure of the future. She said she might fill her free time by doing volunteer work, while also continuing her studies in elementary education at DePaul.
Luckily she can still afford DePaul tuition, basic necessities and rent, but her frustration of Bee & Tea endures. They still owe her 47 hours' worth of pay.
"It's really illegal, what they're doing," Courtney said. "You'd be surprised how they're just hoping that nobody notices or reports them."
Julianna Donaher, who is also a DePaul student and technically the last Bee & Tea employee, had similar resentments, she said. She started working there in May.
When the colder months came around, and previous customers were less likely to desire a cold bubble tea, the store's income "went deeply in the red," Donaher said.
At one point, the future of the store was so uncertain that, according to Donaher, one employee, thinking she was going to be laid off, broke into the company safe and stole $800. The act was caught on camera, but the burglar was never pressed to give the money back.
"And honestly, she made out better than us, because at that point already earnings were turning over into payroll," Donaher said. "So the next week we didn't get paid."
When the employees congregated to figure out a solution, Donaher found that Bee & Tea owed its employees over $6,450. Even if the company took out the $5,000 loan, the payroll debt could not be fully paid. Others submitted wage forms to the U.S. Department of Labor, but because requests take a while to process, there has yet to be a response.
The owners didn't know what was going on at the store, Donaher said, and tried to treat it like a corporate branch by not managing it efficiently. She said that at one point the owners moved to Miami and opened two other businesses there.
"But in reality, it was a small business that still needed its hands held," Donaher said.
By the time the store was due to close, Donaher said she was owed $471. While that was frustrating, she decided to continue working there — although no one was assigned work hours — because she could manage her busy schedule as a theater major while also working Bee & Tea's flexible schedule. That might not be the case with a new job.
With no income, Donaher has had to make some changes. While her tuition is secure and her rent is covered, she has had to cut down on groceries, utilities and her lifestyle. Yet her situation is better than most of Bee & Tea's former employees, who relied on the fulltime job.
"They are taking advantage of people who don't have the time or resources to take serious legal action," Donaher said. "I think there is a sort of flippancy for people's lives, and I don't think it is understood."