Canceled classes an issue among adjuncts, according to survey
Unionizing adjunct faculty across the country are demanding better pay, access to resources and job security, but according to a recent survey of DePaul's adjunct faculty, there are a few more items to add to that list.
One item of importance deals with canceled classes and getting paid. Almost 200 DePaul adjuncts reported that they were unaware of DePaul's cancellation policy, which says adjuncts are paid 10 to 20 percent of a total class fee if it is canceled one month before, according to the adjunct faculty fact sheet. Some adjuncts said they never received any money at all.
"I have never been paid for a cancelled course," one responder wrote anonymously.
"Compensation is very low, notice is short, and classes are often canceled for lack of enrollment falling one or two short — ridiculous when you consider how little we are getting paid to teach the course," wrote another.
This stands out in light of statements made by President Fr. Dennis Holtschneider C.M. in January that, "we pay people at the last minute even if we cancel their class … we pay them half-salary."
When contacted for clarification, a statement made by university public relations said that Holtschneider "had been misinformed about the course cancellation fee."
Also listed in the report were responses from faculty dealing with union representation.
When asked, "Is adjunct representation at DePaul sufficient, or would you prefer…,", responses were almost evenly split, with 28 percent preferring an adjunct union, 25 percent preferring no change in representation, 24 percent preferring local academic unit representation and 18 percent preferring an adjunct senate.
Of the 78 written responses to the same question, 45 percent voiced a need for representation, 41 percent had no opinion or a neutral opinion and 14 percent said there was no need for change.
"Please, please give us a voice. Please. Any kind of voice!!!!!!! (sic)," one responder said, while another said, "I'm not interested in adjunct politics."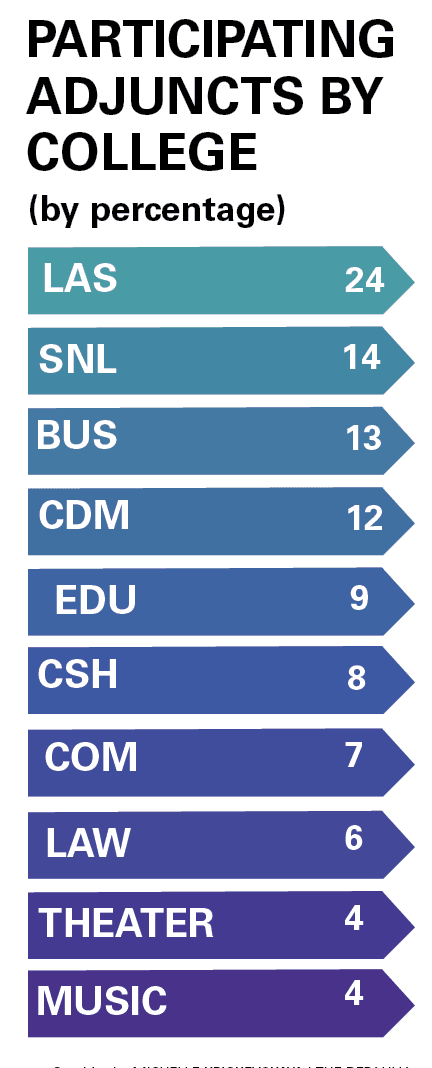 The survey is the first of its kind done by the Committee for Contingent Faculty, which is the sector of Faculty Council responsible for representing non-tenured faculty. Scott Erlinder, a CDM professor and former chair to the committee, said the survey was the product of faculty demands, not from administration.
"We had no idea across the schools how adjuncts were being treated, what access to materials they had, what policies and what procedures were of help from across the university and which were school-specific," Erlinder said. "Basically we were getting a feel from the adjuncts; do they know what's available to them, how much mentoring is being done?"
The 25-question online survey received responses from 28 percent, or 566 of the 2,037 total part-time, non-tenure track faculty over the first three weeks of June. The most responders teach in the College of Liberal Arts and Social Sciences and about the same number of responders came from the School of New Learning, the College of Business and the College of Computing and Digital Media. Less than 10 percent came from each of the rest of DePaul's colleges.
"I feel like even with 28 percent of the population responding, we are able to see some areas that do need improvement," current Chair to the Committee for Contingent Faculty Mary Mindak said. "So, it is definitely helping our committee and helping the university to have a discussion about these areas that need improvement and for everyone to continue to strive to make a positive difference for contingent faculty."
Erlinder said that behind the scenes, the survey questions were drafted at least two times and that committee members are considering running the survey again after finding "holes" in the questions that were left by the first survey.
Erlinder said overall adjuncts seemed aware of procedures in their schools.
"On one hand (the survey) was a confirmation that we had a lot of consistency across the board with procedures across the schools. Rumors fly that stuff done in one school is not done in another, Erlinder said. "Across the board there is consistency with access to information."
Erlinder said a significant piece of information from the survey was adjunct thoughts about representation of adjuncts at the university.
"The big thing we found out that has been ignored is representation of adjunct faculty in the university," Erlinder said.
Sixty five percent of responders, and a majority in each college, said there should be an adjunct bill of rights. The survey report summarized, "a significant portion (of responders) emphasized their feeling of powerlessness… some seemed interested in the idea (of an adjunct bill of rights) but seem to want an example for form an opinion, or take issue with the confrontational name but seem to like the idea of more information being available."
Anonymous responses included: "I don't think we have any 'rights.' We just come and teach, and wait to be notified if we have classes next semester…" and "Adjuncts are pretty much second-class citizens. It seems we have no contact with faculty, HR or anything going on at DePaul."
Other significant points in the survey highlighted concerns with the rehiring process and academic review of performance by both students and the department.
Forty-three percent of responders said they had insufficient information about the rehiring process, with one responder feeling "at the mercy of the department chair." And when it came to reviews outside of student evaluations, 35 percent of evaluations were word-of-mouth as compared to peer review or review by a chair, and 76 of 119 written responses indicated they'd never had an academic review in their time at DePaul.