DePaul "flexes for Flint," matches donations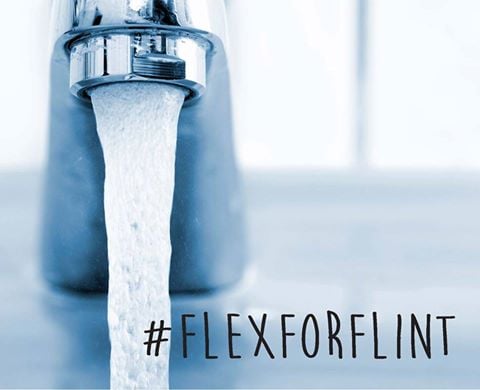 News of Flint, Michigan's water crisis spread nationwide a few months ago, but for DePaul student Danielle Szabo, avoiding her hometown's toxic tap water has been a reality for almost two years.
"When they made the switch, no one trusted it. Even before any reports came out to say it was bad," Szabo said. And though her mom's water was tested negative for any contamination, "at this point no one is trusting anything anyone is saying from the government."
The Flint city council announced in April 2014 that they would be switching the city's water supply from Lake Huron to the Flint River after a decades-long deal with Detroit deteriorated and city officials were left scrambling for a new water source until a new supply system could be built to Lake Huron. According to Time Magazine, the city did not treat the water to prevent lead from contaminating it and the infamous red water began flowing from families' faucets.
The city switched back to Detroit's water supply in October 2015, but no clear timeline exists for fixing the problem and citizens don't know when the water will be safe to drink. The Red Cross has been heavily involved in emergency water supply efforts, but Szabo was surprised to learn that DePaul's food provider, Chartwells, has also lent a hand to help.
"When I first came to DePaul, no one heard of my hometown unless they watched one of Michael Moore's movies," Szabo said. "So it's surreal that everyone knows what it is and that my own school is raising money to donate."
In hopes of increasing awareness and aiding the cause, DePaul Dining introduced a new donation campaign, #FlexForFlint. The campaign allows students to use their meal plan money to purchase water bottles for Flint residents. Students can donate any amount of money at any dining register in the Lincoln Park and Loop campus.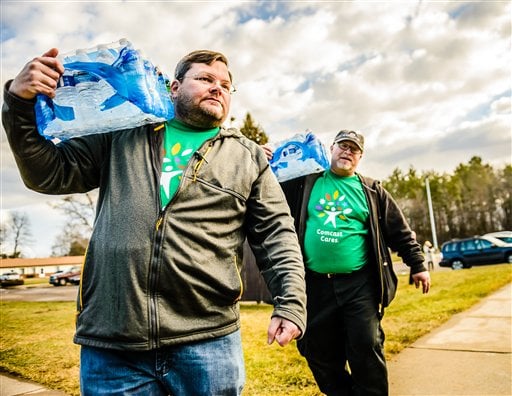 James Lee, resident district manager of Chartwells Dining Services at DePaul, saw the success of the previous donation campaign DePaul Dining held during the holiday season for  families using the DePaul Parish and was inspired to start one aiding Flint.
"We came across the Flint crisis through the news and social media.  With such a great response to the holiday donation, we naturally thought about having students participate," Lee said, "Being in the food and beverage industry, we felt a need to give back.  We also have a Chartwells account close to Flint." Lee said that the Chartwells location operates at Oakland University, just 40 miles from Flint, and were the drivers behind this campaign.
"Typically, we look at organizations that are local and have a specific relationship with DePaul or Chartwells," Lee said. Chartwells will also match donations.
"I am grateful," Flint native and DePaul theater professor Cameron Knight said. "I think (Chartwell's donation campaign) forwards the Vincentian mission of DePaul and serves as an example of what good people can do … I have many friends from Chicago that have organized similar efforts as well as friends in other parts of the country. Such support and care, warms my heart."
Knight grew up in Flint and said the community is made up of culturally aware and politically active people who care about the town. Despite its negative portrayal in the media for high crime rates, its citizens are victims of neglect by the state, Knight said. 
"I'm disgusted," Knight said. "I think it is appropriate the people feel targeted, neglected and that this was not an accident. The governor knew what he was doing and needs to be behind bars. Children have died, businesses are closed, adults are sick and there are more long term effects we can't imagine right now. While the governor and city offices were telling people that brown water with toxic levels of lead were safe to drink and bathe in, they were getting shipments of bottled water."
Knight said some friends who recently bought houses and have young children cannot afford to leave.
"Flint is another example of what is actually important to the people who make the laws that govern our nation. They have the chance to do the right thing, they've had the chance before this even started," Knight said. "We don't have a good track record in this country for doing the right thing. The people of Flint are tough, they are managing, but this is too much."