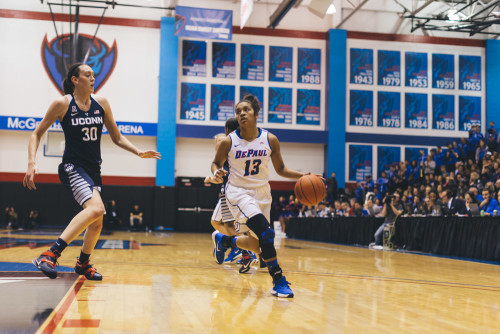 Often the player deemed to be the best in a conference is someone who leads the league in scoring or some other flashy statistic. Rarely are they truly the best overall player in the conference.
This year, the Big East got it right.
Chanise Jenkins was named Big East Player of the Year for her outstandingly consistent and versatile performances throughout the season. She has been by far the most impressive all-around player the conference has seen all season long.
"It makes me appreciate and realize how blessed I am to be awarded such an honor. The Big East is filled with phenomenal players and to be the player of the year is amazing," Jenkins said. "Without (my team) I wouldn't be the player of the year. It's not just about me scoring the most amount of points in the Big East, it's about me being an all-around player and my teammates have really helped me get that award."
Jenkins has always been an all-around player for DePaul since her freshman year. Over the course of four years, her stats have steadily increased each season. She's increased her points per game average from 8.0 her freshman year to 10.7 as a sophomore, 12.4 as a junior and her current average of 15.2 leads the team. Jenkins has also never dipped below averaging less than 4 assists per game, nor has she averaged less than 28 minutes per game having played in at least 31 games each of her four seasons.
As an all-around player, Jenkins naturally doesn't lead the Big East in any statistic. In fact, her teammates are ranked ahead of her in a number of statistics. But, what Jenkins can claim is that she is in the top-8 in seven different statistical categories – scoring, field goal percentage, assists, free throw percentage, steals, 3-pointers made, and assist/turnover ratio.
"It went to an unselfish player," coach Doug Bruno said. "I really have to compliment and thank my fellow nine Big East coaches…they voted her the player of the year and that means they saw a player that wasn't a selfish player and that just doesn't happen all of the time."
With the Big East Tournament coming up, Jenkins and her teammates understand how important a successful outing is to their postseason goals. As for whether or not she'll feel any added pressure to perform after being named the best player in the conference in front of all ten teams, Jenkins said it won't even faze her.
"I'm still going to be the same Chanise Jenkins I was yesterday and the day before that…being a great teammate, being unselfish. I'm going to keep passing the ball and take shots that I can make," Jenkins said. "It's not going to change my game, I'm still going to be me."
Awards and Honors Galore for DePaul
The Blue Demons added several other honors rewarding their impressive season. Jenkins was named to the All-Big East First Team while Jessica January and Megan Podkowa made the All-Big East Second Team. Jenkins also was selected to participate in the 14th annual "So You Want To Be A Coach" class, which is a three-day workshop to increase the understanding and application of skills necessary for coaching.
Podkowa was given the Big East Scholar-Athlete Award honoring her academic achievements alongside her impressive athletic performances. She's holding a 3.845 grade point average majoring in actuary science.
"My family and the coaching staff here…they put an emphasis on both school and the athletics program, so it's huge to know I came into a program where they said they were going to focus on a lot of academics and knowing that I could achieve that," Podkowa said. "It's just a great feeling."
"Scholar athlete is a big deal to us at DePaul. We work very hard and our players work very hard…making certain that our players are motivated to compete in the classroom," Bruno said. "The face that she's doing it in a major like actuary science…a really tough major (is impressive)."
Podkowa and January were also named CoSIDA Academic All-Americans making the second and third teams respectively. Bruno rounded out the awards after being recognized as the Big East Coach of the Year, an award he said he doesn't personally deserve.
"I truly believe…the coach of the year should always read 'team of the year'. It's been a blessing to coach the best team and have the best staff and have the best bosses in the Big East," Bruno said. "I think the best team in each league should win the award, it's the players that brought this to us."
Chanise…Curry?
Bruno understands the gem of a player he has in Jenkins and gave her the ultimate comparison right now in the sport leading up to the Big East Tournament.
"Chanise reminds me of a college player that played at Davidson," Bruno said. "I'll let you figure that guy out."
If Jenkins can play half as good as Curry is now, DePaul fans will be in for a treat.