Hillary Clinton wins Illinois Democratic primary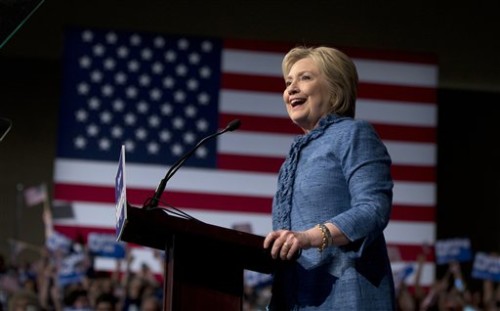 With a 50 percent win in Illinois, Secretary of State and presidential candidate Hillary Clinton was declared the winner of the Illinois Democratic Primary. She finished the Tuesday primaries strong and strengthened her odds of becoming the democratic nominee for president.  
Supporters at a Clinton watch party at Old Crow Smokehouse in River North stayed positive throughout the night, despite a race in Illinois that grew closer as the night wore on. After a narrow loss to Sanders in Michigan last week, Clinton supporters like Kat Ziegler were nervous.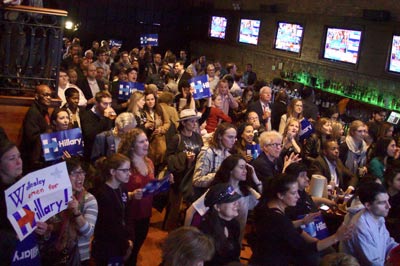 The 27-year-old graduate student at the University of Chicago voted for Hillary in her last run for president, but this time she's more emotionally invested.
"In the past I've leaned towards a candidate, but never overwhelming so," Ziegler said. "I don't just respect (Clinton), I admire her. She's inspiring for women and she's had to overcome obstacles other candidates have not."
Ziegler put off moving back to her hometown Jasper, Indiana so her vote would count in Illinois, with its valuable 156 delegates. Other primaries Tuesday with high delegate counts were Florida with 214 and Ohio with 143.
Supporters weren't surprised by Clinton's win in the South, where she has continued to sweep delegates since the election started.
"I'm happy her Southern firewall is holding. I think it will make Sanders job a little bit harder," supporter Tori Zelmy, 24, said.
But her wins here and in Ohio not only secured her additional delegates. After her loss in Michigan last week, the wins discount a sentiment that her stronghold in the South wouldn't reach to the industrial North.
"This brings home delegates for her, but it also increases the momentum. A lot of people thought there was an upset with Michigan, but this just reaffirms what we thought all along–that Hillary's going to be the nominee," campaign volunteer Krishna Haney said.
The momentum was exemplified in her address after wins in Florida, Ohio and North Carolina, where some supporters felt they were listening to a resurged Clinton, appealing to feelings of hope and inspiration, different from her typically pragmatic demeanor.
"A lot of people criticize her public speaking and even I do, but that speech she gave tonight fired me up. I think she did an amazing job," DePaul alumnus Christie Lacey said.
Her loss in Michigan and subsequent win in Illinois could be a result of the difference in demographics in the largely white, liberal electorate and racially diverse Democratic electorate, respectively, according to an analysis by FiveThirtyEight.
But one thing is for sure: volunteers at last night's event were relieved, celebrating the victory, but looking forward to what they still need to accomplish.
"It's a validation of all of the hard work that volunteers are doing in Chicago and motivation for the hard work we have left," Haney, who has been volunteering since August when she relocated to Chicago for the campaign, said.
Clinton will still need around 780 delegates to secure the 2,383 needed for the nomination, though delegates are still being distributed based on last night's results.
The next primary elections take place March 22 in Arizona, Utah and Idaho, followed by Alaska, Hawaii and Washington on March 27.