Kim Foxx promises to 'turn the page' after Cook County State's Attorney nomination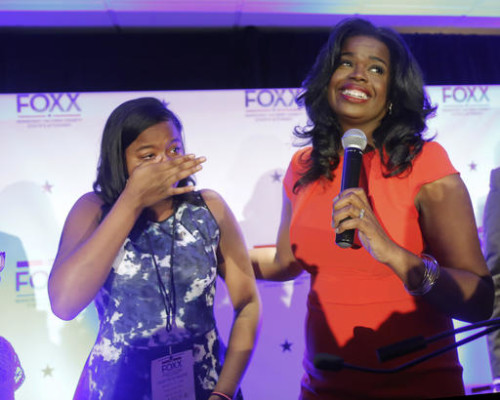 Reform candidate Kim Foxx won the Democratic nomination for the Cook County state's attorney race, following mass outrage over incumbent Anita Alvarez's handling of the Laquan McDonald case.
Foxx overtook Alvarez by a nearly 20-point margin, with challenger Donna More trailing distantly behind. Previous polls had narrowly placed Foxx in second.
Following the victory, Foxx addressed a sprawling crowd of supporters at the Holiday Inn Chicago Mart Plaza in River North. Amid sprays of confetti and excited hollering, she urged them to remain clearheaded about the future.
"I want to be absolutely clear in all of the jubilance about what's happening that this race is not just about saying goodbye," Foxx said. "It's about turning a page. I understand the excitement, but let us not get lost in the gravity of the work that is ahead of us."
Standing next to her family – which included her husband and two tearful young daughters — she called for a united front to repair the criminal justice system in Cook County. Communities, faith-based leaders, young people and law enforcement are all necessary components of this process, she said.
"The gulf between law enforcement and our communities must be bridged," Foxx said.
She cited the recent shooting of three police officers on the West Side as an example of law enforcement putting their lives on the line to defend the city. Even more prominently, though, she championed a crackdown on police abuses – a point that has been at the crux of her campaign.
This is just one of the ways she hopes to differentiate herself from Alvarez.
"I look forward to sitting down with Ms. Alvarez in the coming months to ensure a smooth transition," she joked.
Alvarez, who sought a chance for her third term in the office, was widely panned for her handling of the October 2014 death of Laquan McDonald, who was shot 16 times by Chicago police officer Jason Van Dyke. She did not file murder charges for Van Dyke for another 400 days, shortly before the court-ordered release of a police dashboard video showing the shooting.
Alvarez claimed to have waited for prosecution due to the case's lengthy investigation process, and that her office was working in conjunction with the U.S. State's Attorney Office. Critics called for her resignation, which she repeatedly refused.
Following the Laquan McDonald controversy, Foxx has been vocal about Alvarez's bungling of the case. If elected state's attorney, she's pledged not only to keep tabs on police misconduct, but also to reduce the prison population and trim down the felony review process – aspects of Alvarez's tenure she considers neglected.
Nonetheless, she extended a congratulations to her two opponents, commending them for running in an occasionally "muddy" campaign.
"We also have to acknowledge in this Women's History Month that this was the first time we ever had three women vying for the top prosecutor's office in the second largest county in the country," Foxx said. "And so I congratulate them both on a tough campaign."
She also thanked her family, campaign volunteers and staff for their efforts with the election.
"Beyonce has the Bey Hive, but it's nothing like Team Foxx, who volunteered your time, your talents, your treasures, your hours," Foxx said. "I'm grateful."
Raised in the Cabrini-Green housing projects, Foxx served as the assistant state's attorney for 12 years, five of which were spent as a supervisor in the Juvenile Delinquency Division under Alvarez. She also worked as Cook County Board President Toni Preckwinkle's chief of staff.
Foxx's victory party attracted hundreds of spectators crowded into a midsized ballroom. Dozens of these people, like Jared Steverson, were equally glad to see Alvarez go as they were to see Foxx elected. Steverson and his friends were clad in T-shirts with the popular tagline "Bye Anita."
"I'm excited," Steverson said. "This is what we've all been protesting (for), what we've been marching for, what we've been locked up for. It's paying off tonight. We were able to go out and make our voices heard by casting our vote."
In particular, he said he valued Foxx's transparency as a politician. He thinks that she will treat police officers and citizens with equal amounts of fairness.
"It's not that we want to be able to get away with things," Steverson said. "It's that we want police officers to be treated just as if they're regular criminals. As if they're regular people, prosecuted as regular people. And that's what we're going to get with Kim Foxx."
Cook County Commissioner Larry Rodgers said he was pleased to see such a large turnout of supporters from throughout the county.
"I think it's a testament to just how dissatisfied people have been with what they've seen in the state's attorney's office," Rodgers said. "To utilize and exercise their right to vote to bring about change is actually what the electoral process is about. I'm excited to see that, I'm excited for what it means for Cook County."
Foxx will face off against Republican candidate Christopher Pfannkuche in the Nov. 8 general election.