In win, DePaul's dominance shows they can excel in March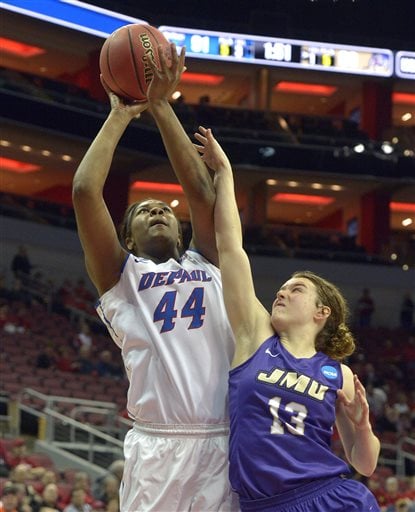 LOUISVILLE — James Madison head coach Kenny Brooks did what most coaches do whenever they move on to the next opponent: he called another coach trying to get some intel.
After his team drew DePaul women's basketball as the No.11 seed in the NCAA tournament, Brooks made calls from DePaul's previous opponents to take advice on how to slow them down.
"We talked to one coach and his suggestion was just hope that they're off because they're a really good basketball team," Brooks said.
Brooks and the Dukes found out how destructive DePaul could be Friday as the Blue Demons earned a dominant 97-67 victory.
But Brooks' statement — "just hope that they're off because they're a really good basketball team" —  still stands out. St. John's certainly took advantage of DePaul being off when they used a 16-3 scoring run in the fourth quarter to shock the Blue Demons in a semifinals upset in the Big East tournament.
Has the biggest problem for the Blue Demons this season been that they just go cold?
"I don't think being cold makes us lose games. I think it's when we lose focus," DePaul guard Chanise Jenkins said. "It's what coach always says: the minute we're not playing at our best, we become so mediocre it's ridiculous."
Yet when they're playing their best, the Blue Demons become ridiculous.
And that's just what DePaul needs to excel in March.
"I'd like to think that we're a comprehensive offensive basketball team, that if you run us off the line that we still have the ability to score the basketball," DePaul head coach Doug Bruno said. "We were very prepared. We understood that (James Madison was) holding people to 23 percent shooting from three."
The Dukes were supposed to challenge the Blue Demons. They hadn't lost a game since January and entered the game with a 27-5 record in a very similar way that made the Blue Demons successful. They got up-and-down the court and wanted to beat DePaul at their own game.
James Madison also presented a defense that was supposed to give DePaul fits. Before today, they spouted the best 3-point field goal defense in the nation, holding teams to 23 percent.
Instead, DePaul shot 55 percent from beyond the arc — draining 11 of 21 3-pointers.
"Our biggest fear is that they were a better passing team than I anticipated," Brooks said. "It was really hard for us to do some of the things we've been doing all year, just because they had five players on the court pretty much at all times who were exceptional passers and exceptional shooters."
This is the third year in a row that DePaul has advanced to the second round of the NCAA tournament. Unlike the first two years, it was striking to see how easy it looked for the Blue Demons.
Last year, the Blue Demons stormed back to erase a 15-point deficit and top Minnesota. The year before that, DePaul needed to set an NCAA tournament record with 104 points to hold-off Oklahoma in a 104-100 win.
Ninety-seven points was actually the second-most all-time in a women's NCAA tournament game, meaning DePaul holds the record for the top two highest scoring games.
But 97 points was a formality with how lethal the Blue Demons can be when taking a balanced approach. The Blue Demons were just as impressive on the defensive end, holding James Madison to 30 percent shooting.
Furthermore, DePaul out-rebounded the Dukes 55-39. The 55 rebounds were another tournament record, the most since Oklahoma's 50 boards in 1990.
And they did it with major contributions from Jacqui Grant and Mart'e Grays, two players who have been searching for consistency under Bruno's system.
"So much was made going into this game about how great a rebounding team James Madison is, and, you know, Mart'e did have 10 rebounds and Jacqui had nine," Bruno said. "I just think that was really, really important that both of them held their own inside, and they're going to have to continue to hold their own inside."
It's that effort — whether it's rebounding, making the extra pass or committing to defensive stops — that can propel DePaul to heights the university has never achieved.  The dynamics of women's college basketball make it so that Connecticut and Notre Dame are clearly number one and two, but there's space to make a dent below them.
Maybe this is the year DePaul can do so.
"You can't play this tournament thinking about six games," Bruno said. "You have to think about this tournament as playing one game … That's really what this is about. So these players can stay focused."
And when DePaul is focused — watch out.