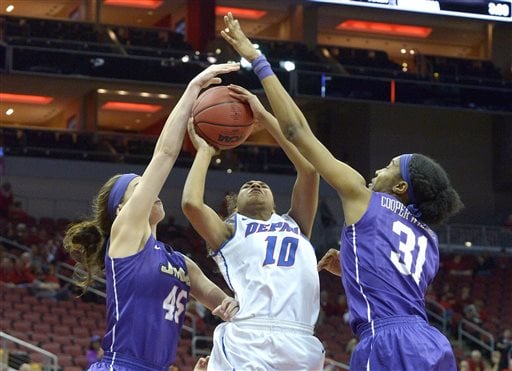 LOUISVILLE — After DePaul brushed James Madison aside in the first round of the NCAA tournament and Louisville followed suit just a couple hours later breezing past Central Arkansas, Sunday's Round of 32 matchup was decided.
Six-seed DePaul will face the three-seed Louisville in a tough second round game with the winner jetting off to Dallas next weekend to play in the Sweet Sixteen. Having already played six ranked teams this season – five of which on the road – DePaul is familiar with playing in an intimidating environment in front of thousands of opposing fans and loves the adversity.
"It's great to be playing at a place that embraces women's basketball. The people of Louisville have done a great job of growing the game of women's basketball here," DePaul coach Doug Bruno said. "We know it's going to be hostile, but so what, it's going to be fun."
DePaul played at No. 4 Baylor (six-point loss), No. 1 Connecticut (16-point loss), at No. 2 Notre Dame (five-point loss), at then-No. 15/16 Texas A&M (14-point win), at then-No. 12/13 Northwestern (13-point win) and at then-No. 25/20 Seton Hall (12-point win) to finish the season with a 3-3 record against the Top-25. Considering the three losses were all to now one-seeds in the NCAA tournament, it's been a good non-conference year.
For the Blue Demons to beat a team with the talent of Louisville, they're going to have to play a near-perfect 40 minutes amid a crowd of several thousand Cardinals fans. The key to Louisville's success against Central Arkansas were a pair of sophomore – yes sophomore – forwards in Myisha Hines-Allen and Mariya Moore who combined for 41 points and 11 rebounds. Hines-Allen was named Atlantic Coast Conference (ACC) Player of the Year and is the driving force for the Cardinals' offense.
"Hines-Allen does a lot. She's a big girl that rebounds, she can also lead the break as well as [having] some guard play," Chanise Jenkins said. "She's just a versatile player that we're going to be looking out for."
"She's a really strong, physical player and the fact that she has those guard skills, she can push the ball in transition and she runs the ball well," Megan Podkowa said. "She's a really good all-around player."
Asking DePaul to shut down a player of Hines-Allen's caliber would be asking too much. It would be similar to telling any team facing Connecticut to shut down Breanna Stewart, or any team that faced Baylor a few years ago to just shut down Brittany Griner and you'll do well – it's not going to happen.
But, what the Blue Demons can do is frustrate Moore and Junior guard Briahanna Jackson who runs the offense. It will likely be a game where DePaul sticking to the plan is crucial for success.
"They have good guard play, so we're really focused on owning our own matchups and executing our game plan," Jenkins said.
Like in the James Madison game, rebounding and transitional play will be huge for DePaul. Executing the offense the way Bruno expects the team to, coupled with controlling the tempo of the game from the opening tipoff is how DePaul will stifle the Cardinals' offense and not allow them to play the free-flowing style they were able to against Central Arkansas in the first round.
If the Blue Demons can command the boards, have a balanced offensive flow in the paint and from beyond the arc, and just not let the nerves and crowd disrupt their focus, a Sweet Sixteen berth isn't just possible – it's likely. Though, Bruno says it ultimately comes down to one simple thing for both teams.
"You've got to get your kids in a fearless place and they've got to come out and play to the best of their ability and let it rip."