DePaul prepares for familiar foe in Louisville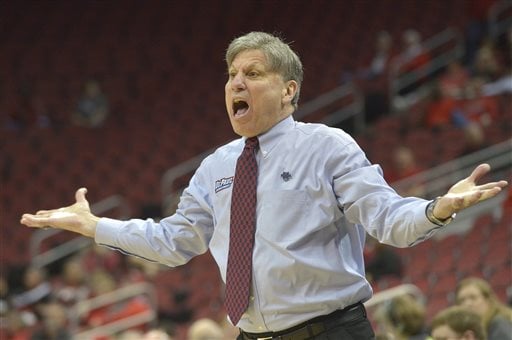 LOUISVILLE —  Doug Bruno's memory is sharp as ever.
It's been four years since Louisville and DePaul shared a conference, making up the old makings of the Big East. Before that, the two teams shared a conference for 10 years as members of Conference USA.
Bruno vividly remembered the last two meetings between the teams.
"We jumped them pretty good in our gym in January. It was a snowstorm and there was nobody in our gym because of it. It was a 9 p.m. or 8 p.m. start and they were No.7 in the nation," he said. "Then we came back down here and they put a big ol' fat waxing on us."
But now, Bruno gets to look forward to the next meeting.
DePaul will face Louisville Sunday at 2:30 p.m. at the KFC Yum! Center in the next round of the NCAA tournament.  It's the first meeting between the two teams since the 2012-13 season.
"(Louisville) is always ultra tough and ultra physical," Bruno said. "They do a great job of intelligently trying to scratch where it itches on both sides of the ball … exploit mismatches and defensively, play a lot of games with you. You learn that from being in a league.
"When you're in a league with teams, it's like a family. You're fighting with your brothers or your sisters all the time. Those tendencies we remember."
Louisville finished the season being ranked No. 8 in the country and were second in the Atlantic Coast Conference (ACC). The Cardinals rely on the strength of their guard play and Miysha Hines-Allen, a versatile forward who is one of the best in the country.
In addition to stopping Louisville, the Blue Demons have the challenge of getting ready for the Cardinals with only one day of preparation time, a common problem for teams once they advance in the NCAA tournament.
Bruno said while he watches a lot of film, it's about communicating what his players can digest.
"You can't overload your players brains with all this information you can put into your head," he said. "At this point of the time of the year, it's really true that teams are what they are. You have to be the best at what you are."
The only players familiar with playing against Louisville are seniors Megan Podkowa and Chanise Jenkins, having played against them during their freshman years.
"Playing here my freshman year, it was a tough environment, very competitive game," Jenkins said. "I remember the game that they played in our gym, so we know we can do it, we know what to learn from. We can't let the big lights and the big stage scare us, so we're embracing this opportunity right now."
The Blue Demons, however, did get the opportunity to scout the Cardinals in person, following their 97-67 win over James Madison. DePaul watched Louisville pull away, and then dominate, Central Arkansas in the second half.
"They got to sit here yesterday and feel the environment," Bruno said. "They got to see live … it's a joy for me to be able to sit there and watch a game, live, and see Hines-Allen live and see (Briahanna) Jackson whip a pass to her half court that I thought was going to hit me in the head, and her left hand came up and, whew, just sucked that ball in.
"Those things are beautiful to watch. That's hoops. You can't get afraid of it, you can't overthink it. You've got to go out and be what you are, be the best of what you are."