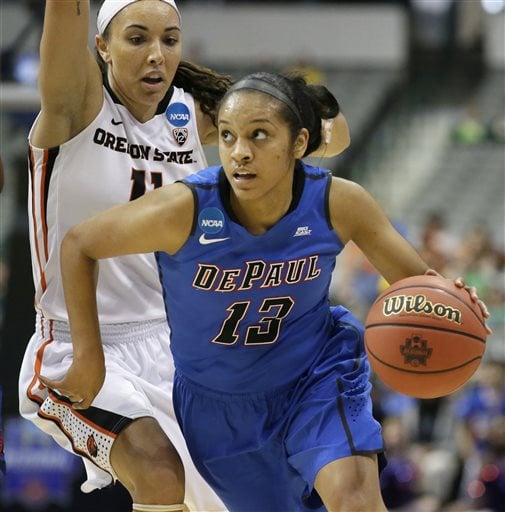 DALLAS — They say everything is bigger in Texas, and DePaul learned that the hard way.
When No. 6 DePaul flew to Dallas, Texas to face No. 2 Oregon State in the Sweet Sixteen, the Blue Demons knew one thing about the Beavers that they couldn't match up with – their size.
Oregon State proved too much for DePaul as the Blue Demons fell 83-71 and ended the hopes of a historic Elite Eight appearance.
"We lost to a very good team today," DePaul coach Doug Bruno said. "They're the No. 1, 2 for a reason. They have very talented players and a very well-coached basketball team."
Jamie Weisner put on a shooting clinic against DePaul and showed why she was named PAC-12 Player of the Year. The senior guard finished with 38 points and 10 rebounds shooting 70 percent from deep.
"She got off to a great start … we were trying everything in our power to not let her have open looks," Bruno said.
Sydney Wiese added 13 points and seven rebounds while Ruth Hamblin, despite being frustrated early, scored 13 points and grabbed nine rebounds. Oregon State's overall size just dominated DePaul throughout the game and that is what led to the win.
Hamblin, while she may not have loaded the stat sheet, caused problems in the paint throughout the game. Her ability to out-rebound anybody on DePaul's team then distribute the ball out to her shooters was key.
When the 6-foot-6 Hamblin picked up her fourth foul early in the fourth quarter, Marie Gülich replaced her – standing at 6-foot-5 – showing how deep Oregon State's roster is with size. The Beavers grabbed 42 rebounds and limited DePaul to 31, most of them defensive. Whether it was Hamblin or Gülich in the paint, the Blue Demons could not overcome their ability to grab anything off the boards.
"They're obviously a lot bigger than us and it made it difficult to get to the rim as we have in other games," Jessica January said. "(They're) just a good team all around, they own their matchups and they're just really aggressive."
DePaul was led again by Jessica January's 20-point performance. Jacqui Grant, wearing a facemask, opened the game scoring the Blue Demons' first seven points but only managed eight more over the course of the remaining 37 minutes. Mart'e Grays added 14 points and six rebounds in lieu of Megan Podkowa's scoreless game.
"I wasn't really looking for my shot, I just wasn't focused," Podkowa said.
"I think she was focused … she had a hard matchup," Chanise Jenkins said. "They had a good defensive team and as coach said, we all left it out on the floor. Megan should never feel like she played any part in this loss."
Podkowa's scoreless game can be attributed to the dominance of Hamblin, as Bruno pointed out.
"When you ask … what made it so difficult for Megan to get going tonight, that's a really pretty simple reason," Bruno said. "She had to play against two people because you've got the 6-foot-6 man waiting for you."
The loss ends DePaul's season and the careers of Jenkins and Podkowa. It's the second time in three years the Blue Demons have lost in the Sweet Sixteen.
Oregon State moves on to play Baylor in the Elite Eight on March 28 with the winner moving on to Indianapolis.
"Baylor has got great guard play," Bruno said. "It should be a really good game on Monday night and then those teams are going to get to go to the Final Four in Indianapolis and look at Connecticut."