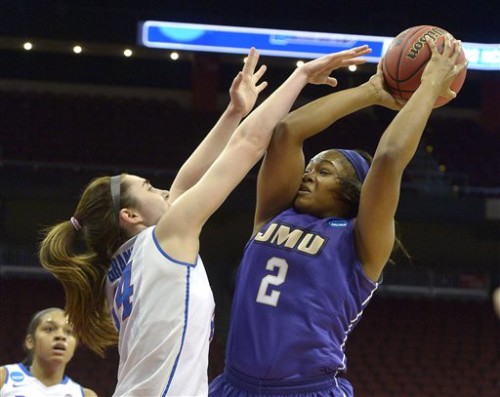 Jacqui Grant came to DePaul looking for one thing: comfort.
She spent her first two years at the University of Illinois and left amid accusations against Illini coach Matt Bollant and former assistant coach Mike Divilbiss of verbally abusing the players. It was a situation that led the families of Grant, fellow DePaul transfer Amarah Coleman and four other former Illini players to sue the university for $10 million. The lawsuit is still making its way through the legal process.
Instead of having to sit out the year after she transferred, the NCAA ruled she could start playing for DePaul six games into the season due to the circumstances of her transfer and her seamless integration into the team began immediately.
While Grant didn't want to talk about her time at Illinois, she quickly learned how different the contrast in programs was. It was the comfort she sought at Illinois, but found at DePaul, that allowed her to fit into the team so well and succeed from her first game on.
"Any player just needs to get comfortable in the environment they're in," DePaul coach Doug Bruno said. "I think Jacqui is gradually getting more comfortable in what DePaul is all about, how we play, her teammates, coaches. I just think she's becoming more naturally comfortable."
The concept of being a part of a family is a focal point to DePaul's success. Bruno says it's a result of the culture he's created at DePaul; he wants everyone to feel like they're in a positive environment.
"You can't be a competitor without having some good toughness and accountability to the positive environment," Bruno said. "I always think we want to create a positive environment, so that's something we do for everybody. That's what we do, that's what DePaul is all about."
When Grant transferred, she was desperately hoping to avoid having to sit out a year as most transfers must do. When she heard she would be allowed to play, one of her lifelong dreams finally came true.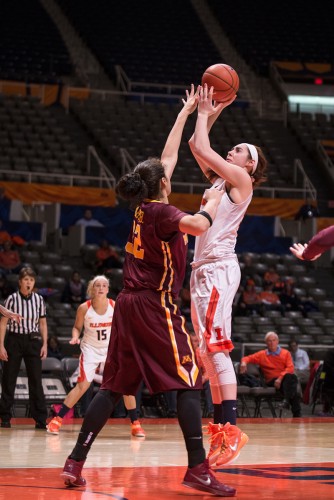 "Not knowing if I was going to be able to play this year and wanting to play with Megan (Podkowa) literally since the beginning of time, I feel like finally getting that year was so exciting, even if it was six games into the season," Grant said. "(Podkowa and Chanise Jenkins) definitely taught me a lot about basketball, IQ-wise, and just in life and how to represent DePaul."
After averaging 9.1 points and 5.3 rebounds per game and shooting 42.9 percent from the floor this season, Grant will be an important component in next year's team. She, alongside Jessica January and Brooke Schulte will be looked to as the senior leaders with Podkowa and Jenkins graduating.
"It's my fourth and final season coming up and there's definitely a big senior class and we're definitely going to have to lead. These seniors have definitely showed us juniors what you have to do to make it this far and hopefully we'll be able to pick that up this year and be able to come back and go even further," Grant said. "Teaching the freshmen is going to be huge, because there are four of them and they're all great players … teaching them 'DePaul Ball' is definitely going to be really important."
As for what Grant needs to work on in the offseason to improve, Bruno doesn't think there's anything in specific that needs extra work. But he thinks she can improve in all aspects of her game and become and even better all-around player.
"I think what you're going to see in Jacqui is her getting better in all areas of her game. What makes her a very good player is her versatility, her ability to have length and play at the basket, but also have the ability to take a player away from the basket," Bruno said. "I think the Oregon State game in the NCAA tournament was a great indication as to just the growth in her confidence and her shooting ability. Her inside game, her outside game, her defensive game, her rebounding game; I think these are all going to be areas where you're going to see Jacqui improve."
After a daunting schedule her first season at DePaul playing several of the best teams in the nation, Grant feels like it has prepared her and the team to come back stronger than ever next season. She's already up for the challenge.
"We're going to be right back at it next year playing (Connecticut), Notre Dame and whoever else is on our schedule," Grant said. "I haven't even looked at who we're playing in the non-conference, but knowing that we definitely have those two is going to put a challenge and kind of show the freshmen this is what we do here at DePaul; we can run with them and we can hang with them."