United Students Against Sweatshops stand against Nike, which contracts with DePaul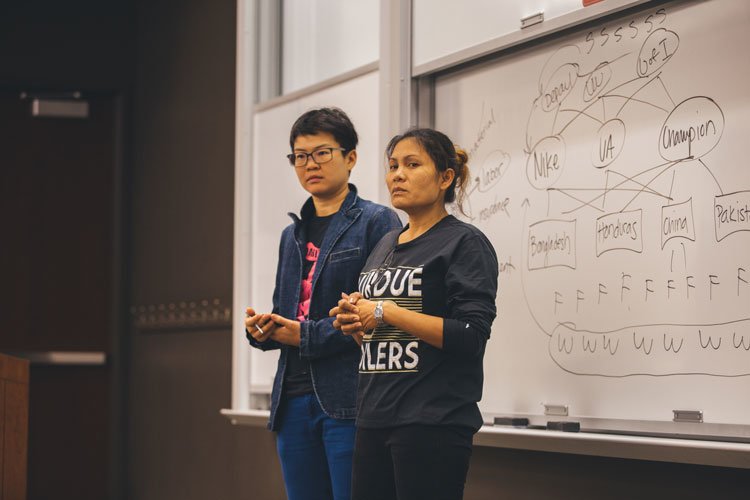 Members of the DePaul community gathered Thursday to hear Noi Supalai, a former garment worker and union president from Bangkok, Thailand, speak about her experience working for a Thai clothing factory that produced collegiate apparel for Nike.
The visit was hosted by United Students Against Sweatshops (USAS), a national student labor organization that advocates for workers' rights. Supalai visited DePaul as part of a national speaking tour on college campuses that have contracts with Nike, including the University of Michigan, University of Illinois, Urbana Champaign, Indiana University and DePaul.
"We want to make sure that clothes that we are wearing from our universities are made by workers whose rights were respected," International campaigns coordinator of USAS Morgan Currier said. Before introducing Supalai, Currier asked the 10 to 12 students in the crowd to name brands sold at DePaul's bookstore, including Nike, Champion and Under Armour. Students were asked to read each other's clothing tags to see where the clothing they were wearing was made. China, Thailand, Mexico and Bangladesh were just a few named.
"We're a small group here and I hear eight or nine countries," Currier said. "All these brands source all their apparel from around the world."
Currier said that Nike outsources their clothing production to 680 factories around the world and this subcontracting leads to potential workers' violations.
Supalai shared her own personal experience working for Thai factory Eagle Speed, one of the 680 factories that Nike out sources its clothing production to.
Accompanied by a translator, Supalai described the working conditions she met while working on orders for Nike. Up until 2008, Supalai said the factory provided workers with sufficient wages.
"The factory was having fewer orders and was losing profits, that's when Nike took advantage of our factory" she said.
After Nike threatened to pull its orders from Eagle Speed if they failed to complete the order at a lower cost and faster speed, Supalai said workers were met with long hours, dangerous working conditions and wages lower than sufficient.
"We could not produce up to the quantity that Nike requested, so Nike did not pay any money to the factory and the factory did not have any money to pay us the wages." Supalai said.
Supalai was a member of a group of workers that gathered to protest the working conditions. Signs of protests were met with threats of termination from the factory.
Supalai said that she reached out to the Department of Labor Protection of Thailand but they were told to continue to work in the factory in order to eventually gain their wages.
"I tried to reach out to other organizations and came across the Workers' Rights Consortium (WRC)," Supalai said. "They asked us about what was happening and we told them all our stories and asked for their advice" she said. Twenty-three workers who were previously held captive including Supalai were released and the factory gave employees the option of either continuing to work with them or resigning with compensation.
Currier said she hopes hearing Supalai's story will urge students throughout college campuses to advocate for workers' rights and question apparel production within their universities.
Currier cited Nike's 2015 decision to ban independent inspectors such as the WRC from monitoring working conditions within its factories, instead opting to monitor its activities from within the company.
"Nike has decided that it no longer wants to allow independent monitoring like the Workers' Rights Consortium to access its factories to do inspections so that schools like DePaul can know where their university apparel is coming from," Currier said.
Organizations like USAS find this self-monitoring problematic and fear it could potentially lead to worker abuse.
"Even though Nike says that they're going to inspect their own factories and they're going to do their own reports and let universities know conditions in those factories, we can't trust that because they have a very long history of human rights and labor violations," Currier said. Currier urged students to take action by advocating for Nike to reverse its policy on independent monitoring, or for DePaul to terminate their contract with Nike.
"DePaul purposely works with the Works Rights Consortium. Scott Kelly who's from DePaul is on the board of the Workers' Rights Consortium and yet DePaul is saying, 'Alright, it's fine to do business with Nike,' without their factories being inspected by the WRC," Currier said. "Nike is trying to tell the university how and by who factories are being inspected when it should be the university demanding that of Nike."