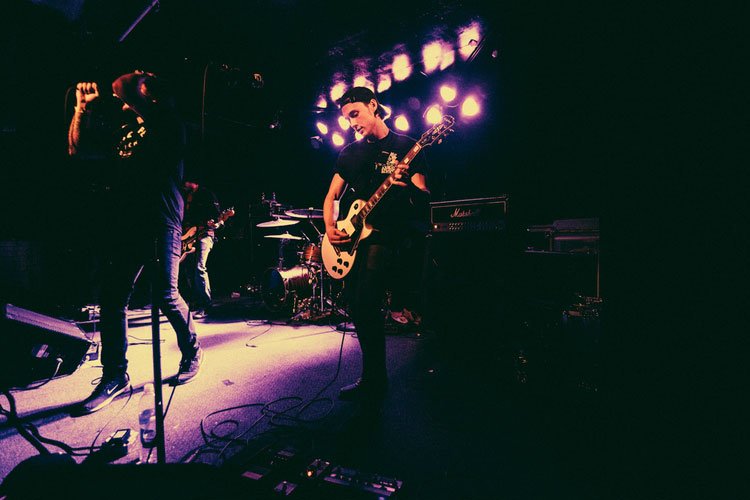 AJ Khah and TJ Horansky both left home seeking somewhere they would fit in. Khah and Horansky, despite coming from two completely different parts of the country, were drawn to Chicago for one thing — the bustling local music scene.
Khah, being half Portuguese, half Iranian, left Atlanta, Georgia after realizing he "wasn't one of everyone else." When the 9/11 attacks happened during his middle school years, Khah was the subject of subtle racism in the South and was fed up with it by the time his high school career was wrapping up in 2009.
His counselor at school recommended DePaul because he realized Khah wouldn't enjoy a state school such as the University of Georgia. He knew Khah would "thrive in a city with a strong music scene and a bustling community," Khah said. Chicago stood out because of the popular bands such as Fall Out Boy and The Academy Is… hailing from the city and the surrounding areas.
As for DePaul specifically, a particular club on campus sealed the deal for him.
"When I saw DePaul had a dodgeball team, that sold me on where to go," Khah said. "I was the captain of the dodgeball team by the time I graduated."
Horansky left Cleveland, Ohio with the dream of living in a big city. He knew he wanted to leave the state and decided to take a trip to Chicago and see how he liked it. In his first visit, Horansky said Chicago "just made sense" and with his destination set, he ultimately decided DePaul was the school for him.
While music has always been a passion for them both, neither pursued a degree in it while at DePaul. Khah majored in business and entrepreneurship because he hated the thought of working under someone else; he wanted to be his own boss. Horansky took his love of writing and majored in communications and media where he was able to dabble in anything from journalism and creative writing to public relations and music business electives.
"I wrote for my high school newspaper. I did album reviews. I actually did album reviews for The DePaulia my freshman year," Horansky said. "I thought a background in communications and media would really help with my musical endeavors, and it would kind of give me all of the tools I needed for whatever came my way or whatever I decided to do."
Joining Sleep On It
Just over three years ago, the pair joined the pop punk band Sleep On It, Khah as the bassist, Horansky as guitar and vocals. They met freshman year in Corcoran Hall at a dorm mixer when Horansky noticed Khah looked familiar for some reason. After chatting, he realized Khah used to be in the band Of Machines and the two clicked immediately.
Fast-forward to 2016 and Sleep On It has undergone a major change in what is likely the band's most important year to date. After parting ways with the original lead singer, the band added Zech Pluister — formerly the lead singer of another Chicago band, Bonfires — and the transitioning period to a new member has gone smoother than anticipated.
"(It was) surprisingly easy transitioning to the new lead singer," Khah said. "He brings this new secret ingredient to this soup of ours and just makes it taste better."
"It's been really cool to add a new brother to the family."
The band played its first show with Pluister on April 8 at Beat Kitchen with a pair of local bands, Marina City and On A High Wire, along with The Millenium from Eau Claire, Wisconsin. The week leading up to the show for Khah and Horansky couldn't be more different in terms of preparation and emotions.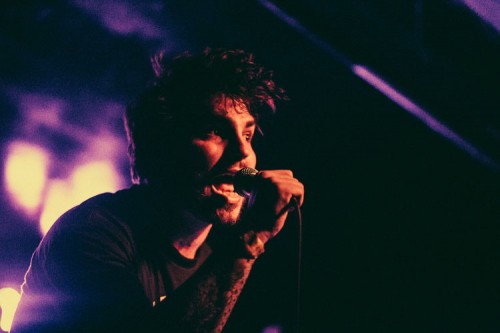 The week of…
Horansky doesn't approach a week leading up to a show any differently than a week without one. Working full time at Chicago Bagel Authority, he's learned how to balance work and the band well enough so that he doesn't need to change anything specific if he has a show at the end of the week or midweek.
"It's mostly just (being) anxious to (perform). A lot of it is just running around and making sure we have everything we need ready, especially merchandise," Horansky said. "Maybe I'm just good at keeping (anxiety) on the inside."
For Khah, it's a rollercoaster of emotions. With this being the first show the band has played in eight months, he wanted to make sure everything was perfect before he stepped on stage.
"Monday I'm usually like, 'I've got this'. Tuesday we practice and … when you're a musician, there are days where you just can't do anything right. We practiced twice and the first round through I was perfect," Khah said. "Because we're perfectionists, we wanted to do it again, so we took 30 minutes off and came back and I just couldn't get in the right mindset, messed up a couple times and got into my own head."
On Wednesday and Thursday, Khah mentally prepared himself and practiced as much as he could without burning out. What bugged him the most about messing up in Tuesday's practice were the songs he was messing up. It wasn't any of the new material; it was "Cope" and "Glass Bones," songs Khah said he's been playing for years now. When the day of the show finally came, Khah did whatever he could to stay calm up until their set began.
"I'm nervous until the moment I step on stage; I used to throw up in high school before I'd step on stage," Khah said. "I don't know what it is, but the second you put your foot on the stage and you're going out in front of people, it all just goes out of your mind."
Plus, the band has a pre-show ritual they do every time that eases everyone's nerves. In addition to taking a group Jameson shot before every show, Horansky says the band huddles together and they give somewhat of a pep talk to each other and dedicate the show to something goofy.
On April 8, though, they dedicated the show to Horansky's roommate Grant Wieland — who shot their music video for the song "Burning At Both Ends" — who couldn't be at the show due to his mom being in poor health. He was back in Ohio with her.
"We dedicated the set to him," Horansky said. "It just kind of put into perspective how lucky we were to be there."
The band's first show as Sleep On It 2.0 — as Horansky put it — sold out and was a major success. Having Pluister as the new lead singer helped the band retain its fan base and likely even grew it due to his previous band Bonfires being well-known in the local scene. Jake Marquis, Sleep On It's other guitarist and vocalist, said selling out the show on April 8 was "huge for us."
"We are, even if under the same name, rebranding to a degree," Marquis said. "A sold out first show back means our fans are just as excited, if not more than before.
"It means the world."
Khah, Horansky and the band are poised to have their biggest year yet after playing the Chicago date of Warped Tour the past two summers and Riot Fest last year. An album is expected later this year and they're hopeful of a record deal in the near future.