Softball rolls through the Big East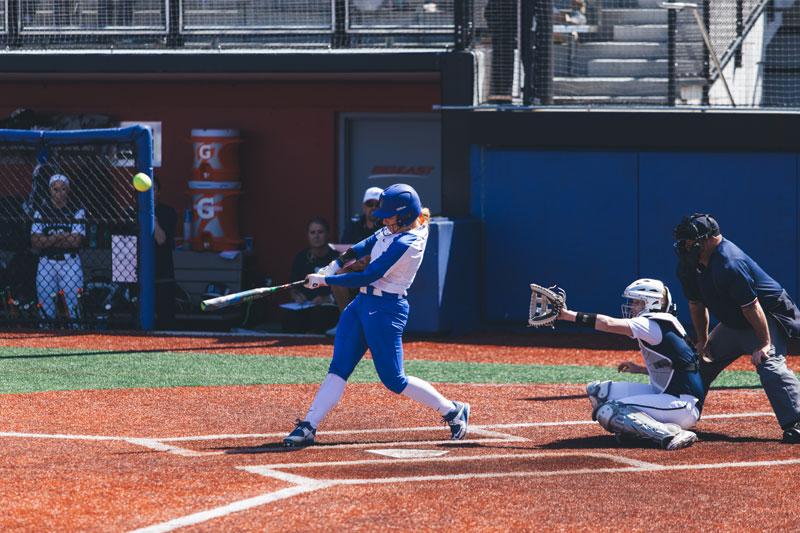 DePaul softball (19-21, 9-1 Big East) split Saturday's doubleheader against Butler. After winning the first game via the mercy rule, the Blue Demons lost to Butler 10-1, ending their 12-game winning streak.
"It was the pitching" head coach Eugene Lenti said. "Morgan (Maize) throws like a No. 1."
Maize was a bully in the opening game. She tied her career high with nine strikeouts, and only gave up one hit through five innings. In the batter's box, she had three hits herself, one of them being a home run.
Along with Maize's strong game one performance, which DePaul won 9-1, junior Nicole Pihl cracked a home run and three RBI's herself. The Blue Demons also scored eight of their nine runs in two-out situations. DePaul's offense clicked on all cylinders in the first game like it has been since conference play began. The Blue Demons were undefeated in the Big East until the second game of the day, and lead the conference in home runs.
"I really believe our offense will carry us," Maize said.
It didn't carry them in the second game.
Despite facing Butler's second in the rotation, Mikeila Boroff, DePaul was only able to plate one.
Butler opened up the doubleheader with a newfound ferocity and competency. The Bulldogs got their first extra-base hit of the day in the first inning, getting out to a lead that they never lost.
In the third inning, Cheyenne Thompson clobbered a fastball from Megan Leyva for a three-run home run. It was only her second long ball of the season. The Bulldogs never looked back.
"We were not going after our pitches and we were just very anxious, especially when we got down," Maize said. "It just stayed that way the entire game."
The anxious offensive approach led to the Blue Demons failing to reach base on balls a single time in the second game. DePaul's offense was akin to a Lamborghini that couldn't shift into first gear.
It seemed like DePaul's pitcher, Leyva, was in desperate need of relief during the second game, but DePaul stayed on its course.
Lenti was positive after the tough loss, however. His focus has shifted towards making a presence in the NCAA Tournament.
"We knew Creighton had lost the first game today so it was kind of a push, as long as we're leading the Big East we really don't want to burn (Maize) out." Lenti said. "It's very important to have (Maize) fresh for the Big East tournament. That's really what we're playing for." The Blue Demons lost in the semi-finals of last year's Big East Tournament.
Maize has become the engine of DePaul's team this year. After the loss of DePaul's number two all-time home run hitter and last year's team captain, Mary Connolly, the team was left with a literal power vacuum. Maize has taken over.
The senior is second in the Big East in home runs with six in conference play. In the circle, she hasn't lost a game since March 23.
"She's just that capable," Lenti said. "This last week she's really turned it up."
Non-conference play wasn't kind to Maize, which is why her record now stands at a meager 14-12. She only registered six wins in her first 18 starts, although much of that can be attributed to the Blue Demon's strength of schedule.
DePaul spent the preseason playing against nation-wide juggernauts No. 12 Tennessee, No. 4 Alabama and No. 3 Auburn. They gave up 36 runs in those three games alone, while only scoring eight.
The Big East isn't a softball powerhouse like the SEC or PAC-12, so the lower level of competition has provided DePaul with natural fodder for their recent hot streak.
If it's not the recent strength of schedule decrease that's causing DePaul to streak, they've also enlisted the services of an omnipotent force. Before each game, the team lines up and high-fives each other as the starters are called. However, this year each starter takes the time to give an imaginary high five to what appears to be nothing.
"It's Jesus," Maize said. "We've started to high-five Jesus before each game." Running on home-runs and the power of Christ himself, the Blue Demons took on Butler in the rubber match of the series on Sunday.