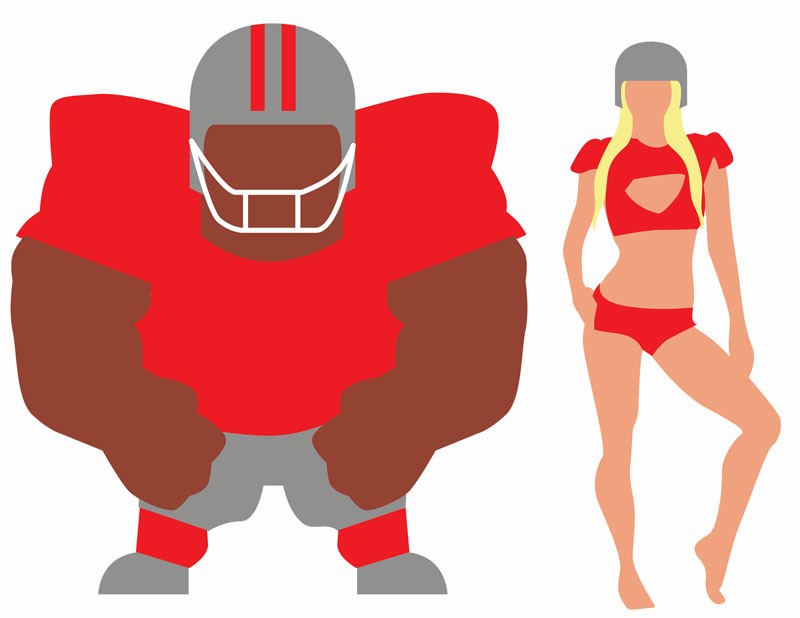 Elena Delle Donne of the Chicago Sky in the Women's National Basketball Association (WNBA) said last month she was in favor of lowering the rim in women's basketball. It was met with backlash, but the most shocking response to it, came from a WNBA player — the Phoenix Mercury's Diana Taurasi.
"Might as well put us in skirts and back in the kitchen," Taurasi told ESPNW's Kate Fagan.
The comment wouldn't come as much of a surprise had it been from someone randomly on Twitter or Facebook looking to troll Delle Donne and the women's game as a whole. But the fact it came from a three-time WNBA Champion, three-time NCAA champion with Connecticut and a three-time Olympic gold medalist with Team USA, is appalling.
While Taurasi may appear to be belittling women's sports, her comments, along with Delle Donne's, brought women's basketball back into national spotlight for something other than Connecticut dominating the college game. It also brought to light the bigger issue at hand — the lack of relevancy of women's sports in America.
Currently, there are only three professional women's sports leagues in the United States: the WNBA, the National Women's Soccer League (NWSL) and the National Pro Fastpitch (NPF) for softball. All three are viewed as secondary leagues and often garner little to no attention, despite showcasing some of the best athletes in the world.
Even the NWSL, which boasts several United States Women's National Team members who have won Olympic and World Cup titles, struggles to attract the fan base it should. It's no secret women's soccer is dramatically more successful than men's when it comes to winning on the international level, yet when it comes to supporting the game for more than just a few months in the summer every two years — nothing.
"I feel like (women's soccer) is almost equal, in terms of support, at the national team level," DePaul women's soccer coach Erin Chastain said.  "I don't know why (the NWSL and women's sports) are viewed as secondary."
In golf, the women tee off from a closer tee box than the men. Why? Because the average woman doesn't drive the ball as far as her male counterpart does; not because she's weaker than him by any means, just because that's how we're built as males and females. Sure there are some women who can outdrive a guy on the golf course easily, but that gives them a unique advantage over their female counterparts in tournaments.
"Nobody that I've ever heard of argued about the golf tee," Melissa Isaacson, columnist for ESPNW, said.
In volleyball, women play on a shorter net. Why? Because  — for the same reason women should play with a lower rim in basketball — women, on average, are shorter than men.
In softball, the field is smaller and the ball is bigger. For tennis the women play three sets in Grand Slam tournaments while the men play five. Basketball has a closer 3-point line and a smaller ball because women naturally have smaller hands than men, thus allowing them to better handle the ball.
"You don't hear as many arguments in other sports," Isaacson said.
Another issue with women and the connection to the sports world is how they are overly sexualized.
The female equivalent of the National Football League (NFL) is the Legends Football League (LFL), formerly known as the Lingerie Football League. Women play with minimal shoulder padding, a helmet and a sports bra and booty shorts as their "uniform."
Aside from the LFL, when most people think of women and football, cheerleading comes to mind. While cheerleading in its truest sense is highly competitive and requires elite athleticism, the cheerleading we see in the mainstream is scantily clad women waving pom poms for the crowd's enjoyment.
Ultimately, it comes down to the fact that sports were designed by men and for men several decades ago when women weren't thought of as being athletically capable. Because of this, men's sports are viewed as being superior to women's, thus the support beginning at a young age isn't there.
"I wish more dads brought their daughters to go support female athletes and I wish that men liked watching women more," Chastain said. "Even women, women might prefer to go watch men's (sports)."
It also doesn't help that the media neglects to treat women's sports the same way they treat men's sports.
"The media plays a huge role in building and sustaining audiences for sport and they do it very well for men's sports and they do it horribly for women's sports," Cheryl Cooky, professor of women's studies at Purdue, told The Atlantic.
If the media were to view women's sports as even remotely equivalent to its male counterparts, viewership and fanhood would dramatically increase.
Until then, women's sports will continue to be the tortoise in the race for relevancy in America.