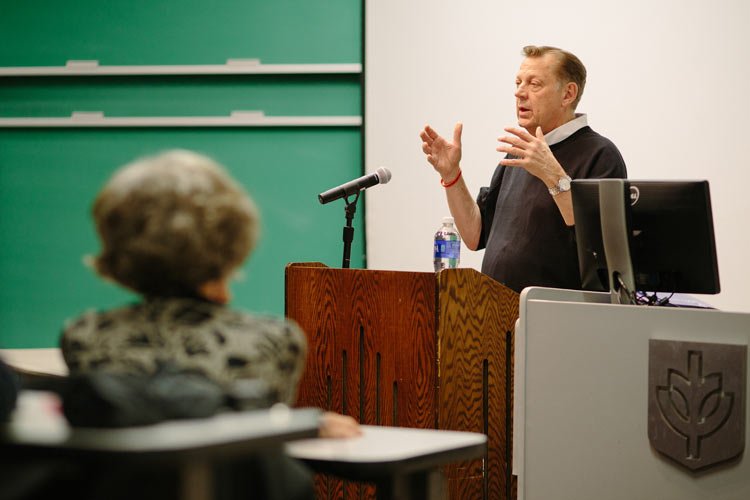 According to Rev. Michael Pfleger, the fiery South Side priest, the only way Chicago will overcome police brutality and discrimination is not by overhauling the police department, but by solving social issues like employment and education.
And the only way to provide the resources necessary to fix social issues  is for America to confront its deeply ingrained culture of racism.
Pfleger said this at a DePaul event of about 50 students and staff  hosted by DePaul's Department of Educational Policy Studies and Research.
"Because if you get the root of police brutality, the root of unemployment, the root of poor schools, the root of incarceration, if you get down to the root of every single one of them, you'll come up with the same card: race," Pfleger said.
The issue of police brutality and discrimination has been an especially important one following a string of police-involved shootings of African-Americans, such as the shooting of Laquan McDonald in Chicago.
Pfleger has long been an advocate for the improvement of African-American life. He was inspired to become a priest by Martin Luther King Jr. in the 1960s, and since then has ministered African-American communities across Chicago. In 1981, he became the youngest pastor in the Archdiocese of Chicago when he started to minister Saint Sabina Church in the South Side.
Following the release of a video that documents the shooting of McDonald and public backlash at the city's handling of the incident, Mayor Rahm Emanuel hired a new police superintendent, Eddie Johnson. While Pfleger said this is a good step, he also said that better leadership does not necessarily lead to better law enforcement on the streets.
This is because many police officers do not respect the people who live in the communities they patrol. At the talk Pfleger recounted an incident when two police officers harassed bystanders at a crime scene, part of a common tactic to "clear the streets." Instances such as these are typical in many neighborhoods in Chicago, Pfleger said.
"So when it's affirmed, and it's stroked, that this kind of behavior is OK, and when that culture has become the acceptable culture in the police department and law enforcement, all we've done is say is that people don't have to be respected," Pfleger said.
Not only was the event held to shed light on police behavior, but also to give advice for students who aspire to be teachers in neighborhoods that may be plagued by violence.   
Jasmine Cross, a graduate student studying early childhood education, said this portion was helpful for her.
"Especially being in education, I found it to be enlightening how he had a claim that if you don't live in that neighborhood, don't teach in that neighborhood," Cross said.
Latoya Winters, a graduate student who is from the West Side, said Pfleger's account of police brutality and discrimination was on point. She said she knows many people who have lost their lives to gun violence in the city, and will continue to because issues like poor education are not addressed.
"That's where we go wrong. In the city of Chicago and also in society we try to cover too many things up, we try to sweep things under the rug," Winters said.  "That's why we can't make things happen, that's why we can't come together."