DePaul softball falls 10-6 to Butler at the Big East tournament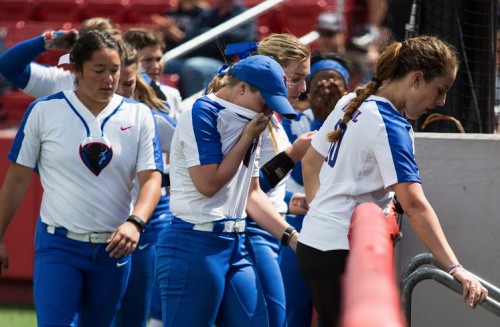 It seemed unlikely after a poor non-conference season that DePaul would even be contending for an NCAA tournament spot in 2016. They were 11-22 heading into Big East play, but then they went on a tear, going 16-3 in conference play and earned the No. 1 seed in the Big East tournament.
But on one Friday afternoon at the Ballpark at Rosemont, their season came to a sudden end.
"We were playing with house money," head coach Eugene Lenti said. "The fact that we won 27 games and won the Big East (regular season), it's the closest thing that's ever happened to a miracle for DePaul softball."
The Blue Demons fell 10-6 to Butler in the Big East semifinals. A seven-run fifth inning by Butler mitigated a grand slam in the fourth inning by DePaul and would eventually be their downfall.
DePaul was dominant this conference season, despite only returning four wins from last year's pitching rotation. They led the Big East in batting average, slugging percentage, on-base percentage, runs, runs batted in, home runs and total bases. However, today's game proved that superior teams aren't impervious.
"Round bat, round ball," Lenti said. "I think I even saw the Cubs lose twice in one day."
The game began like each of DePaul's victories this season. The team was dancing, before and during the game. The players were having fun, while still driving hits. Although, even though DePaul came out swinging, the team couldn't find a rhythm.
There were a lot of quirky plays. Players ended innings with double-plays, stranding baserunners. The Blue Demons got picked-off and let an error produce a run for Butler. The Bulldogs somehow scored a run without earning an RBI in another inning. Neither team could put together a multiple-run inning until the bottom of the fourth when DePaul's Naomi Tellez hit a grand slam. Somehow, the game took two hours to get to the fifth inning.
Things got really weird in the fifth inning.  
A double, walk, and ground-out put two in scoring position for Butler. Then the Bulldogs scored on another error, and loaded the bases with the next batter. Catcher Riley Carter then unloaded the bases with a double off the wall, tying the game at six. Another walk, a single, and a strikeout loaded the bases once again for Butler. Once again, they unloaded them, courtesy of a triple from right fielder Sarah Dixon. A 6-2 lead became a 9-6 deficit.
Lenti never considered removing Maize during the inning.
"It was Morgan's game, win or lose," he said. "She earned that right all through the course of the year. She was our number one and we're either gonna go up-or-down with our number one," 
Butler is a defensive team. This outburst was a statistical anomaly. Since March 11, they have scored seven runs in a game only thrice. It was the most runs they scored in a single inning all year.
DePaul's counter was stifled. Pinch hitter Micah Fitzgerald charged a single that scored Kali Gardner, but was overturned by a very late foul call. Later in the at-bat, Fitzgerald roped a double that landed in nearly the exact same spot, scoring Gardner once again. However, an even later, even quieter foul call overturned the hit for a second time. The next pitch, Fitzgerald struck out, ending the inning.
Butler homered in the top of the sixth, extending their lead. DePaul's last gasp came by way of a deep shot from Tellez with two on-base. It was caught at the warning track.
"It was a change-up and I just didn't have enough to get it out," Tellez said. "I really, really wish the wind blew it just a little more."
The seventh inning came and went with six batters. Just like that, the Blue Demons' season ended.
"We just didn't pitch well and defend well today and that's what it comes down to," Lenti said. "When you get to championship level of play, you have to pitch well and defend well."
It was Maize's season. After not pitching for two years, she took the circle and led DePaul by example as their number one pitcher. She led the Big East in home-runs, slugging percentage, and innings pitched. Her efforts earned her the title of Big East Player of the year. But, on this day: she was not number one.
"It starts with the mound," Lenti said. "Morgan knows she didn't pitch well."
But the bigger story for DePaul this season will be their return to prominence in the softball world. The Blue Demons cut their RPI (or ranking) in half, ending the season with twice the national legitimacy as they began.
"We put this program back on the map," Tellez said. "Next year all the underclassmen have to keep it going."