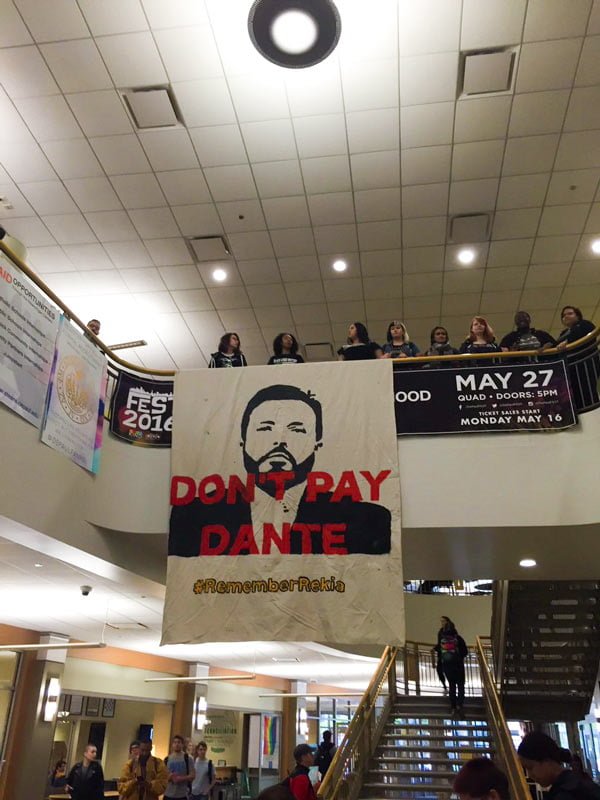 Chants of "Education is liberation, save CSU!" and "don't pay Dante" roamed the Student Center Thursday while a banner hung from the second floor that read "don't pay Dante. #RememberRekia."
About 15 students from various DePaul groups called for the state to deny the pension of Officer Dante Servin, who shot and killed Rekia Boyd, an unarmed black woman who was shot in the back of the head in March 2012.
The group, DePaul Students for Black Lives, also demonstrated for the funding of Chicago State University, which has laid off various staff members due to not receiving funds from a state budget.
"We're just a bunch of students who decided to demonstrate that we care about black lives and we believe that people should actually do something about it," senior Kara Rodriguez, one of the organizers of the protest, said. "To do something that's being pushed by black youths in Chicago to get them what they need, which is keeping CSU open and to take the pension away from Dante."
The protest lasted around 10 minutes and Rodriguez said that it was a recent decision to come together. The event correlates with Servin's decision to resign just two days before the Chicago Police Board was to begin a hearing on whether he should be fired, as well as Thursday being the National Day of Action to End State Violence Against Black Women, Girls and Femmes.
Rodriguez said the demonstration was also to help get through "the upper-class bubble, we're kind of entrapped in Lincoln Park." Rodriguez said she felt there was a disconnect on campus between students and other events of police brutality happening around the country.
"There are students who come here who are experiencing state violence and have to deal with lost resources that are important to them," Rodriguez said. "Then there are students who can come here and learn, but have no sense of what's affecting the community. There's a split between the student body here."
Sarah Maria Ahmad, a junior and another organizer, said the protest was to show "how our institutions fail us."
"To say her name and scream it out loud, we're acknowledging that she lives on and had every right for dignity and to live," Ahmad said. "It was taken away from her."