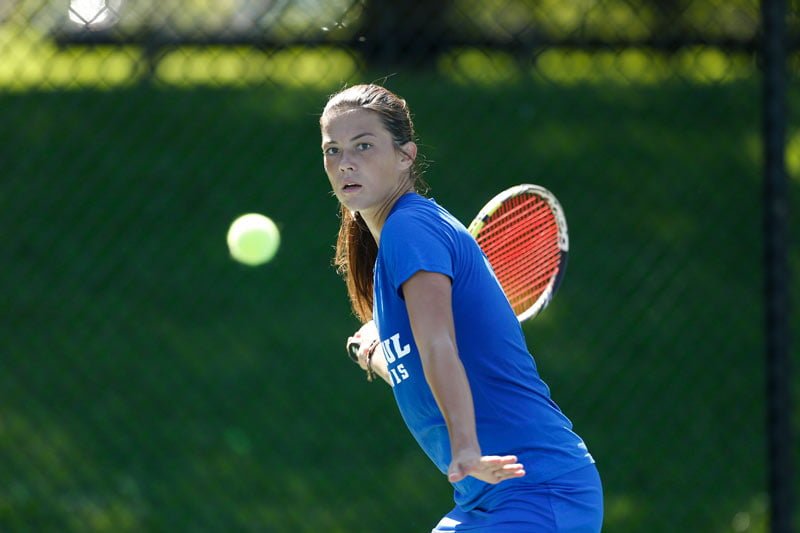 Coming off a disappointing loss in the Big East Championship on May 1, Yuliya Shupenia and Rebeca Mitrea were unsure if their season was over or not. The DePaul women's tennis team as a whole didn't qualify for the NCAA Division I Tennis Championship, but there was a chance for the pair to qualify for the singles and doubles championship.
That's exactly what happened.
For the first time in the program's history, the Blue Demons will be represented in both the singles and doubles portion of the NCAA championship with Shupenia competing in the singles and Mitrea joining her for doubles.
"For our program, it means a lot," DePaul women's coach Mark Ardizzone said. "We've had girls in the singles, we've had a doubles team before, but never have we had both in the same year. Obviously we're a little disappointed we didn't win the conference as a team, but it kind of gives us a really nice end to the season and it just puts us (in a good spot for recruiting)."
Were it not for years of hard work and practice, the duo would not be heading to Tulsa, Oklahoma next week, especially not Mitrea.
"For most of the European kids, doubles is an afterthought," Ardizzone said. "Rebeca was one of the worst doubles players I've ever had. She didn't even make the lineup a lot her first year. Rebeca has really, really worked hard to become a good doubles player.
"She really does an amazing job because her serve is not very good, but she makes up for that with a lot of the other parts of her game. The improvement to be a kid who couldn't make the doubles (lineup) to be in the NCAA tournament your final year is pretty special."
Shupenia and Mitrea will fly to Tulsa on May 23 to prepare for Shupenia's first match on May 25 and the pair's doubles match on May 26. Despite it being their first time at NCAA, nerves don't seem to be getting the best of them.
"I'm not nervous at all actually. I'm more excited than nervous," Shupenia said. "It's the last tournament and you just try to give everything you have … and just have fun."
"I'm also not nervous, I actually can't wait for it," Mitrea said. "Hopefully it's going to go well."
Ardizzone echoed their confidence, but has a feeling once they land in Tulsa their nerviness might show itself.
"We've done all of the work. What really is there to be nervous about?" Ardizonne said. "When we get there, it'll be a little interesting because they say that now … (but) it's the biggest event in college tennis for us and they make you feel really important down to credentials and things like that. Because it's guys and girls in the same location, it really does feel like a big deal, so the nerves will hit them.
"It'll hit them and then we'll see how they adapt to that when it happens."
Mitrea, in her fifth year with the team after being medically redshirted her sophomore year, has wanted this since 2011. Finally, she can say she has competed in the NCAA championship.
"Obviously it's my last year so it's the best ending that I could've asked for in my career," Mitrea said. "It was one of the goals for me this year — I wanted to make it to the NCAA's for doubles. I'm so glad that I got to achieve this, and I'm so glad I get to go there and have this moment."
Shupenia, despite being named All-Big East Player of the Year and being named to the All-Big East conference squad, did not make the individual NCAA championship last year, but the team as a whole competed in the team championship where they fell to Michigan in the second round. Now, she's just proud to be the first player in program history to qualify for both singles and doubles, and said, "It's a really good feeling."
Though the duo's International Tennis Association (ITA) National Ranking was as high as No. 28 in the country this season, they are currently the 73rd best. Their coach understands any result at the championship is a positive result for them and the program as a whole.
"We have nothing to lose in a way," Ardizzone said. "I'm not going to lie, DePaul is not supposed to go there and win the tournament, so whatever we do is going to be great."
Mitrea has been working on improving her forehand in doubles play this season once she realized it was holding her back from a well-rounded game. She relied too much on her backhand but said she's "way more confident in my forehand." It has instilled confidence heading into the championship.
While her DePaul tennis career will end next week one way or another, Shupenia will be returning next season and her coach thinks she'll be hungry for more as a senior.
"When you get a little taste of it, you see what it's like and you want to go back," Ardizzone said. "Yuliya understands that and she'll work hard and she'll want to make it back there. A lot of kids think it's a finish line … Yuliya won't think that way.She'll want to get back there (and) she'll push whoever she's playing doubles with next year to get back there.
"She knows this is a stepping stone to getting into the All-American tournament next year, which is something she wants to go (to) — and getting back to the NCAA's next year."
Though it is definitely a goal for next season, Shupenia achieved a different goal this season. While Mitrea's improvements were technical, Shupenia said hers were "more mental stuff."
"This year I felt much more relaxed and I tried to enjoy tennis a lot more this year than I did last year," Shupenia said.
"So that counts as a success."