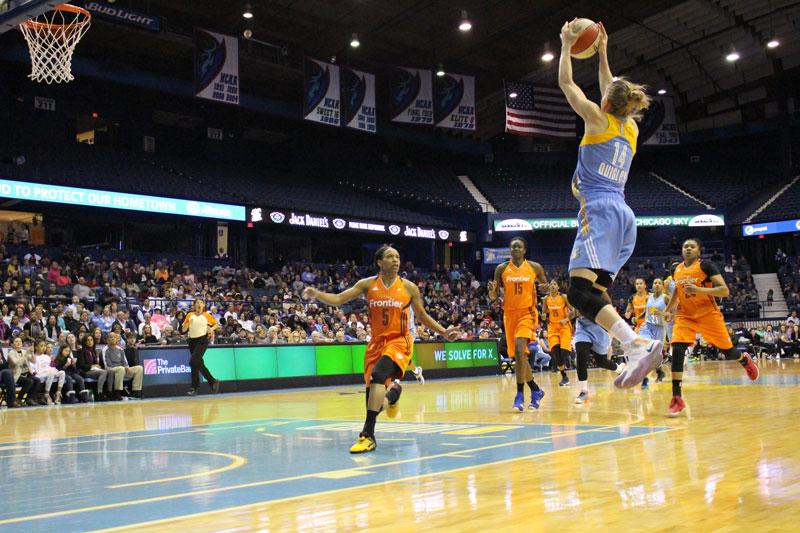 After graduating from DePaul among the rank of just four other players to score more than 2,000 points in their career here, Allie Quigley was bounced around in the WNBA for five straight years.
She was drafted by Seattle and waived, signed by Phoenix, traded to Indiana, shared seasons with the San Antonio Stars and signed by the Storm to a seven-day contract before finding her home a year later in a city painted blue and yellow by the Chicago Sky.
And for the past two years, Quigley's been known not by the number she wears on her shirt (14), but by the number six, for her 2014 and 2015 accolades as the WNBA Sixth Woman of the Year.
Her success as a supplemental player to lead guard Courtney Vandersloot makes sense when Quigley's overall character is described by her former coach Doug Bruno.
"Allie had this innate, quiet, caring about other people," Bruno said. "Allie was a great sharer of the ball as well as a great scorer. As a teammate, (she had) this innate sincerity and innate care for other people. She's got it in her nature and her background."
Quigley ended her last full season with the Sky with 53 assists; 65 in the season before that. But she can also handle the ball and execute her own drives as well.
"To run the point for a crucial stretch, just that switch in her head from shooting guard to point guard ­­­— that's invaluable," Sky head coach Pokey Chatman said when the Sky re-signed Quigley for the 2016 season. "She can space the floor, she's smart, she knows how to move the basketball."
It was Chatman who really gave Quigley the chance to develop her career in the WNBA and it was Bruno who gave Quigley the opportunity to solidify the fundamentals that make her the versatile player that she is there.
"I just think Coach Bruno — his philosophy — paying attention to detail, and the little things — he was big on the little things, the fundamentals — that foundation really helped me once I got here," Quigley said.
While she led in points per game as a senior at DePaul, it wouldn't be until six years later in 2014 that she would have her breakout season, when her averages, including minutes per game, skyrocketed. She set multiple career highs with the Sky and was named the WNBA Eastern Conference Player of the Week after scoring 17 plus points off of the bench.
Before then, Quigley would play two minutes here, three minutes there with the aforementioned teams. She went her 2010 season with the Indiana Fever only having played 18 minutes. In her first season with the Sky (2013), she played 318 minutes; her second season, 842; third season, 720. And the Sixth-Woman isn't always second-string last year she started seven out of 32 games.
The shift in her game can be largely attributed to her career overseas. Like many other players, for each season she's played in the WNBA, Quigley has spent her offseason in Europe, playing for different teams in Turkey, Poland and Hungary, where she has dual-citizenship. She quickly developed a reputation for one of the strongest American players to play in Europe.
This worked for Quigley in two ways. For one, it helped her to stay in shape year round.
"It's tough being away, but it helps to just always be in shape —always being in basketball shape," Quigley said. "You play 12 months out of the year, sometimes it gets tiring, but you come over here and you're ready."
But playing in Turkey gave Chatman, a former coach of Moscow Spartak women's basketball, a chance to see what Quigley was capable of in a league perhaps less intimidating but just as competitive as the WNBA.
"Pokey got to see firsthand what Allie was doing overseas," Bruno said. "So then when she picks her up with the Sky, the confidence still comes with Allie, but the opportunity has come from the coach. Pokey showed confidence and provided her with the opportunity and Allie responded."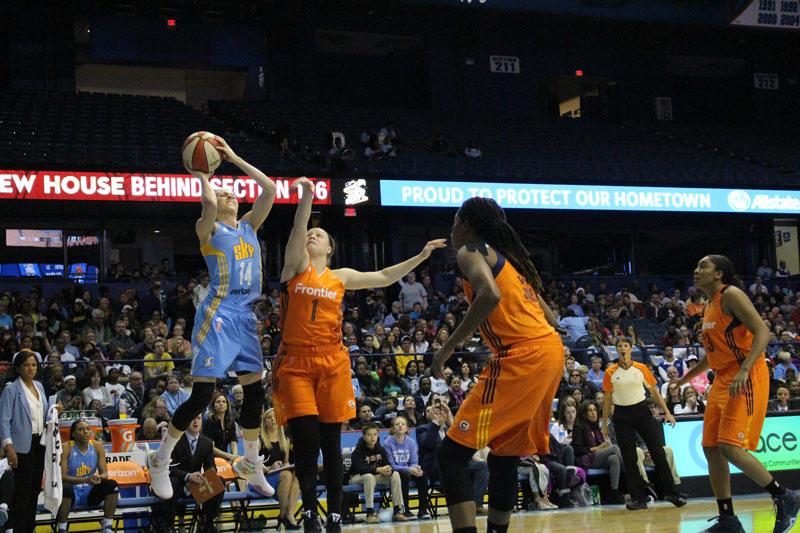 In addition to the opportunity came risk. When Istanbul's tourist district was subject to a suicide bomb attack earlier this year, which killed 10 people and wounded 15, Quigley was just two blocks away.
"It just shook you out of your seat. I never heard anything like that. I literally, like, jumped. You could just feel it in your chest, it was so loud," she told the Chicago Tribune, adding that the close call sort of spoiled her experience overseas, and noting that she doesn't know if she'll play there again next year.
It's in this instance that the close, almost maternal relationship that Chatman has with her players, including Quigley, is apparent. Chatman talked to the Tribune about the worry she felt when she woke up to a news report of the attack, immediately texting the three players who were in Turkey at the time, but not hearing back from Quigley as soon as she would have wished.
"So when I get that text message back 20 minutes later that felt like several hours, I'm expecting to read, 'oh, yeah, no big deal,' but then to read her words, I'm like, I just sat down, like holy —," Chatman told the Tribune. "So it gave me pause. I sat down. I sipped my coffee. Of course, she was OK."
This caring dynamic isn't anything new to Quigley, who spent four years with a coach who's known for his close-knit connection to his players.
"We always had a good, strong positive relationship," Bruno said. "It was like I strive it to be with all of my players, which is a love-hate relationship in a positive way. I think I try to let my players know that I genuinely care about them, but I also let them know that I won't be afraid to administer tough love when necessary. And that's where the hate comes in."
Also nothing new to Quigley was an offense-intense squad. Though it was six years after her DePaul career, Quigley found her rhythm in a team that leads the league in scoring, perhaps due to her background with a team known for its quick tempo offense.
"They're both ­— I mean our focus this year is defense — but last year we had the best offense in the league and Bruno's pretty much known for offense and an uptempo system," Quigley said.
Today, Bruno has largely stayed up to date with Quigley's game. He works closely with the Sky during his annual basketball camps, and notes Quigley characteristics that are still present in her game.
"She's deceivingly quick and athletic," Bruno said. "Her body type might look frail, but it's a really strong wire-y body that's long and athletic. People think she's just a three point shooter, but she's quick and athletic with the ball."
Quigley said that it's too late in her career to have a goal of making enough money to not have to play in her offseason.
"I'm older. It's probably not going to happen in my career, but it'd be nice for the future players," she said. "Maybe if we got paid more, maybe if the season flip-flopped like the NBA — play for eight months and then get the summer off."
But while she offers the suggestion of aligning the WNBA more with the NBA, Quigley seems less outspoken than some of her teammates — notably Elena Delle Donne — about an increase in female athletes' salaries.
"I think that we're still really lucky to even have a league and it's still pretty good money," she said. "I think that we get caught up in wanting more and wanting more, and at the same time we're really lucky to be where we are."